The University plans to demolish nine largely abandoned and dilapidated former fraternity and sorority houses in order to make way for a reconfigured green space in the heart of South campus on Gilbert Road in Storrs.
The houses were originally built around 1920 as faculty residences, and many later housed fraternities and sororities or were used as office space. Some of the houses were home to Greek-letter organizations for more than 60 years.
Students were moved out of the houses and relocated to Husky Village on Route 195 by 2003.
Most of the houses have been abandoned since that time and are in disrepair or uninhabitable due to their age, heavy use over time by student residents, and deteriorated condition. The University has no use for the houses, as the space inside them is very limited and, in some cases, is not code compliant.
It would cost the University approximately $1 million dollars per house to renovate or rehabilitate them – or $9 million total.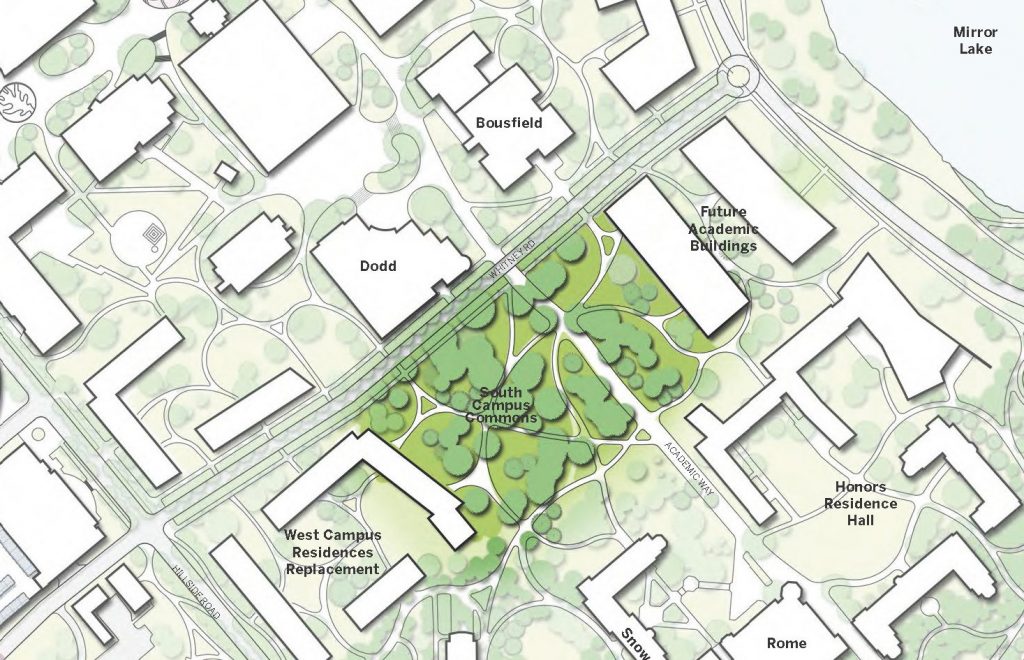 "The abandoned Greek Row houses are in a critical part of South campus, and the Campus Master Plan calls for them to come down and be replaced by park-like green space, including grassy areas, plantings, trees, benches, and tables," says Laura Cruickshank, the University's master planner and chief architect. "This will be a beautiful outdoor spot for use by the campus community that is perfectly situated between the future Student Recreation Center and the South Campus residence halls."
The area behind the houses is currently a parking lot. That would also be turned into green space under the University's plan.
While the abandoned houses are situated within a large "historic district" that includes almost the entirety of UConn's central campus, the houses themselves are undistinguished "contributing factors" to the overall district.
"The fact something is old, by itself, does not make it historic," says Cruickshank. "Many of the buildings in the central campus are historic and must be preserved. The abandoned Greek Row houses are more of an eyesore taking up valuable space. It would be extremely costly to renovate them and even if we did, they would serve no useful purpose."
In June, the University and the Connecticut State Historical Preservation Office signed an agreement allowing UConn to take down the houses.
"UConn has a great deal of lawn and wooded areas, but very little usable outdoor park space on the Storrs campus," says Cruickshank. "This area has a number of beautiful mature trees for shade cover and once the houses come down and the parking lot is removed, it will be a really lovely outdoor gathering place that will come to be thought of as iconic on the campus."