Middle and high school teachers are on campus this week learning how to use genocide and human rights education to address complex historical and current issues.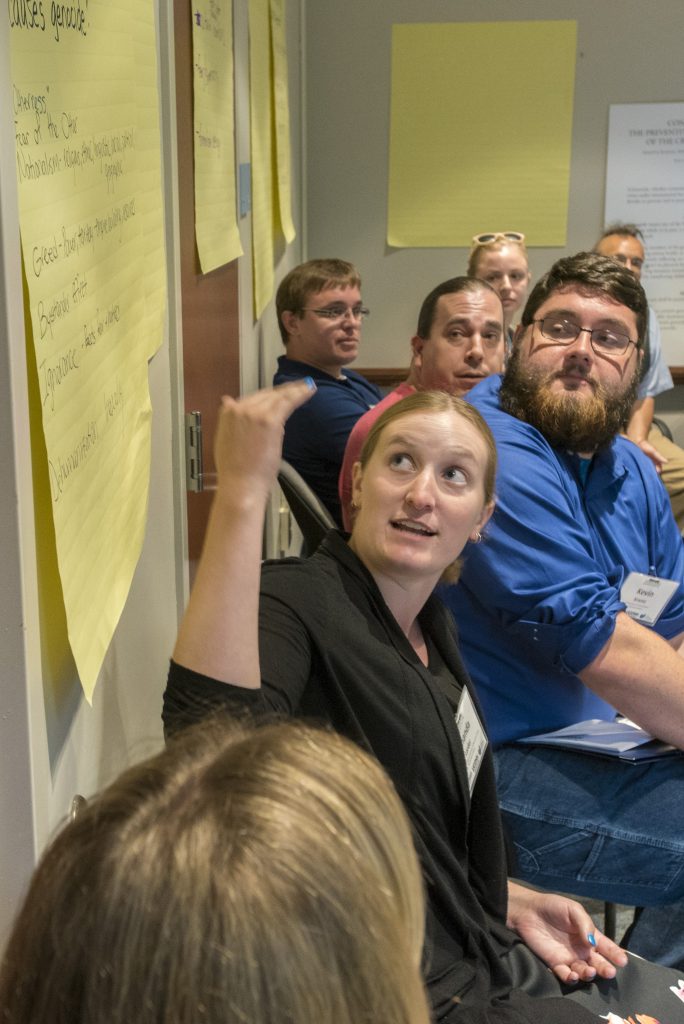 The program – The Upstander Academy: Intellectual Humility in Public Discourse Summer Institute – was developed by the Thomas J. Dodd Research Center and the Upstander Project, with assistance from secondary educators in Connecticut.
The week-long session is part of the Humanities Institute's Public Discourse Project, a research and engagement program examining the role that intellectual humility can play in meaningful public dialogue, and the initial activity sponsored by a grant from the John Templeton Foundation for research on balancing humility and conviction in public life.
The Upstander Academy at UConn is associated with the national Upstander Project, which aims to overcome indifference to social injustice by using learning resources, including documentary films, to motivate individuals to move from being "bystanders" to becoming "upstanders" – people who take action in defense of those who are targeted for harm.
Glenn Mitoma, director of the Dodd Research Center and assistant professor in the Neag School of Education, says the week-long institute focusing on human rights and genocide will be followed by future summer sessions on philosophy and on American Studies. He notes that early secondary education – middle school – is when geography and world history become part of the public school curriculum, providing the opportunity to introduce conflict resolution issues to students.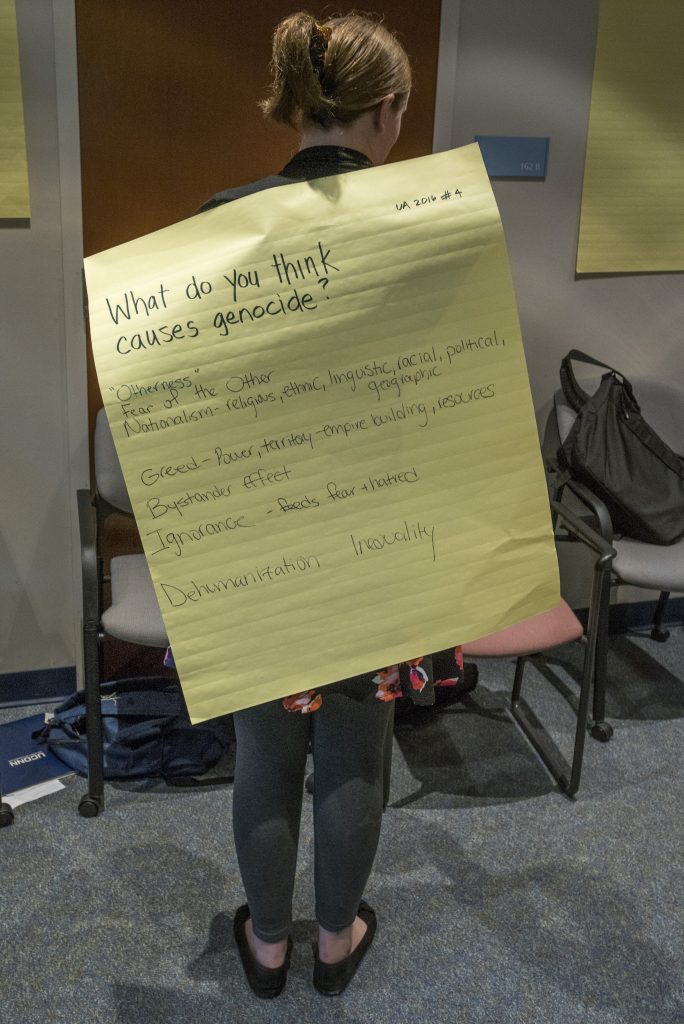 "The strategy is to focus on student capacity for deliberation rather than debate," Mitoma says. "Particularly in an election season, we see a style of public discourse that is about the clash of view A versus view B. It's different from an emphasis on deliberation, which is to say: we have this problem on the table; now let's all come together and try work through this solution together. Our strategy in the Upstander Academy is to cultivate those skills to help students figure out what the right question is to ask about a particular problem, learn democratic discussion skills, and how to work together in both small groups and a classroom to think through difficult problems in a way that is productive to coming up with a common response."
Two recent issues were selected by teachers as subjects for the session this week – post-genocide in Rwanda, which occurred in 1994; and the forced removal of Native American children from their homes that began in 1978 and the Maine Wabanaki-State Child Welfare Truth and Reconciliation Commission. Both incidents are the subject of documentary films, a key resource in the workshop program. Faculty will include scholars and activists involved with both subjects.
During this week's session, the 20 participants will have the opportunity to:
• Explore new content about post-genocide Rwanda and cultural genocide against Native Americans through forced removal of children;
• Understand and implement methodologies designed to provide exposure to intellectual humility for learning and justice;
• Test innovative teaching techniques that support the Inquiry Arc, and critical and creative thinking;
• Practice instructional strategies that bridge the social studies to social and emotional learning;
• Practice and model the skills of upstanders in their classrooms, schools, and communities.
Core faculty include Chris Newell, museum education supervisor at the Mashantucket Pequot Museum and Research Center; gkisedtanamoogk, co-chair of the Maine Wabanaki-State Child Welfare Truth and Reconciliation Commission;  and UConn alum Jacob Skrzypiec '14 (ED), social studies/global relations teacher at Manchester High School and a teacher consultant to Upstander Academy.
Brendan Kane, an associate professor of history and assistant director for public humanities who also serves as co-principal investigator for the Public Discourse Project, says one of the goals of the program is to help young people learn how to discuss issues that affect them daily and engage with people they disagree with.
"We're trying to take academic research on issues like implicit bias, immigration policy, deliberative democracy, and see it translated into a series of skills that people take beyond the classroom, so when they're at the Thanksgiving table with the uncle who wants to go off on XYZ, they have the experience and skills and understanding of different modes of conversation," he says. "We're teaching the tools we have to try to move conversation forward and get people to the table. It's not about resolution. It's about comprehension, communication, and understanding."
The Upstander Academy: Intellectual Humility in Public Discourse Summer Institute takes place at the Thomas J. Dodd Research Center, 405 Babbidge Road.