UConn Health's New England Sickle Cell Institute is improving care for sickle cell patients and helping them beat the odds of the disease.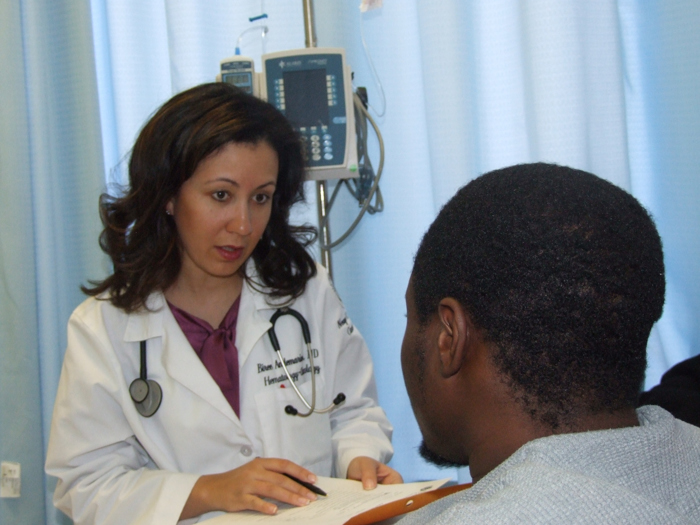 Millions worldwide live with this devastating and painful inherited red blood cell disease, including 100,000 Americans and more than 1,000 Connecticut residents. For the majority of those patients, life expectancy is less than age 40.
Individuals with the disease have abnormally hook-shaped red blood cells that impact their blood circulation. When these cells get stuck in smaller blood vessels they form blockages, causing severe pain. These blockages put patients at high risk for stroke, damage to vital organs, and life-threatening blood infections. Sickle cell patients are also prone to profound anemia, an unhealthy level of oxygen-rich red blood cells in their body. Many sickle cell patients experience a lifetime of sudden intermittent pain, daily pain medicine regimens, and monthly blood transfusions.
The New England Sickle Cell Institute at UConn Health helps sickle cell patients better manage their pain and other complications of the disease. It is the first and only dedicated center of its kind in the region, and one of only a very few in the nation.
This summer, the Institute opened a brand new comprehensive outpatient center in the new, state-of-the-art hospital tower at UConn John Dempsey Hospital, offering scheduled and same-day urgent patient visits to improve comprehensive care and also reduce dependency on the emergency room and hospitalizations for pain episodes. In addition, UConn Health recently partnered with the Red Cross to develop a new identification card program to speed sickle cell patient care during emergency situations or for emergency room visits.
"Our team's goal is to help patients better manage their health, reduce their pain symptoms and disease complication risks, and keep them out of the hospital so they can enjoy their lives more," says Dr. Biree Andemariam, director of the New England Sickle Cell Institute.
Andemariam and her team at UConn Health provide comprehensive care for more than 220 adults with sickle cell disease, and are working to raise greater awareness of the disease with the help of the local chapter of the Sickle Cell Disease Association of America.
"We are committed to bringing increased awareness of this disease and enhancing care for sickle cell patients, while tirelessly conducting research to answer key questions," says Andemariam. "With better and advanced health management here at UConn Health, the future now looks brighter for patients living with sickle cell disease."
September is National Sickle Cell Awareness Month.
To learn more about the New England Sickle Cell Institute at UConn Health, visit here or call: 860-679-2100.