During the upcoming celebration of Hispanic Heritage Month on the American Spanish language television network Univision, one individual recognized for her contributions to the Hispanic community will be Fany Hannon '08 MA, director of the Puerto Rican/Latin American Cultural Center (PRLACC).
Hannon's work with UConn students will be seen by viewers of Univision's affiliates in Connecticut and the Springfield, Mass., region as part of the network's Nuestro Orgullo Hispano – Our Hispanic Pride – segments aired in commercial breaks as part of the month-long celebration, from Sept. 15 to Oct. 15.
"It's nice to receive this type of recognition, but I'm rewarded by seeing our students being successful," says Hannon, who oversees a varied program of activities at PRLACC for undergraduate and graduate students from Puerto Rico, Peru, Columbia, Dominican Republic, Mexico, Ecuador, Brazil, Costa Rica, Panama among others who represent about 10 percent of UConn students.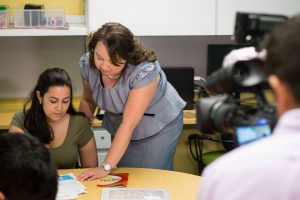 The selection of Hannon as one of ten recognized in Connecticut originated with a project assigned to a UConn student working as an intern last summer in the Hartford office of Entravision, a leading television affiliate of Univision. Karla Santos '17 (CLAS), a journalism major born and raised in the Dominican Republic, was assigned to develop a list of  people to be recognized for their contributions to the Hispanic community to be honored at the beginning of annual independence celebrations in several Latin American nations including Honduras, El Salvador, Chile and Mexico.
Santos says her supervisor, production manager Juan Carlos Sanchez, wanted to provide her with an assignment that she could have full responsibility for during her internship, in addition to her daily task of researching Connecticut news.
"I started researching and a couple of people I met came to mind," Santos says. "I knew about PRLACC, but did not know Fany well. I decided to research her. Reading about her showed me how committed she is to helping the students. She wants all students — Puerto Ricans, Latinos, white, black — to have the same opportunities. That really says something about her."
Hannon first studied journalism in Honduras and, after moving to the United States when she was 20, earned an associate's degree at Miami Dade Community College, thinking she would move into international relations to work one day at the United Nations. While in Miami, she served as a tutor in the ELS program, working with Haitian and Cuban refugees to teach them English and also was a part-time academic advisor.
After earning a scholarship to Smith College in Northampton, Mass., she completed her bachelor's degree, but a discussion with one of her professors suggested a new direction for her studies – higher education and student affairs. After working for one year as an employment specialist, she arrived in Storrs as a graduate student and began work as a graduate assistant in PRLACC.
"It changed my life," Hannon says. "It was the home away from home for me."
Upon completing her degree, Hannon joined the UConn Alumni Association as manager of student/alumni relations, overseeing the connections between students and alumni, which included working on the development of the "Students Today. Huskies Forever." program with the Division of Student Affairs and the Alumni Association.
Five years ago when PRLACC was seeking a new director, Hannon was named to the position. Located on the fourth floor of the Student Union, PRLACC's suite of activity rooms are occupied throughout the day by students dropping by to study, meet with friends, work on projects for the center or seek advice from the staff.
"Everything we do with love and with dedication," Hannon says. "I think the students know they feel this is my home but they also feel they are going to be loved and be challenged. If you feel safe in a space, you're going to be happy. I want our students to come to the center – even if you're not a Latino student. My motto is if you are a Husky, this is for you as well. You will be embraced no matter what language you speak — English, Spanish, Portuguese or some French that is in our heritage as well. If students feel they are being embraced with no judgement, everything will be heard and find not only me, but my team to help them. I think that's what makes the center so vibrant."
She says while most PRLAAC students study majors in the College of Liberal Arts and Sciences, in recent years more students are moving into STEM majors as well as allied health and nutrition programs in the College of Agriculture, Health and Natural Resources.
"Those are the conversations we enjoy, empowering students to choose majors that are their calling," she says. "We do see that in our international students that our Latino students really want to stay here. They love Connecticut and continue to work here and give back to the state."