Friends, patients, and alumni will celebrate UConn Health's achievements and raise vital support at the 8th Annual White Coat Gala "Honoring Heroes and Healers" on Saturday, April 22, at the Connecticut Convention Center in Hartford. Over the past seven years, this event has raised more than $3.8 million to support Connecticut's flagship public academic medical center.
An exclusive performance of "Game Night" by The Second City touring company will cap off an exciting evening. The Second City – the legendary comedy club and improvisation theater – launched the careers of such greats as Dan Aykroyd, John Candy, Steve Carell, Stephen Colbert, Tina Fey, Bill Murray, Jane Lynch, and Joan Rivers.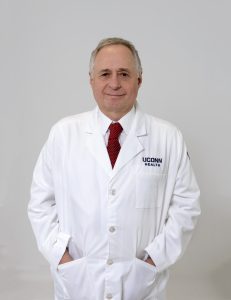 UConn Health is celebrating the 30th anniversary of the nationally renowned Center on Aging, a national leader in advanced research, clinical trials, patient care, and medical education. Three individuals who have made extraordinary contributions to the field will receive the 2017 Carole and Ray Neag Medal of Honor.
Philanthropists Robert and Renée Samuels make a difference in the lives of hundreds of patients through their support of the Center on Aging. Their gifts have made numerous clinical and outreach programs possible, including lectures, memory training, life style counseling, and nutrition education. The couple also generously supports the Pat and Jim Calhoun Cardiology Center, the Carole and Ray Neag Comprehensive Cancer Center, and created a scholarship for student-athletes on both the women's and men's basketball teams.
Dr. George Kuchel is one of the nation's foremost researchers and clinicians in geriatrics. He is The Travelers Chair in Geriatrics and Gerontology and director of the Center on Aging. Under his leadership, the Center on Aging is at the forefront in promoting health and independence in old age. His groundbreaking research focuses on the pathophysiology of common geriatric syndromes, and the functional declines that affect quality of life.
"UConn Health is proud to honor Bob and Renée Samuels and Dr. George Kuchel for their remarkable contributions," said UConn President Susan Herbst. "Bob and Renée have made a profound difference in the lives of many patients and families through their generous philanthropy. Through groundbreaking research and clinical trials, Dr. Kuchel is revolutionizing healthy aging. We look forward to celebrating their contributions to medicine and thanking all of our generous supporters at the 8th Annual White Coat Gala."
Proceeds will benefit UConn Health's comprehensive campus revitalization project, called Bioscience Connecticut, and the Center on Aging. The campus expansion includes the newly opened hospital with 169 single-occupancy rooms, UConn Health Outpatient Pavilion for state-of-the-art ambulatory care, flexible research laboratories that promote interdisciplinary collaboration, and doubling UConn's business incubator spacing. A completed addition on the academic building featuring advances in technology and design will accommodate a 30 percent increase in medical and dental students, increasing the pipeline of graduates who enter primary care.
The White Coat Gala is supported by the generosity of founding title sponsor Richard Lublin (in memory of Jane Lublin) and top sponsors Stanley Black & Decker, Carole and Ray Neag, TIAA, Integrated Anesthesia Associates, and Shipman & Goodwin. Media sponsorship is generously provided by WFSB Channel 3.
To purchase tickets, please visit the UConn Foundation's White Coat Gala webpage, call 860-486-7169, or email uchgala@foundation.uconn.edu.