The "UConn Reads: Sacred Ground" exhibition at the William Benton Museum of Art is based on Eboo Patel's 2012 book Sacred Ground: Pluralism, Prejudice, and the Promise of America, which outlines a vision of America where people of all faiths can make a country where diverse traditions can thrive side by side.
The exhibit opened just days before the executive order on immigration banning refugees and citizens from seven Muslim majority nations.
Patel, born in India to a Muslim family and raised in Chicago, is the founder and president of Interfaith Youth Core, which builds the interfaith movement on university campuses. In Sacred Ground, he writes that suspicion and animosity toward American Muslims has increased, rather than subsided, and alarmist rhetoric once relegated to the fringes of political discourse has become mainstream with pundits and politicians routinely invoking the specter of Islam as a menacing, deeply anti-American force.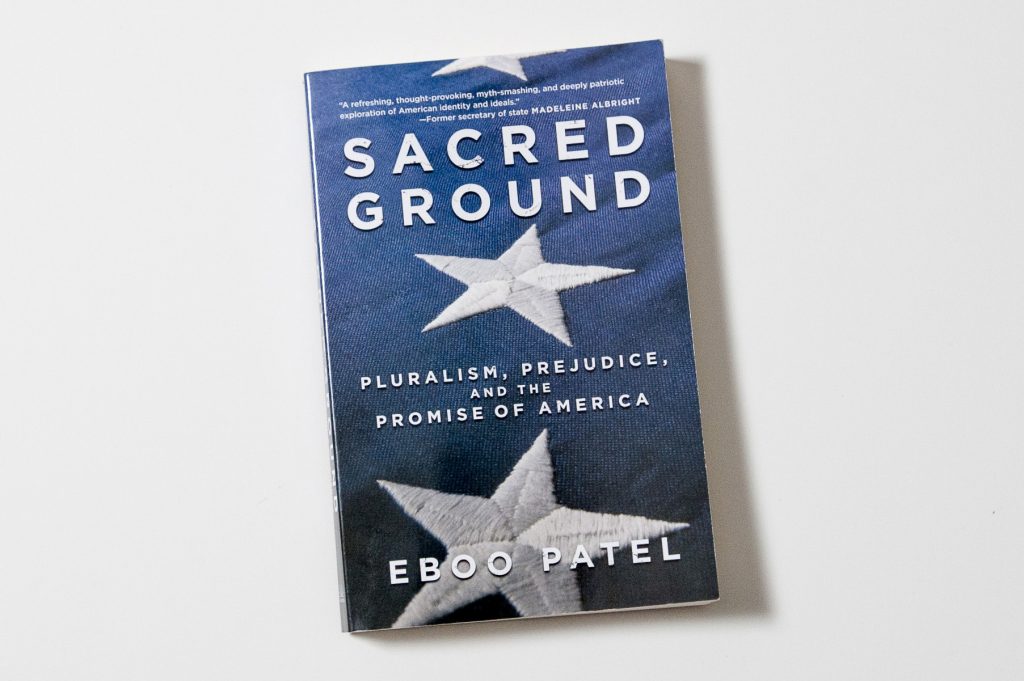 "There are a million competing priorities on college campuses, and so our goal is to make interfaith work a higher priority," Patel told the Religion & Politics website when his book was published. "Our theory of change is that if you can inspire a critical mass of college students to do this … then the chances of them being interfaith leaders throughout their lives, whether they go into college chaplaincy or medicine, is much higher."
In the Benton exhibit, organized by award-winning Massachusetts photographer Diana Barker Price, several international artists share their own visions of pluralism through their art, accompanied by excerpts from Patel's book.
A photograph linked to one of the most renowned images of the 20th century is part of the Benton exhibition. "Afghan Girl with Hands on Face" by Steve McCurry is an image from his 1984 visit to a Pakistani refugee camp in Afghanistan. The photograph is an alternate frame from McCurry's photo session with Sharbat Gula, the green-eyed young Pakistani girl with a red headscarf who appeared on the cover of National Geographic Magazine.
The work of Tehran-based photographer Shadi Ghadirian is a series of 1998 archival digital pigment prints of young Iranian women titled "Qajar." The photos present the tension between tradition and modernity with images that juxtapose her peers with backgrounds that recall the period from 1785 to 1925, with contemporary props such as a vacuum cleaner, bicycle, and modern camera.
Iranian artist Mahmood Sabzi uses mixed art media to juxtapose images from American pop culture with patterns from the Persian rugs his mother designed and wove. Works in the exhibition include riffs on McDonald's food, Elvis Presley, Elizabeth Taylor, and Batman comic books.
Collages of Madonna images created in 2014 by Mehdi-Georges Lahlou, who is the son of a Muslim father and Catholic mother, use Muslim-inspired mosaic patterns on paintings inspired by Catholic Renaissance masters.
Archival pigment ink prints by Nigerian-British photographer Simon Norfolk include a photograph of a group of girls wearing helmets and holding skateboards at an indoor skateboard park operated by Skateistan, the non-government organization that uses skateboarding for youth empowerment in Afghanistan, Cambodia, and South Africa.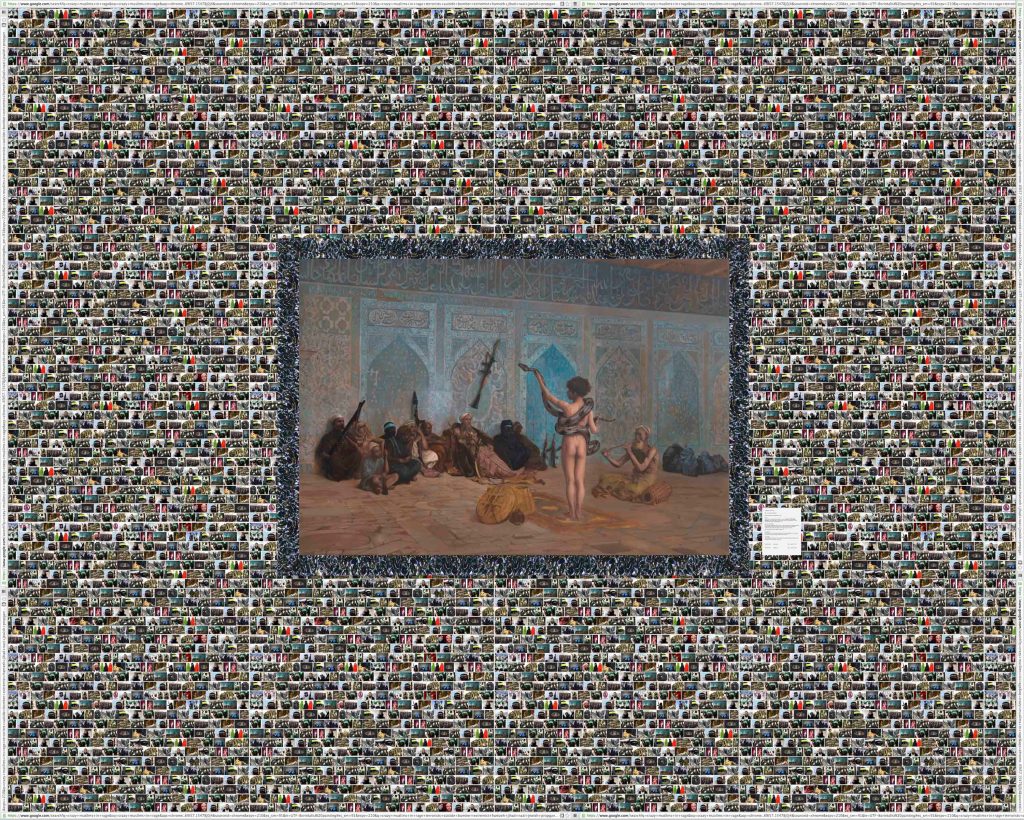 Other artists in the exhibition include painter Hojat Amani, painter Shoja Azari, and multimedia artist Negar Ahkami.
An opening reception for "UConn Reads: Sacred Ground" will be held Thursday, Feb. 2 from 4:30 to 6:30 p.m. at the Benton, 245 Glenbrook Road.
A "Salon at the Benton: Pluralism, Prejudice, and the Promise of America" based on Eboo Patel's book will take place on March 3 from 5 to 7 p.m. It will include a panel discussion moderated by Cathy Schlund-Vials, professor of English in the College of Liberal Arts and Sciences and chair of the UConn Reads Steering Committee.
The panel will include Angela Rola, director of the Asian American Cultural Center and chair of the Asian Pacific American Coalition of Connecticut; Clare Costley King'oo, associate professor and director of honors in English; and Shaheer Hassan, a biomedical engineering student studying sensory nerve neurophysiology who is a member of the Muslim Student Association. More information is available online.
In addition, the author of Sacred Ground, Eboo Patel, will speak at the Jorgensen Center for the Performing Arts on March 1, beginning at 7 p.m.