A partnership with Eversource aimed at upgrading the University of Connecticut's infrastructure to be more energy-efficient could save up to $1.5 million a year and help keep the University in the vanguard of environmentally conscious schools in the U.S., it was announced on campus Tuesday.
Guests including Gov. Dannel P. Malloy were on hand to witness a demonstration of one of the most high-profile examples of the collaboration between UConn and Eversource – revamped lighting in Gampel Pavilion, which has reduced operating and maintenance costs in the arena by 80 percent. Along with other upgrades to the facility's air handlers and cooling towers, the savings translates to roughly $100,000 annually in Gampel alone, according to Eversource.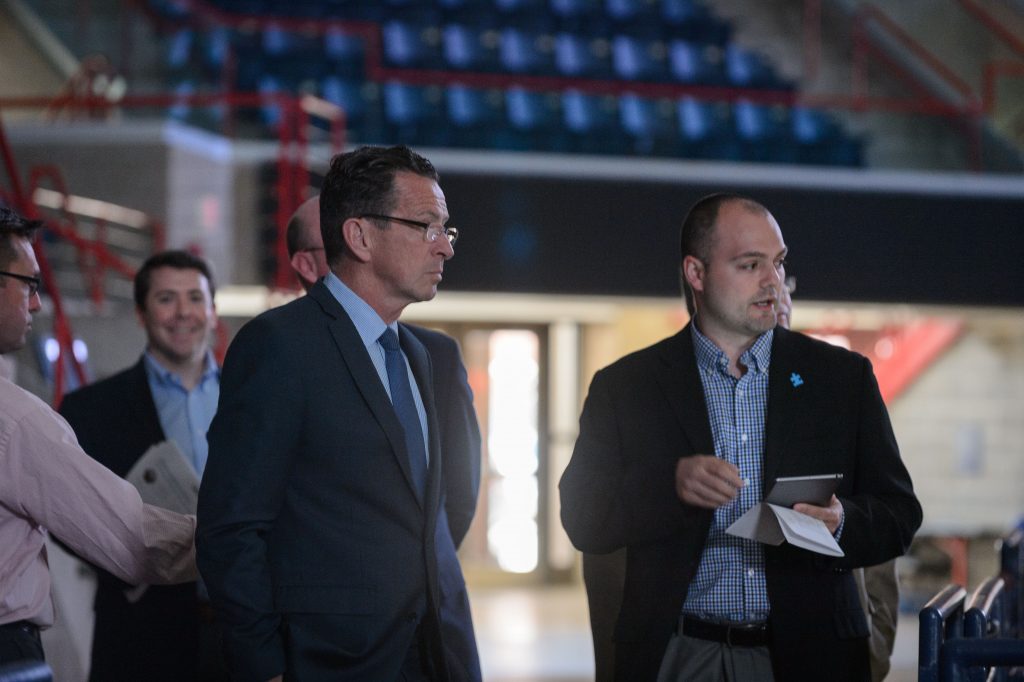 "Now more than ever, state government and higher education, in partnership with progressive energy companies like Eversource, need to take a leadership role on climate change," said Richard Miller, director of the Office of Environmental Policy at UConn. "UConn is proud to lead by example; we've been ranked by environmental organizations like the Sierra Club among the top 10 green campuses in the nation and around the globe for five consecutive years. The work we are recognizing today will not only deliver year-after-year energy and cost savings to the University, it will also help us continue our mission to be a carbon-neutral campus by 2050."
The Gampel project is just one of many at UConn as part of its energy management strategy with Eversource. The long-term plan takes a comprehensive approach to energy management at all of UConn's campuses, and allows the University to better forecast its budget for future improvement projects.
"As UConn continues to grow, so do its energy needs," said Jim Hunt, senior vice president and regulatory affairs & chief communications officer at Eversource. "We are a proud UConn partner, and look forward to continuing to help them grow efficiently, be more sustainable, and effectively manage energy costs."
The 2014 to 2017 plan started with UConn and Eversource collaborating on several studies to determine where there were opportunities for energy-saving upgrades. In addition to the Gampel project, UConn will complete nearly 80 projects with Eversource by the end of October 2017, including lighting upgrades in academic buildings and cooling upgrades in research laboratories.
Future UConn and Eversource projects may include upgrades to residence halls and greenhouses in Storrs, as well as projects at Avery Point, UConn Health, and the UConn School of Law.
Eversource has estimated that UConn's energy efficiency efforts from these efforts will result in approximately 9.5 million kilowatt hours of electricity saved, $1.5 million in energy cost savings, and CO2 reductions of more than 4,400 tons – the equivalent of nearly 1,100 cars off the road for a year.