The commencement décor is packed away, the residence halls are mostly empty, and UConn is preparing for another summer – but those dog days will be anything but quiet and languid.
UConn crews and contractors are ramping up for a season of major construction projects at various points throughout the Storrs campus, including some that require traffic detours and some temporary road closures. UConn traditionally carries out a multitude of projects at this time of year because most students are gone, traffic is light and weather conditions are favorable for construction.
Traffic pattern changes include one-way-only restrictions on parts of North Eagleville and Hillside roads that may extend through the fall semester. An overview of those changes and a map are posted on the website of University Planning, Design and Construction, along with a link to video of a Town Hall forum in March that provided people with more information. UConn is requiring contractors on the various projects to avoid using neighborhood roads when they are entering and leaving campus with their heavy equipment.
Most of the work represents projects in the Next Generation Connecticut improvement program, in which the General Assembly allocated $1.5 billion over 10 years to improve UConn facilities as part of its expansion of education and research in STEM fields (science, technology, engineering and math). In all, more than $800 million worth of projects are in construction at UConn, with more than $400 million in projects still in the planning stage and $250 million-plus in the design stage.
This summer's work includes several high-profile, critically important projects:
North Eagleville Road / Utility Work
Major infrastructure improvements have been needed throughout campus for several years and, with Next Gen funding, the University now has money to address the most pressing problems.
Among those at the top of the list: the network of utility lines along North Eagleville Road, where fencing and concrete jersey barriers are now in place as contractors start digging to reach and replace those old but critical lines.
This summer's work is a continuation of a project that started last summer, in which UConn is replacing old lines that carry steam to heat buildings, along with water and sewer lines. Electrical duct banks also will be replaced as part of this $49 million multi-year project.
"Everything is intertwined, so we're very careful in the order in which we do the work," Laura Cruickshank, UConn's master planner and chief architect, told members of the UConn Board of Trustees' Building, Grounds and Environment Committee recently.
To accommodate that project, there will be no access from Route 195 onto North Eagleville Road through the end of December. Details of the restrictions are as follows:
Drivers on Route 195 or coming off Gurleyville Road can enter campus via Bolton, Mansfield or South Eagleville roads.
Drivers heading to central campus from the north and west should use Discovery Drive off Route 44; or can take Route 195 to Bolton, Mansfield or South Eagleville roads.
Those heading to buildings and property on North Eagleville Road — including university offices, the various houses of worship there, and the cemetery — can enter eastbound North Eagleville at the intersection near the North Parking Garage. However, people exiting those properties must leave via the eastbound lane to Route 195, as there is no westbound traffic allowed.
Both lanes will reopen to traffic from Discovery Drive to the North Residence Halls at the start of the fall semester. However, the remainder of the road will stay one-way eastbound through the end of the calendar year.
Sidewalks will remain open for pedestrians throughout the work, although whether they are the north or south sidewalks will depend on the stage of construction at the time.
Gant Science Complex / Utility Work
Some workers also are already being temporarily relocated from a portion of the Gant Science Complex for renovations there, and work on the underground steam line and other utilities nearby is under way.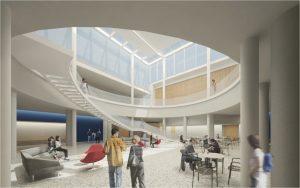 The renovations will include work to classrooms, lecture halls, teaching and research laboratories, faculty offices, and support space.
Also, the building's façade and roof will be reconstructed to better prevent leaks and save energy – with the added benefit that the building will look more attractive – while the outdoor plaza area will be improved to be more inviting and accessible to the campus community.
The UConn Board of Trustees approved an $85 million budget in February for Phase I and infrastructure improvements at the 285,000-square-foot complex, which is comprised of three wings and a plaza.
The renovations will be implemented in three phases so the building's occupants can be moved elsewhere while work is done on their area. The first phase is now starting: the south wing and plaza area, where improvements will be completed in fall 2018.
Program space in the Gant complex is allocated to STEM-related academic programs, including Physics, Ecology and Evolutionary Biology, Molecular and Cell Biology, and Physiology and Neurobiology. The University Information Technology Services (UITS) data center will also remain and continue to be fully operational throughout the renovation.
Gampel Pavilion Ceiling and Roof
Almost as soon as the echoes of Commencement 2017 faded away, crews were inside Gampel to start setting up for roof and ceiling repairs that have been eagerly anticipated for the last several years.
Gampel opened in 1990 and the domed ceiling's construction was innovative for its time, including a network of metal panels insulated with fabric covering.
As Gampel has aged, though, the fabric has started to tear and flake. Also, the sealant between panels on the dome's roof has started to wear off, causing leaks to become more common.
The $10 million in repairs involve dislodging each panel from the ceiling, lowering it to the ground, replacing the covering and insulation, and then raising it again for reinstallation. On the exterior, the roof will have a new and safer access system for workers to reach it when needed, and will be resealed to prevent leaks.
Given Gampel's heavy use for athletic and non-athletic events, crews will work six days a week and the work will be done before the start of the 2017-18 UConn Men's and Women's basketball season.
Recreation Center Site, and Adjacent Utility Work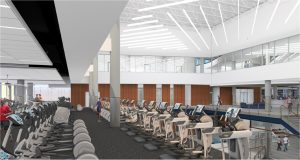 The demolition of Connecticut Commons was complete last year, and extensive site work has been done on the property to prepare it for construction of UConn's planned new three-story, 191,000-square foot Student Recreation Center, which is funded by student fees.
With construction getting under way, the $100 million project is on schedule for completion in summer 2019.
The facility will include approximately 30,000 square feet of fitness space, a four-court gymnasium, two multipurpose activity courts, an indoor running track, and an aquatics center with a 25-meter pool and a recreational pool. It will also have a climbing center, racquetball courts, an outdoor recreation center and functional training and multipurpose rooms.
The project conforms to Connecticut High Performance Building Code regulations and will be registered as a LEED Gold (Leadership in Environmental & Energy Design) project based on its environmentally friendly features.
Engineering and Science Building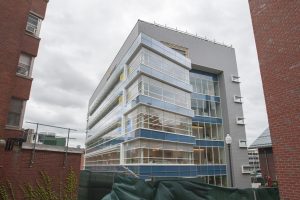 Students and employees have been eagerly watching the five-floor, 115,000-square-foot Engineering and Science Building take shape in the midst of campus near the Chemistry and Pharmacy/Biology buildings, with which it will eventually share a central quad.
The $95 million project is on budget for fall completion, and is being built to environmentally friendly standards aimed at earning LEED Silver certification.
Additional Projects
The exterior of UConn Hartford's new building was substantially complete by the end of the spring semester, and finishings and other work inside and around the building will be complete in early August. That will give UConn enough time to move offices, departments, and other operations from the West Hartford campus to the new downtown location before the fall semester begins.
In Stamford, more than 400 people have applied for the 290 beds that will be available in student housing on Washington Street, one block from the UConn Stamford campus. That housing, done as a public-private partnership, will be ready for students for the fall semester.
In Storrs, UConn's Fine Arts Complex is one of the first sights greeting visitors who approach campus from the south and, with improvements under way there, it also will soon have a new entry lobby and better connectivity between the buildings. That project gets under way this summer with a targeted completion date in early 2019. It's the second phase of improvements there.
Work also continues on construction of the 114,000-square-foot Innovation Partnership Building on Discovery Drive; the conversion of 40 acres off Route 32 near Spring Manor Farm from woodland to farm land; renovations inside the Homer Babbidge Library; and the addition of a terrace outside of the Beanery Café at the Benton Museum of Art.