At the start of the budget season, University of Connecticut administrators voiced a commitment to protecting the academic enterprise while working to keep tuition at the levels set in the current four-year plan.
"Our goal is to be affordable and accessible to all," Scott Jordan, UConn's chief financial officer and executive vice president for administration, said at the time.
By many indicators, the University has made inroads to achieve that goal. A few years ago, the state legislature's Program Review and Investigations Committee reported that the University's affordability compared favorably to other flagship universities and peer institutions. Kiplinger's Personal Finance, Princeton Review, and Money Magazine have all come to similar conclusions, ranking the University among the "best values" in higher education in recent years.
The University offers a package of grants and loans to help disadvantaged students afford an array of direct education expenses, including tuition, fees, and room and board. The support for students is both need- and merit-based.
But affordability and accessibility are all about providing students an opportunity to achieve their goals.
Students like UConn alumni Dennis '04 (BUS) and William Bok '08 (CLAS) who were self-described "troublemakers" as kids. After graduating, the brothers founded FroyoWorld – Connecticut's first self-serve frozen yogurt chain.
The Boks credit UConn – and specifically the Student Support Services program in which they both participated – with helping them achieve such success. Student Support Services provides advising, academic support, and advocacy for first-generation, low-income, and underrepresented students at UConn.
Current students now taking advantage of UConn's opportunities:
Mohammad Mansour '20 (PHR), pre-pharmacy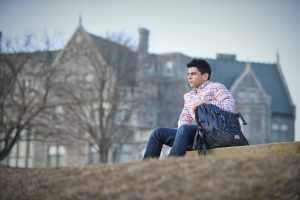 A 2016 graduate of Fitch High School in Groton, Conn., Mohammad Mansour '20 (PHR) – and his five siblings before him – chose to attend UConn Avery Point because of the campus' proximity to his home and its affordable cost.
"Once my sister went to UConn, we all went to UConn," says the pre-pharmacy major. "My dad said he would recommend UConn over any other school. We're a UConn family."
His siblings' successes are a lot to live up to: his eldest sister, Aysha '16 (Pharm.D.), is now a registered pharmacist at Walgreens; his brother, Ahmed, who completed his undergraduate studies at UConn in three years, is currently pursuing his MD and will graduate from the UConn School of Medicine in 2018; his sisters Ola '16 and Bayan '17 are both pursuing nursing at UConn; and his sister Ruyah is set to graduate from UConn's School of Allied Health in 2018.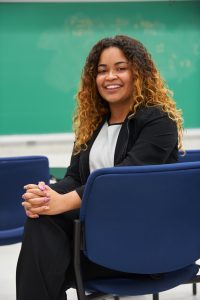 Amberleigh Delgado '19 (BUS), accounting
First-generation college student Amberleigh Delgado '19 (BUS), a Travelers EDGE (Empowering Dreams for Graduation and Employment) scholar, hopes to become a Certified Public Accountant when she completes her bachelor's degree in accounting. She is an Associated Student Government senator and a campus tour guide.
"As a resident of Hartford, having UConn in our community showed me that college was within reach, and Student Support Services helped with my transition. I've taken advantage of many opportunities here – last summer, I studied abroad in South Africa and interned at Deloitte."
Stephen Sam '19 (ENG), computer science
Although at times he considered becoming a doctor or a lawyer, Stephen Sam of East Hartford eventually looked to a longtime hobby to determine his career path. "My dad's really big into computers. Growing up, every time he fixed one, he would show me everything he did, and the next time, I would fix it," Sam says. As a computer science major, he hopes to build apps and has his eyes set on working for a technology "giant" such as Apple or Google.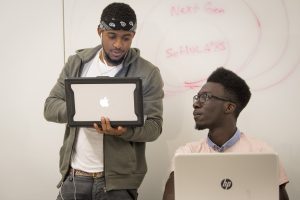 "When I was looking at colleges, I saw the engineering opportunities available at UConn and earned some scholarships," says Sam. "It's not too far away from home and not too close. It's the best place to build my technical acumen."
Outside of classes, Sam has built his network through living in a Learning Community and as president of Brothers Reaching Our Society (BROS), vice president of the African Student Association, and a senator for the UConn chapter of the National Society of Black Engineers.
Irma Valverde '18 (CLAS, BUS), political science and business management
Walking around the Storrs campus on a tour, Irma Valverde from Long Island was struck by how many people were wearing UConn gear. "I didn't get that school spirit vibe anywhere else I visited," says Valverde, who is now a senior and the president of the Undergraduate Student Government (USG), the liaison between students and the administration. UConn, despite its size, also felt like home, she says.
"I ran to be student president because I've seen the value of student advocacy," she says. "I think this is the perfect way to give back to the community and make sure student voices are heard."