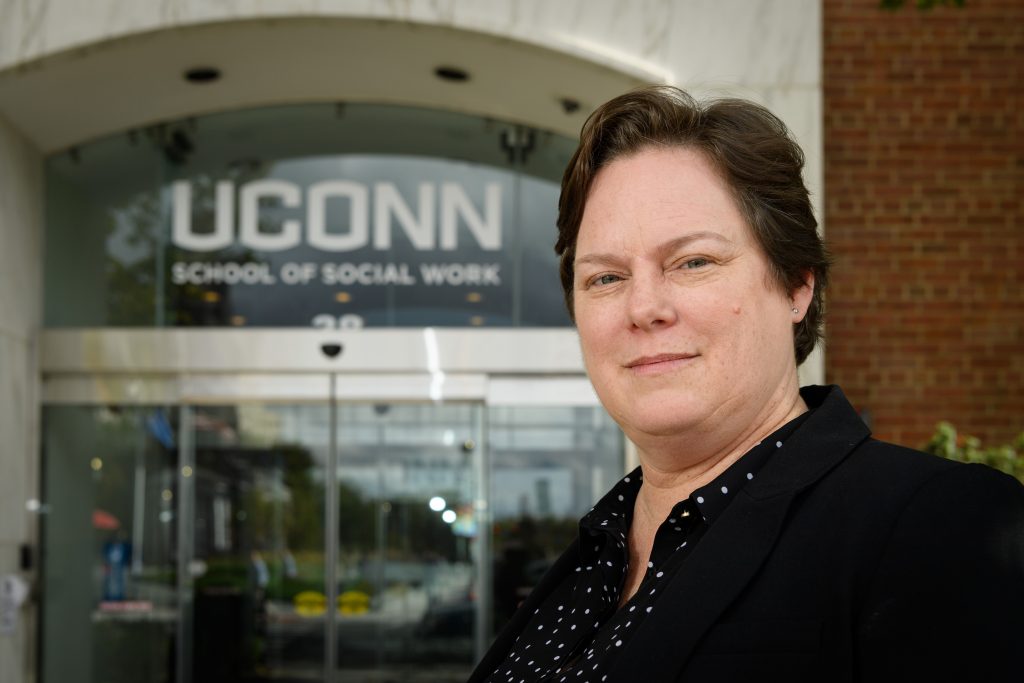 UConn professor Megan Berthold was a clinical social worker in California, working with survivors of torture from many countries including those who survived the Cambodian genocide, when a judge in federal immigration court reached the limit of endurance.
Berthold had psychologically evaluated a genocide survivor from Cambodia who was seeking asylum in the United States, and had prepared a detailed report on the torture and other traumas the person had suffered, as well as the psychological impact of those experiences. But when Berthold took the stand to testify as an expert witness, the judge said she didn't want to hear any more about the trauma: she had read the report, and that was enough.
But the judge did have a question for Berthold: How was she able to do her job without breaking?
"I said, your honor, I have the opportunity to work with these survivors over a long period of time while you only hear about the persecution, the trauma, the harm," Berthold remembers. "I hear that too, of course, but I also witness their many moments of strength, the things that are going well in their lives, and I see people – sometimes over many years – get better."
Two weeks later, the judge resigned as an immigration judge. But Berthold is still on the job.
We're not just looking at problems, but also at individual and community and societal strengths. — Megan Berthold
Now an associate professor and director of field education at the UConn School of Social Work, Berthold has spent decades assisting refugees, asylum seekers, and others traumatized by torture and persecution. At UConn, she not only trains social workers of the future in this difficult and sensitive work, but also studies ways in which social workers themselves – along with interpreters, health and mental health professionals, lawyers, and yes, immigration judges – can overcome the secondhand trauma that can afflict those who help the primary victims.
Berthold's work is part of UConn's established and growing commitment to the field of human rights, which can be seen everywhere from the Human Rights Institute at the University to regular academic programming that highlights areas of local, national, and global concern.
One of the most prominent showcases of that commitment is the biennial Thomas J. Dodd Prize in International Justice and Human Rights, which will be presented on Nov. 2 to Physicians for Human Rights, which uses forensic science, clinical medicine, and public health research to document crimes against humanity around the world, as well as train health professionals to investigate and prevent human rights violations.
This year's recipient corresponds well with Berthold's work in more ways than one: not only has she been at the intersection of health professions and survivors of torture her entire career, but she is also serving on the advisory board of a new chapter of PHR that has been formed by medical students at UConn Health.
"I got to know PHR many years ago, when I was working with survivors of torture in Los Angeles," Berthold says. "They do a tremendous amount of good."
Serving on an advisory board for a medical school group while holding an appointment in a different college might seem odd to some, but for Berthold such cross-disciplinary approaches are second nature – and, she says, essential to the field of human rights.
"That's been my approach for my whole career," she says. "Because of the nature of what happens to survivors of torture and persecution, if you're going to be effective in helping them, you have to work as part of a team."
A good example of that approach is the UConn Schools of Law and Social Work Immigration Detention Service Project at York County Prison in Pennsylvania.
Spearheaded by Berthold and Human Rights Institute director Kathryn Libal on the social work side and Anna Cabot and Jon Bauer from the School of Law, the alternative spring break project takes students to an immigration detention center in Pennsylvania where they assist asylum seekers in preparing their cases.
The program – which last year received the Pennsylvania Immigration Resource Center's Light of Liberty Award – has already grown to incorporate students and faculty members from other disciplines as well, including El Instituto.
"The collaboration between Law and Social Work has been tremendously fruitful for this project," says Bauer, who also directs the Law School's Asylum and Human Rights Clinic and is on the advisory board of the PHR chapter at the medical school.
Bauer singles out Berthold's efforts in preparing mental health evaluations as part of the program, which helped lead to some asylum seekers being released from detention.
"Her work on traumatized refugees and asylum seekers is tremendously important, both in her field and in terms of immediate practical application," he says.
Berthold's concern doesn't end with those seeking asylum, though. A major part of her research and practice has focused on the areas of vicarious trauma and vicarious resilience, which affect those providing assistance to survivors of torture and other traumas. Neither of these concepts were well established when she began as a social worker, but thanks in part to her efforts, they've become widely accepted in the field.
"Part of the reason I am still doing this work 30 years later, is that I've learned how people who survived these human rights violations and other kinds of horrible human-perpetrated trauma also have enormous strength and resilience. That gives me perspective and makes me vicariously resilient," she says. "That's something I really appreciate about the work we do: we're not just looking at problems, but also at individual and community and societal strengths."