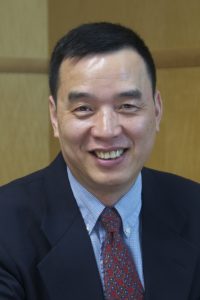 Dr. Riqiang Yan will join UConn School of Medicine as chair of the Department of Neuroscience this spring establishing the medical school's first research laboratory dedicated to studying and discovering potentially new treatments for Alzheimer's disease and other forms of neurodegenerative disease.
Joining from the Cleveland Clinic, Yan is an internationally recognized neurodegenerative disease researcher specializing in identifying the biological culprits behind Alzheimer's disease. His five studies are funded by the NIH.
Yan presently serves as the Cleveland Clinic's Morris R. and Ruth V. Graham Endowed Chair Professor and Vice Chair of Neurosciences and professor of molecular medicine at Case Western Reserve University. He received his Ph.D. from the University of Kentucky and completed a postdoctoral fellowship at The Rockefeller University.
"We welcome Dr. Yan to UConn School of Medicine and Connecticut as he and his research programs are very highly respected by leaders and other scientists in the field," says Dr. Bruce T. Liang, dean of UConn School of Medicine.
"I am very excited to join UConn," says Yan. "I see a new chapter ahead and an opportunity for UConn School of Medicine's Department of Neuroscience to truly shine brighter," says Yan.
He adds: "I look forward to mentoring our talented UConn neuroscientists and staff and watching their research, discoveries and list of increasing accomplishments grow even greater, along with more national recognition of their efforts."
Along with the first dedicated Alzheimer's disease research lab at UConn, Yan's recruitment brings with it a host of research collaboration opportunities across the SOM and its Departments of Neurology, Neurosurgery, Psychiatry, Center on Aging, neurobiology and brain investigators at the University, as well as with the Jackson Laboratory for Genomic Medicine on UConn Health's campus.
"I look forward to working together to expand scientific and medical knowledge in the really important fields of neurodegenerative diseases," says Yan.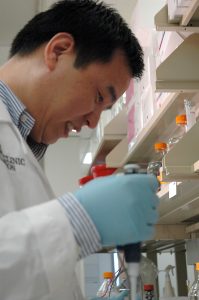 His research lab studies build upon his co-discovery of the BACE-1 protein, the very critical molecule that he revealed fuels the production of β-amyloid peptides, or plaque build-up, in the brains of Alzheimer's disease patients. Studies suggest that these peptides are toxic and lead to cognitive decline in patients with Alzheimer's.
"We all have a hope that in 5 to 10 years with academia collaborating with pharmaceutical companies we will indeed have an effective drug to finally treat Alzheimer's disease," says Yan who reports there has not been an FDA-approved drug to try to treat the disease since 2002. "It's our big hope and we will be continuing to try hard at UConn to discover and test a new effective drug therapy to make this hope a reality to help those struggling with Alzheimer's and ease the burden of future patients and their families."
Yan and his lab are currently testing in mouse models the power and safety of several promising molecules to target BACE-1 and inhibit its biological function to prevent or stop further β-amyloid growth.
In addition, BACE-1 study explorations also are assisting Yan and his team in gaining greater insight into the important role reticulon 3 protein (RTN3) plays in the formation of dystrophic neurites in the brain which can lead to memory loss, dementia and Alzheimer's disease in the elderly.  The Yan lab is also exploring the treatment that aims to enhance neurogenesis in the adult and to replenish the loss of brain cells in AD and other neurodegenerative diseases.