For a few months Cloe Rodriguez, 39, of Plainville was experiencing some stomach cramping and constipation.
But then one day she found blood in her toilet.
"I was bleeding really bad and went to the Emergency Department at UConn John Dempsey Hospital," says Rodriguez. There emergency department physicians and gastroenterologists performed a colonoscopy and discovered a large, cancerous tumor growing inside her colon.
"I am only 39," shared Rodriguez. "I was shocked by my diagnosis. It's a total eye-opener. You would never think that a young person could get colon cancer.  I was always healthy and hiked every day."
Rodriguez stresses: "I am really glad that I was in the right place at the right time, with the right doctors."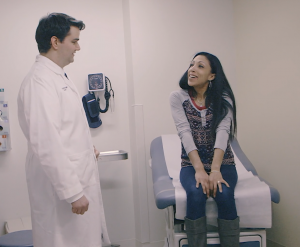 "When she got here to UConn Health we took her complaints very seriously," says Dr. Eric Girard, her colorectal surgeon at UConn Health where a team of doctors from the Emergency Department and Division of Gastroenterology were able to make a quick and clear diagnosis of colon cancer.
In mid-December, Girard performed a successful minimally invasive robotic surgery to remove her Stage III colon cancer and the surrounding lymph nodes where the cancer had spread.
"We were able to perform the minimally invasive procedure through tiny incisions to remove the colon cancer and get Cloe home faster and with a quick recovery," says Girard. "She was home from the hospital in three days."
Before her bleeding Rodriguez had no major symptoms to ever think she could ever have colon cancer. And also she has no family history of the disease.
"Colon cancer truly is a silent killer," says Rodriguez. "Thankfully the doctors at UConn Health finally found my tumor and took care of it. My surgery and recovery went really well. And Dr. Girard is amazing, he is a very good doctor."
Rodriguez urges other young women and men to listen to their body and watch what you eat. "Always take care of yourself," says Rodriguez. "My diagnosis now makes me think twice about what food or drinks I put in my body. I now limit my red meat, eat more salad and raw veggies, drink more water and less coffee, and stay away from white sugar."
She adds: "I would say to any young person get your body checked out. That's what I did and look at me. The disease is treatable if you get it checked out early."
"My treatment at UConn Health was amazing. I am now back to my hiking every day," says Rodriguez. "I am so very happy."
"I love my job," says Girard. "When we can take someone like Cloe and get them past their diagnosis so they can just go on living their everyday life. Seeing patients like Cloe, with big smiles on their face in the office, is why I do what I do."
According to Girard, colon and rectal cancer in young adults used to be rare, but doctors are seeing it more and more. He believes that Rodriguez's cancer may have started as a tiny, precancerous polyp.
"The way to avoid the major risks for colon cancer is by eating a diet high in fruits and vegetables, exercising, avoiding obesity, and quitting smoking." stresses Girard. Obesity contributes to the disease's development since the adipose (fat) cells and overeating releases more hormones like insulin and estrogen which can act as growth factors that can increase the development of cancer.
In addition to knowing your family history, Girard recommends these  top 10 tips to reduce your likelihood of developing colon cancer:
Get screened with a colonoscopy for colon cancer starting at age 50, or ten years before your youngest relative was diagnosed.
Never ignore bleeding from your rectum or blood in your stool.
Beware of colon cancer symptoms such as abdominal pain and stomach distension.
Limit red meat.
Eat high fiber foods.
Maintain a low sugar diet.
Eat a lots of fruits and vegetables.
Drink water which is best, and avoid sugary drinks.
Limit alcohol.
Don't smoke.
But remember most colon cancer patients don't have symptoms or they can be vague abdominal discomfort says Girard.
"This is why Cloe's tumor got missed by two other hospitals. No one thinks of colon cancer in a 39-year-old," stresses Girard. "But it can happen to anyone."