UConn welcomed national experts in the field of digital health last week at the second annual UConn Center for mHealth and Social Media Conference.
Attendees and speakers reflected the conference's theme, Digital Health at the Intersection of Academia and Industry.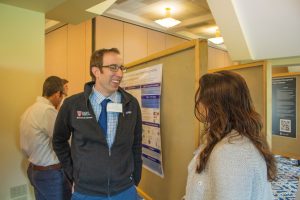 The goal of the event was to bring together researchers from academic institutions with leaders from the private sector to foster conversation and collaboration, according to organizer and director of the Center for mHealth and Social Media, Sherry Pagoto, PhD.
Pagoto, who is also president of the Society of Behavioral Medicine, came to UConn from UMass in 2017 where she was professor of medicine. She is a recognized thought leader in the field of mHealth, which is a general term for the use of wireless technology like mobile phones for healthcare purposes. Mobile devices are becoming increasingly popular tools for health education, treatment support, as well as disease surveillance and management, according to experts like Pagoto.
"We have so many opportunities to leverage technology to improve health, but this work requires interdisciplinary collaborations and academic-industry partnerships," says Pagoto. "Every year we will host this conference, inviting experts from across the country, to provide an opportunity for UConn investigators to build those collaborations."
Featured speakers at this year's event included mHealth leaders from the private sector, as well as from highly regarded clinical research institutions. Kate Wolin, chief science officer of Interactive Health Medical Center and Dr. John Torous, co-director of the Digital Psychiatry Program at Beth Israel Deaconness Medical Center both gave talks.
Emil Chiauzzi, principal scientist from PatientsLikeMe, the largest personalized health network, spoke about generating patient reported data through online research networks. He also provided insights about best practices for ensuring mutually beneficial academic-industry collaborative research projects.
The day's events wrapped up with a distinguished panel exploring how academic researchers and industry partners can form bridges to foster greater collaboration.
Dr. Brennan Spiegel, director of health services research at Cedars-Sinai Health System reiterated the importance of understanding an industry partner's needs when seeking to start a collaboration.
"It's important for academic researchers to first consider unmet clinical needs that align with their core research competencies," says Spiegel. "When there's an academic core competency and an unmet clinical need, there is a natural fit."
UConn's Center for mHealth and Social Media was established in 2015 and is part of the university's Institute for Collaboration on Health, Intervention, and Policy (InCHIP). The Center is devoted to mobile health, sensing, and social network research to evaluate, measure, and intervene to improve behavioral health outcomes.
Follow the UConn Center on mHealth and Social Media on Facebook and Twitter.