U.S. Congressman Joe Courtney (D-Conn.) visited the University of Connecticut's Storrs campus last week to meet with researchers from the School of Engineering and tour several of the University's state-of-the-art research centers.
"Congressman Courtney is a dedicated advocate of higher education and UConn is very grateful for his longstanding support," said Provost and Executive Vice President for Academic Affairs, Craig H. Kennedy. "He understands the role and value that a public research university plays in advancing new discoveries, innovation, and knowledge with industry partners to drive economic growth throughout the state."
The visit began at one of UConn's most specialized R&D facilities, the Innovation Partnership Building (IPB) at the UConn Tech Park. Made possible through state investment in the $1.5 billion Next Generation Connecticut initiative, the IPB brings together world-class academic researchers with industry partners from the private sector. The unique space was specifically designed to fuel collaborative research between UConn scientists and businesses of all sizes, and to accelerate the development of ground-breaking technologies in materials science, additive manufacturing, cybersecurity, flexible electronics, energy, and other fields.
Some of Connecticut's – and the world's – leading corporations and industries are serving as anchor partners for the IPB, including United Technologies Corp., General Electric, Comcast, Pratt & Whitney, and Eversource.
The IPB is home to one of the most advanced microscopy centers in the country thanks to a partnership with one of the world's leading scientific instrument makers, Thermo Fisher Scientific. Industry partners also have access to more than $40 million in high-end research equipment operated and maintained by faculty experts within the IPB's eight research centers. A ribbon-cutting ceremony is scheduled for June 2018.
The Congressman also toured UConn R&D labs focused on developing technologies and workforce training in areas that are critical to U.S. defense capabilities, such as naval engineering.
Courtney, whose district includes the General Dynamics Electric Boat shipyard in southeastern Connecticut, has been a strong proponent for defense related research and training programs at UConn. Along with Senators Richard Blumenthal (D-Conn.) and Chris Murphy (D-Conn.), Courtney was instrumental in helping UConn win a $1.3 million grant from the Office of Naval Research for an undersea engineering program.
Courtney also helped provide additional funding this year for the Navy to fund stronger partnerships between the Navy and universities with an interest in undersea vehicle research and naval engineering.  UConn, General Dynamics Electric Boat, and the University of Rhode Island recently established the National Institute for Undersea Vehicle Technologies (NIUVT), a collaboration that aims to enhance performance and reduce the cost of building the U.S. Navy's fleet of highly specialized submarines and autonomous underwater vehicles. NIUVT will compete for this new Navy funding opportunity.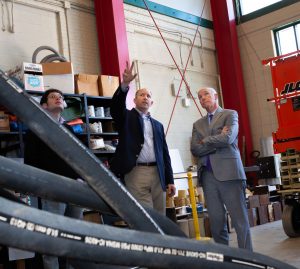 "We had a great brief at UConn updating us on the growing research and development taking place to further our national security priorities," said Courtney. "I was very pleased last year that my office was able to assist UConn with obtaining a $1.3 million grant through the Office of Naval Research to conduct research on undersea engineering. During our visit, Richard Christenson, the co-director of NIUVT, showed us some of the research projects underway to increase submarine efficiencies and further quiet undersea operations by our Navy. Last week, as a further boost, the House Armed Services Committee, which I serve on as ranking member of the Seapower and Projection Forces Subcommittee, authorized $20 million to support Navy partnerships with academic institutions. This funding will be used by institutions conducting research on undersea unmanned warfare and energy technology, such as NIUVT that is a collaborative program between the University of Connecticut and the University of Rhode Island. I am grateful for the impressive work that the researchers and engineers are carrying out at UConn in support of our undersea fleet."
Headquartered at the UConn Avery Point campus, NIUVT leverages several sites in the region that are important to the naval industry.  These sites include the naval submarine base in Groton, Connecticut, General Dynamic Electric Boat's facilities in Connecticut and Rhode Island, the main campuses of both UConn and URI, the Naval War College, and the Naval Undersea Warfare Center. NIUVT and the Naval Undersea Warfare Center in Middletown, Rhode Island, have entered into a cooperative research and development agreement that further reinforces the institute's regional significance.
Courtney's visit to the IPB wrapped up with a presentation from the director of the Quiet Corner Innovation Center (QCIC), a UConn School of Engineering program that was established in 2016 through grants from the U.S. Economic Development Administration and additional investments from Connecticut Innovations and UConn. The program provides crucial research and development services, state-of-the-art equipment, and leverages UConn expertise to accelerate growth at small- and medium-sized businesses in the manufacturing sector located in Connecticut's "quiet corner" comprised of Tolland, Windham, and New London counties.
QCIC, along with its sister program the Connecticut Manufacturing Simulation Center (CMSC), are expected to help almost 300 manufacturing companies and support the creation of nearly 2,500 jobs to the state's economy. QCIC also aims to bolster new startups and product lines, with the potential of attracting millions of dollars in private investment and revenue to Connecticut's most rural region.
To learn more about the Innovation Partnership Building at the UConn Tech Park, visit www.techpark.uconn.edu