With very high pollen counts this week, UConn Today sat down for a Q & A with Pam Angelillo, RN, the allergy nurse for UConn Health. She receives patient referrals from across the institution helping bring relief to patients with allergy complaints, performing routine and advanced allergy screenings and patient care.
Q. Summer is almost here, but why do I feel like have a constant cold?
A. Seasonal allergies can often feel like you're getting sick from a cold. They can cause headache, congestion, sneezing, and itchy and watery eyes. They can also make you feel tired and run down. The most common symptoms are sneezing, coughing, itching and watery eyes. It can feel like you're getting sick. Some people will also experience frequent sinus infections as a result of their allergies.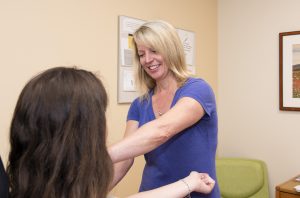 Q. Why me, are some people just more susceptible to allergens?
A. Yes, allergies tend to be hereditary. Unfortunately if you have parents who are allergic, the more likely it is that you will experience some allergies as well. Also, you can be more susceptible to allergies depending on your amount of exposure to allergens. Remember that your body can change over time and you can develop allergies later in life too.

Q. What are the biggest allergy culprits this spring and summer?
A. The biggest allergy culprits are pollen from trees and grasses in the spring and summer. Dust and pet allergens are also common culprits in the winter months.
Q. What can people suffering from allergies do to prevent or reduce their symptoms?
A. People can prevent and/or reduce their symptoms by showering at bedtime and avoiding exposure to allergens as much as possible. Wear a mask when mowing the lawn or doing yardwork, don't open the windows in your home if possible, sleep with the air conditioner on, use an air purifier and remember to change the filters often.
Q. How can I feel better from my allergies?
A. There are many over-the-counter antihistamines available for seasonal allergies. Also, using a nasal steroid spray and nasal saline rinses can be very helpful.
Q. Tell us about the allergy program's services?
A. We provide allergy testing for environmental allergies here at UConn Health in the Outpatient Pavilion's ENT office. We also provide allergy immunotherapy for patients who suffer from allergies. If interested in being allergy tested a patient would need to be evaluated by one of our ENT physicians first and then they are referred to me for allergy testing.  Appointments are available by calling 860-679-2804.
Angelillo has served as UConn Health's allergy nurse for a year and a half. Prior to this role she was a critical care nurse since 2005 at UConn Health.
Learn more about the ENT Department here.