In honor of June's National Men's Health Month and Father's Day, the UConn Health Disparities Institute (HDI) is shining light on the power of the visual arts to help inspire greater health equity among Connecticut's boys and men of color. To raise awareness HDI will be hosting several art-based events on June 11 in Hartford as part of its newly launched CT Boys and Men of Color Multi-Sector Alliance.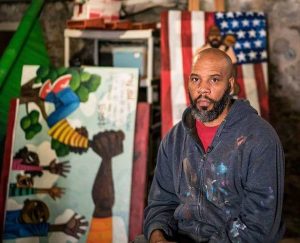 This new alliance of community partners across the state hopes to increase investments, innovative programs, and promote youth-led policy changes to better address social drivers of health, well-being, and health equity. Alliance members include intergenerational representatives from cultural, spiritual and community organizations, along with private, public and academic sector stakeholders.
"Our hope is that the lives of our boys and men of color can start to imitate powerful art that represents the well-being, physical and mental health, and strong, supportive family bonds that each of us as well-rounded and successful individuals all need," said Dr. Wizdom Powell, PhD, director of the UConn Health Disparities Institute. HDI works to advance health equity and reduce disparity to ensure that everyone in Connecticut has the opportunity to enjoy good health and well-being.
According to Powell, boys and men of color experience poor health outcomes and shorter lifespans due in large measure to social and economic drivers of health (such as physical environments like lack of access to healthy foods, unaffordable insurance, and daily environmental stressors). Extensive research has shown that much of the conditions leading to premature mortality are amenable and preventable.  Often, the various solutions that are implemented to counteract these determinants of health outcomes result in incremental, rather than sustainable change.
The featured artist for the June 11 events is painter Cbabi Bayoc. CBABI (Creative-Black-Artist-Battling-Ignorance) has created art for international companies such as Anheuser-Busch, Coca-Cola, New Line Cinema and art to depict cultural icons like Busta Rhymes, Missy Elliot and Prince. In 2012, he began his 365 Days with Dad series, resulting in hundreds of images that inspire dialogue in communities about the importance of a strong foundation and support system for all children.
At the events CBABI will share select images from his 365 Days with Dad series and discuss how he uses art to promote community dialogue about health, equity, and social justice.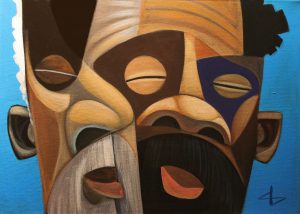 Upcoming Free Art Events in Hartford – June 11
Father's Day Luncheon: "365 Days with Dad" paintings presented by Cbabi Bayoc
Time: 11:30 a.m. to 1:30 p.m.
Location: CT Public Television (CPTV) at 1049 Asylum Avenue Hartford, CT
Note: Free event. Registration required. Click here or email: desmith@uchc.edu
Visualizing Health Equity Gallery Evening: Artists Cbabi Bayoc and Friends
Time: 6:00 p.m. to 8:30 p.m.
Location: JCJ Architecture at 120 Huyshope Avenue Hartford, CT
Note: Open to the public. Refreshments to be served.
HDI's art-based initiatives are building on the National Academy of Science and Medicine Visualizing Health Equity Project, which recognizes the power of art to amplify creative strategies and solutions. Also, the arts-based strategies are leveraging Hartford's rich tradition and ecosystem of arts and cultural centers.
"Bringing art to the table can stimulate authentic community dialogues about health equity among boys of men of color and accelerate home grown innovations," said Powell.
For more information email UConnHDI@uchc.edu; tweet @UConnHDI; or visit Facebook.