Tom Cameron: "Surfaces" –  An Exhibit of Spontaneous Visions
Tom Cameron's photography is predominantly realist, organic, non-composed imagery with concentrations in natural scenes and waterscapes. Emotive images of water-born subjects via kayak are a forte.  Images in his series the "Farmington River Collection" have shown in numerous exhibitions, presentations, publications and won juried awards. Support for the remaining wild and scenic spaces in our environment has been a motivation.
Cameron lives in Avon and was taught and influenced by master photographer and printer George DeWolfe.  He studied photography through course work at Tunxis Community College and through 15 years of evolving photo-exploration. His technical background included a BS in Mechanical Engineering from the University of Illinois and an MS and Ph.D. in Materials Science from the University of Connecticut. He worked nearly 40 years in R&D, a large portion of that developing dental materials.  Currently he is chief scientist for a local orthodontics manufacturer.  He serves on the Canton Artists' Guild publication team and is artist coordinator for the LaSalle Market Gallery in Canton, an artist space that supports 30 local artists.  He has co-juried photo competitions for a local photo club.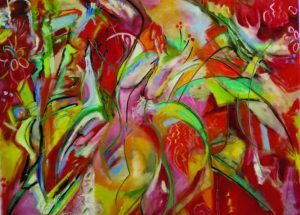 Kathleen Dal Santo: "In Process" – Abstraction and Form 
Excerpts from Artist Statement: We often call our artwork "in process" when it is being created. I see "in process" as a metaphor for my art. In the last six years, my painting has developed into a more complex and more advanced stage, and I believe that my art will be "in process" for the rest of my life.
This exhibit starts with more representational landscapes, in the style Vincent Van Gogh and Paul Cezanne. They are not meant to be reproductions of their work. I believe we need to look at the "great masters" because they trigger emotions in us that contribute to our own creative style.
My most current paintings are expressionistic/cubist, building on, but with my own vision, the highly emotional work of the great master, Pablo Picasso. These current pieces are comments about the social/political scene. As a matter of fact, each of these paintings is titled "Nevertheless, She Persisted."
The art exhibits of both Tom Cameron and Kathleen Dal Santo will be shown at the Celeste LeWitt Gallery at UConn Health until September 20, 2018.
UConn Health's collection of fine art serves to enhance the environment and promote the sense of a caring community for patients, visitors, staff and students. Art is selected, acquired and exhibited by the UConn Health Art Advisory Committee. To view a selection of the permanent collection visit: UConn Health Art Collection.