UConn Health is first in the nation to acquire a high-tech surgical microscope with new augmented reality computer-generated digital imaging capabilities to visually assist surgeons during the most complex surgeries from brain (for stroke and tumors) to spine surgeries.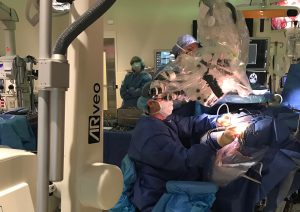 The technology, the ARveo Augmented Reality microscope, is the latest advancement to be added to UConn John Dempsey Hospital's state-of-the-art hybrid operating room. The 1,200—square-foot hybrid OR that opened this spring boasts built-in advanced imaging capabilities for minimally invasive and complex surgical procedures.
"The advanced augmented reality, image-guided microscope allows us to go beyond what we can normally see with our naked eye and traditional microscopes.  It allows practitioners from multiple surgical specialties to treat even more complex lesions more safely," says Ketan Bulsara MD, MBA, professor and chief of the Division of Neurosurgery at UConn Health.
For example in neurosurgery, this technology is allowing surgeons the most HD magnified and enhanced 3D visualization of the surgical field, at the highest magnification possible, and even lighting up the blood flow through various brain tissues – making it possible for neurosurgery interventions to be even more precise.
The technology's unique FusionOptics optimizes a surgeon's magnification, resolution and surgical depth of view of the patient's brain. This allows a surgeon to see greater anatomical detail with increased sharpness, such as the tiny distances between the smallest blood vessels and nerve structures, even without refocusing the microscope.
The microscope has the ability to brightly light up tiny blood vessels in the brain to distinguish them from other surrounding brain tissues. This helps surgeons navigate the complex and delicate surgical field and make surgery decisions more accurately.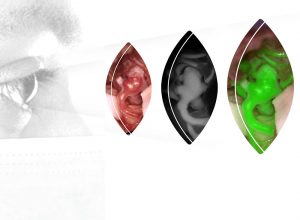 The technology's built-in high-definition and Near Infrared video camera system allows surgeons to look through the microscope and choose one of three enhanced augmented reality video stream overlays to amplify the view of the surgical field. The three views include a real-time highly magnified naked anatomy, a black and white fluorescent-enhanced view to see greater tissue dimensions and blood flow, or a bright glowing, colored fluorescence-enhanced view of naturally colored anatomy to see the intricate blood flow and tissue outlines during a microsurgical procedure.
The microscope also allows for the livestream video projection of the patient's surgical procedure to the OR plasma screens. Once FDA-approved, the microscope will be upgraded to have even greater visualization capability using unique ARveo Glow technology which can further illuminate imaging of the surgical field's microtissue structures, blood vessels, and nerves for higher-contrast during surgery.
The ARveo Augmented Reality microscope is made by Leica Microsystems, a developer and manufacturer of microscopes and scientific instruments for the analysis of microstructures and nanostructures.