Growing up in Connecticut's Northwest corner, Jim Koplar has always been at home with the changing seasons and most of his work reflects scenes from the New England surroundings.  A Collinsville resident, he earned his degree in visual fine arts in 2004, and was awarded a scholarship to attend The Greater Hartford Arts Council's week long HOTS (Higher Order Thinking Schools) seminar. The experience provided a "launch point" for him to begin his teaching avocation. Since then, he has taught in various venues from inner city elementary schools and summer camps to adult education and college campuses.  Most of his more recent works have been executed in the pastel medium. Pastel affords immediate results and is very forgiving when changes are required to the work. "I like to illustrate a story line to the otherwise mundane and overlooked subjects and call the viewer's attention to stop and really look closely and consider a deeper meaning and a personal connection to the work," explains Koplar.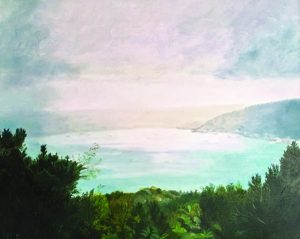 Necla Balasaygun was born in Istanbul Turkey and was interested in art at a very early age, enrolling in a technical art high school. In 1987, she and her family moved to the United States and settled in New Jersey. Most of her early work was in watercolor but over the past 15 years or so her interests have shifted to oil paintings.  In 2009 her husband got ill and she stopped painting to care for him. Shortly after his passing, she resumed painting as a means to cope with his loss. Balasaygun has exhibited throughout the state and has won many awards including winning her category in the 2018 Annual Art show judged by Zufar Bikbow and won the Dick Blick Award. Many of her works employ the use of cantaloupe and pumpkin seeds to add dimension to her art work; to our knowledge this technique has not been utilized in this fashion by any other artist.
The art exhibits of both Jim Koplar and Necla Balasaygun will be shown at the Celeste LeWitt Gallery at UConn Health until January 10, 2019.
UConn Health's collection of fine art serves to enhance the environment and promote the sense of a caring community for patients, visitors, staff and students. Art is selected, acquired and exhibited by the UConn Health Art Advisory Committee. To view a selection of the permanent collection visit: UConn Health Art Collection.