An experiment devised by researchers at UConn startup LambdaVision was launched into space this month.
The company's robotic system to manufacture films that could cure blindness will be brought to the International Space Station U.S. National Laboratory by the SpaceX Dragon spacecraft. Launch is set for Dec. 5 at 1:15 p.m. EST from Launch Complex 40 at Cape Canaveral Air Force Station.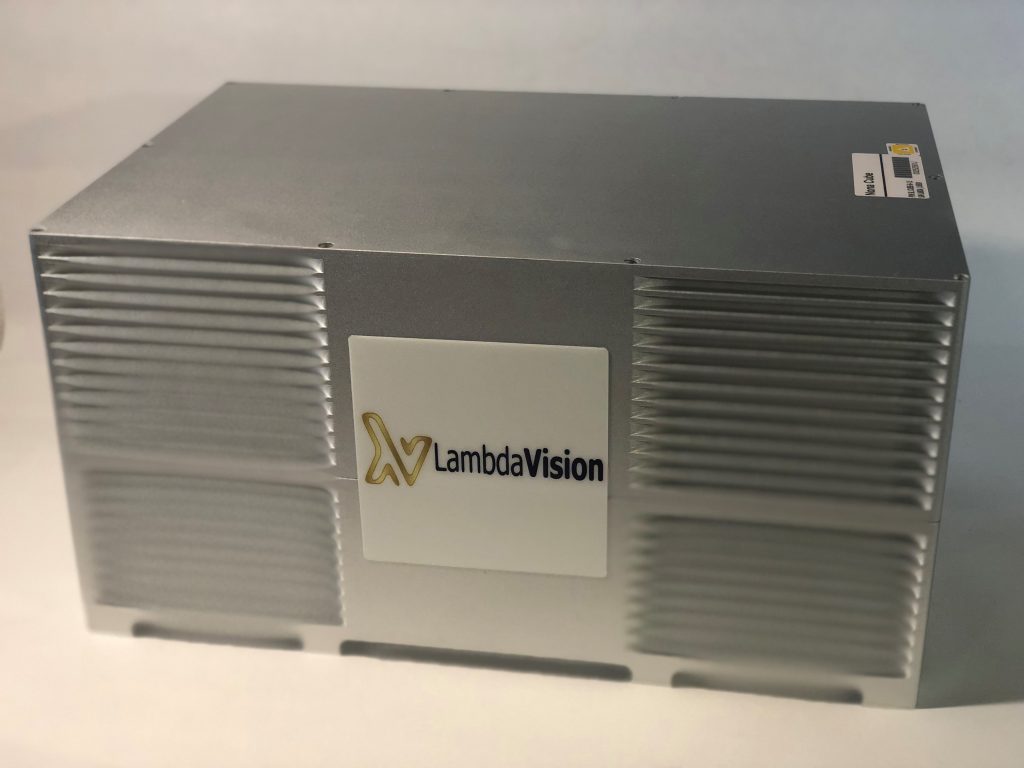 The experiment is one of a diverse group of research investigations intended to benefit life on Earth that the Dragon spacecraft will bring to the orbiting research platform. With more than 20 payloads, including the one from LambdaVision, the mission represents the largest number of payloads ever delivered to the ISS National Lab during a single launch.
LambdaVision Inc. was based on research by Robert Birge, professor emeritus in UConn's Department of Chemistry. He first considered using bacteriorhodopsin, a light-activated protein, more than 15 years ago to correct age-related blindness. Today, the company is commercializing its technology in the hopes of restoring vision for millions of patients suffering from retinitis pigmentosa and age-related macular degeneration.
LambdaVision's retinal implant is similar to a contact lens that is surgically placed in the back of the eye to convert light into energy. The implant doesn't need hardware or electrodes to send electrical pulses into the eye. Instead, the bacteriorhodopsin-coated membrane replaces native photoreceptor cells in the retina to restore vision.
LambdaVision is led by UConn alumni and former students in Birge's research group, Nicole Wagner '07 (CLAS), '13 Ph.D., and Jordan Greco '10 (CLAS), '15 Ph.D.
"Our preliminary animal studies show that the protein-based implant is capable of stimulating the retina," Wagner says. "When the protein absorbs light, it sends signals to the remaining neural circuitry of the retina, which allows it to communicate with the brain. We expect a similar outcome in human patients."
Currently, LambdaVision manufactures its prosthetics at its headquarters at UConn's Technology Incubation Program facility in Farmington, Connecticut. Producing the flexible, tiny films is a time-consuming process – on this planet, at least.
On Earth, it takes LambdaVision approximately five days for each of its three robotic stations to produce an implant. The process involves a series of alternating dipping steps, which are subject to the effects of gravity. Once complete, the process results in a membrane approximately 60 um (micrometers) thick. A micrometer is one-millionth of a meter.
In the weightless conditions of the International Space Station, LambdaVision anticipates producing a more homogeneous and stable film. If successful, Wagner and Greco anticipate that they can generate a similar signal with fewer layers of protein. This would drastically decrease the time for manufacturing, and save on the cost of materials.
"On Earth, issues like sedimentation of solutions and surface tension can interfere with the homogeneity and stability of the thin films, but in microgravity these issues are minimized," says Greco. "We are manufacturing them now in microgravity as an experiment; however, if successful, we think it could ultimately help us generate more stable films with better performance, and accelerate our time to market."
LambdaVision was selected for this highly competitive opportunity as part of the company's experience in the startup accelerator MassChallenge in 2016, when the researchers received the CASIS-Boeing Award, along with a share of $500,000 in funding. Since it was incorporated in 2009, LambdaVision has raised nearly $3 million from state, local, and government grants, including support from Connecticut Innovations, CASIS-Boeing, and the National Science Foundation.
Wagner estimates the total value of the MassChallenge prize to be approximately $7 million in resources.
To ensure that the complicated space experiments go smoothly, LambdaVision is partnering with Space Tango, a Lexington, Kentucky-based company. LambdaVision will miniaturize the dipping set up and prepare it for space travel. Space Tango can initiate and control the software and run LambdaVision's experiments from Earth. The experiment will run for approximately six weeks in space before being transported back to Earth.
Birge, Wagner, and Greco hope this experiment will represent another step closer to a cure for the millions of people suffering from age-related blindness.
"We've met a lot of people who are suffering or have family members who have these diseases, and we work hard every day to develop a viable treatment option that can improve their quality of life," says Greco. "We're continually encouraged by our preliminary results. We anticipate being at the steps of the clinic by the end of 2020."
With their technology set to launch into space, Wagner thinks back on the technology's roots in Storrs and the local support that has helped LambdaVision succeed.
"This all started in Dr. Birge's laboratory on North Eagleville Road in Storrs," she says. "Since then, UConn has been incredibly supportive in the development of our technology, providing access to top tier scientists, facilities, and resources.
"We could have relocated out of state, but we chose to keep our company in Connecticut in Farmington, which gave us access to other innovation hubs in New York and Massachusetts," she continues. "Connecticut also has talented employees and resources like Connecticut Innovations to help us get the technology off the ground – no pun intended."
To learn more about this mission and the ISS National Lab, visit www.iss-casis.org.
Read more about LambdaVision: Farmington Startup Sets Sights on Curing Retinal Disease Blindness