When a group of women artists put on gorilla masks in 1985 to protest gender and racial inequalities in the art world, the Guerilla Girls launched a major effort to open museums and galleries to women and artists of color. Nearly 35 years later, the campaign to recognize female artists continues in a worldwide event known as Art + Feminism Wikipedia Edit-a-thon, including hosted activities on April 1 at UConn in Storrs and Hartford.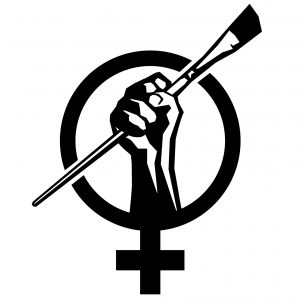 Art + Feminism Wikipedia Edit-a-thon is designed to improve coverage of gender, feminism, and the arts on Wikipedia, which is among the top five websites online, according to several lists compiled by sites including Lifewire, webhostface.com, and @Alexa.
According to a 2019 National Endowment for the Arts study published in the journal Public Library of Science, 87 percent of artist exhibits in museums are of works by white men. A fact sheet from the National Museum of Women in the Arts notes that out of 318 artists included in the ninth edition of the major art survey textbook Basic History of Western Art by H.W. Janson, only 27 are women.
The primary goal of the Edit-a-thon is both to create entries on Wikipedia for diverse female artists and to update and expand existing female artist entries, according to Kelly Dennis, professor of art history in the School of Fine Arts, who organized a wider event this year at UConn after participating in the effort for the past three years.
"One of the things I've learned from doing this for three years is that it's a boys' club," Dennis says. "Fewer than 10 percent of the editors on Wikipedia are women, and fewer than 20 percent of the artists represented are women. There is an embedded historical oversight process in place. It took us three years to get [photographer] Barbara Bosworth admitted to Wikipedia because they said she didn't meet their notoriety standards which, of course, can be claimed for a lot of non-binary gender and women of color because their work is not held in major institutions. This is a systemic and ideological problem, not a problem with the quality of their art."
Fewer than 10 percent of the editors on Wikipedia are women, and fewer than 20 percent of the artists represented are women. There is an embedded historical oversight process in place. — Kelly Dennis
As one of their assignments in the History of Photography class Dennis is teaching this spring, students are working on creating entries for four women artists that they will post as part of Edit-a-thon: Winifred Hall Allen, a photographer who chronicled African American life during the Great Depression and Harlem Renaissance; Deborah Bright, an internationally known photographer and writer on queer politics; Deborah Dancy, a multi-media abstract artist and UConn professor emerita of painting; and Gretchen Garner, a landscape photographer and art historian who served as head of UConn's Department of Art & Art History during the 1990s.
The students conducting research about the artists and writing the new Wikipedia entries recognize the unique opportunity they are experiencing.
"A Wikipedia page, at first, seemed like something I was not qualified to do. It felt so far away and unapproachable," says Lynn Tran '19 (SFA), a fine arts major with a concentration in graphic design. "Ever since doing this project and learning the skills, I feel more empowered and I learned a lot more. It feels good taking part in such an important project representing women who many people said are underrepresented in the art world. I feel I learned a lot of research skills. I've also learned to read with a more critical eye."
Adds Yuecheng Xing '19 (SFA), an art history major, "It provided me a chance to look deeply into an artist. It's the kind of work I have never done before. I study art history. I learned about a lot of famous artists, but not someone more approachable."
Dennis says expanding UConn's participation in Edit-a-thon from primarily students in art history classes to a larger event at two campus locations was made possible through the work of a planning committee of faculty and staff. Members of the group include Alexis Boylan, associate professor of art history and director of academic affairs in the Humanities Institute; Clarissa Ceglio, assistant professor of digital media and design; Anne D'Alleva, dean of the School of Fine Arts; Amanda Douberley, assistant curator in the William Benton Museum of Art; Heather Elliott-Famularo, head of digital media and design; Sara Harrington, associate librarian for academic engagement; and Anne Langley, dean of the UConn Libraries.
Dancy, an award-winning artist whose work has been exhibited throughout the United States, describes the work of the Edit-a-thon as "an amazing and valuable contribution" by Dennis and her students.
"I'm really honored to have been selected and recognized by them," she says. "When you're busy working in your studio, you don't have time to think about external validation and the significance of what you have done and what you continue to do. But, because of their research, the students have had an opportunity to get to know who I am and what I do as an artist, and my name has now been added to a long list of impressive artists. This is really special."
The Art + Feminism Edit-a-thon took place in Storrs on April 1 in the Greenhouse Studios and the Humanities Institute, located in the Babbidge Library. The session at the Hartford campus, coordinated by Neil Dagle Orians, adjunct instructor in Women, Gender and Sexuality Studies, took place in HTB 223 Computer Lab.
For more information, visit the Art + Feminism website.