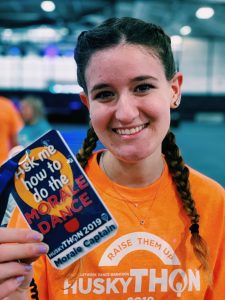 Clarey Pass
Major: Elementary Education with a concentration in Mathematics.
Extracurriculars: HuskyTHON Morale Captain/JonaTHONs Committee, Natchaug School tutoring program, Big Brothers Big Sisters.
Scholarship: Gloria A. Murray Scholarship
Hometown: Scarsdale, N.Y.
Why did you choose to study education?
I have wanted to be a teacher for as long as I can remember. Education is my passion, and I am excited to have a positive impact on the next generation of leaders!
Who is your favorite professor?
My favorite professor is Doug Kaufman, in both classes I've taken with him. Doug creates a positive learning environment and has given me invaluable and practical skills that I use in my classroom every single day.
What did you accomplish during your college experience that you're most proud of?
My proudest accomplishment in college is being the HuskyTHON fundraising advisor for South Windsor High School. South Windsor's program raised a little over $11,000 last year, and this year we were given the lofty goal of raising $15,000. We worked tirelessly and ended up surpassing our goal and raising over $16,000 to contribute to HuskyTHON 2019's $1.3 million total!
What do you plan to do after you graduate?
I will be spending the fall semester studying abroad and interning in London and then will come back to finish up my master's degree in Storrs. After that, I will be looking for jobs to start my teaching career!
How has UConn prepared you for your future career?
UConn has given me a great deal of guided, real-world experience so I feel extremely prepared to jump into my own classroom in a year.
How has UConn shaped you as a person?
I am leaving UConn forever changed for the better. I am more confident, self-motivated, organized, and able to advocate for myself than I was when I started here. I cannot find enough words to express my gratitude for everything UConn has given me.
If you could summarize your experience at UConn in three words, what would they be?
Life-changing. Busy. Wonderful.
What advice would you give to a student just starting out at UConn?
Make the most of your experience! UConn has a huge number of opportunities; be sure to get involved and take advantage of them. Also, get puds at Wally's as often as you can.