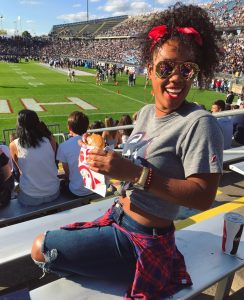 Danielle Fontaine
Majors: Special Education and Psychological Science
Extracurriculars: Leadership in Diversity; Husky Sport, Club; Swim Team.
Scholarship: Leadership Scholarship
Hometown: Monroe, New Jersey

What inspired you to become a teacher?
My fifth-grade teacher left a very strong impact on my life. She was one of those teachers you remember for life. She went far beyond the scope of just educating us as students; she created a family within our class and was a very nurturing and caring mentor. I aspire to have the same positive impact on my future students to help them succeed both inside and outside the classroom.
Why did you choose to study Special Education and Psychological Science?
I chose education as a career because I wanted to have a deeper purpose in life that reaches a higher mission and satisfies more than just myself. I truly love working with children and, through education, teachers have the perfect platform to positively impact students' lives.  Additionally, I am committed to advocating for students whose voices are not always heard, which is why I aspire to work in special education and in urban districts. This bleeds into a lot of the passions I am currently involved in.
Who is your favorite professor?
My favorite professor at the university is Grace Player. Upon coming to the University of Connecticut this school year, she became heavily involved as an informal mentor for a student-led organization I am on the board of called Leadership in Diversity. Not only does she support our mission, but she has also advocated for us and given us a platform to speak at an Ethnographic Forum at the University of Pennsylvania regarding the importance of education and diversity. I appreciate the time and energy she devotes to all her students and her ability to navigate being more than just a professor. She exhibits a genuine interest in her students inside and outside the classroom and is willing to do whatever it takes to see them succeed.
What did you accomplish that you're most proud of?
I am most proud of my involvement with Leadership in Diversity as the social media director. This past semester we had the honor of presenting at the National Association of Multicultural Education Conference hosted in Memphis. As a student-led organization, we were also granted the opportunity to lead a peaceful march for justice from the Peabody Hotel to the National Civil Rights Museum, where Dr. Martin Luther King's goddaughter, Donzaleigh Abernathy, shared her personal story growing up with such a prominent leader. This entire experience was made possible because of my involvement here as a student. This was the biggest accomplishment for me because I have gained a lot more confidence with public speaking and advocating for students' rights in the field of education. I have a better perception now of the inequities and injustices our students face in our nation's education system. As a teacher I will use and share this knowledge in attempts to disrupt the cycle of oppression in our society.
What do you plan to do after you graduate?
After I graduate I plan on working as a special education teacher for middle or high school students in N.Y.C. or Maryland. My aim to teach children using unique strategies that may be considered unconventional to others, such as incorporating art and dance into education. I want to build connections with my students that last a long time, I plan to create an atmosphere in my classroom that is culturally responsive to my students' needs, and I will strive to be the best role model and educator I can be. I am interested in pursuing a Ph.D. and/or down the road working in admissions with collegiate athletes as an athletic advisor at an elite institution.
How has UConn prepared you for your future career?
UConn has given me the opportunity and exposure to a number of different schooling systems within the state. Through the internships we have, I have learned a lot and received hands-on experience in the practice as an educator. My supervisor has been a great mentor and an amazing ally as I pursue a future career in education. Additionally, with the organization I am in, Leadership in Diversity, I have been exposed to a number of opportunities throughout the nation that I would have never experienced. From hosting our own conference here at the University of Connecticut, to attending national conferences and regional conferences at Cornell University, University of Pennsylvania, and Rhode Island, the Neag School has been there to assist in a number of ways.
How has UConn shaped you as a person?
UConn has reshaped the pride I have in my culture and my roots. Since the university has such a high population, UConn is the perfect place where you can intentionally choose the people you keep in your close circle. Through this I was able to gain a better appreciation of who I am individually within a collective body of students. Since my freshman year I have developed immensely to be the woman I am proud of. Through my experience here, I have been exposed to a number of opportunities, professors, and advisors who have my best interest and I know will do all they can to help me succeed.
If you could summarize your experience at UConn in three words, what would they be?
Blessing in disguise.
What advice would you give to a student just starting out at UConn?
Don't limit yourself, get involved with the things you love, and surround yourself with people who support your passions.