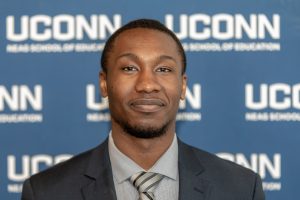 David Dapaah-Afriyie
Majors: Cognitive Science and Sports Management
Extracurriculars: African Students' Association; Brothers Reaching Our Society (BROS); Collective Uplift, e-board member; The UConn Law Society, Mentor within Org; UConn Sport Business Association, e-board member; Dimitri Xygalatas' UConn Experimental Anthropology Lab, research assistant; UConn National "C" Club; UConn Higher Education and Student Affairs Master's Program.
Hometown: Attleboro, Massachusetts
Why did you choose to study Cognitive Science and Sport Management?
I began looking into potential college majors early on in high school. Eventually setting my goal to work within the sport industry in some capacity, I began to research sport management programs and knew once I got to UConn that getting into the sport management program was a priority of mine. Additionally, due to having interests that extend beyond sport … I chose the interdisciplinary major of cognitive science, as not only did it allow for me to develop a broad knowledge base but, conveniently, allowed for my family to take advantage of the New England Regional tuition option. As for the psych minor, it was a pursuit of both convenience—having had the opportunity to take several psych courses through my cognitive science plan of study—and interest—viewing psych as an ideal supplemental study with which to inform my perspective and approach to problem-solving.
Who is your favorite professor or class?
Though hard to single out a favorite professor, I genuinely appreciated my experience as a student in courses taught by Dr. Burton and Dr. Cooper of the UConn Sport Management Program, as both actively worked to create environments conducive to analyzing sport—as a domain and industry—through a critical lens. Can't thank them both enough for their guidance in and out of the classroom, and I'm sure Dr. Cooper will be a lifelong mentor of mine.
As for my favorite class, I was fortunate enough to have the opportunity to be a part of Dr. Cyndi Frank's Cultural Anthropology course in Fall '17. The class stands out when I reflect upon my college experience as one of the rare environments in which free-flowing discussion and analysis of each individual's perspective and the factors that serve to shape said perspective were vital to the learning experience. The joint anthropological study conducted by the class made for an interactive and thought-provoking course overall.
What did you accomplish during your college experience that you're most proud of?
Though not exactly an "accomplishment" per se, I'm most proud of the meaningful relationships I've cultivated over the years.
What do you plan to do after you graduate?
My post-grad plan is to continue my education via law school, starting this upcoming fall.
How has UConn prepared you for your future career?
UConn has provided me with a wealth of opportunities to grow and develop as a person and future professional: fostering practical skills like data analysis and transferrable skills like critical thinking and effective interpersonal communication.
How has UConn shaped you as a person?
I'd say that the variety of experiences I've been able to have while at UConn have helped to positively shape my confidence in my adaptability and self-efficacy as it relates to problem-solving, for which I'm grateful.
If you could summarize your experience at UConn in three words, what would they be?
So it goes…
What advice would you give to a student just starting out at UConn?
My advice for a student starting out at UConn would be to take advantage of the big campus: Ask questions, get involved, check out different events, participate in research studies, take a mix of classes, and, generally, embrace becoming comfortable with the uncomfortable and try to get as much value out of UConn as you can while you're here.
Do you have anything else interesting you'd like to share?
I'd be remiss to not acknowledge the huge, invaluable role that my support system — comprised of faith, family, friends, inspirational figures, and underserved fortune — has played in my life. Just a beneficiary happy to share my story and pay forward the support.