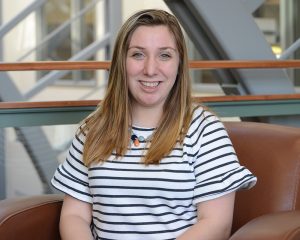 Kaitlyn "Kait" Ferrara
Major: Elementary Education
Hometown: Coventry, Connecticut
Why do you want to be a teacher?
Being a positive role model for children has always been important to me. I believe that children are our future and that they need a positive influence to guide them to make good personal and academic decisions. I want to inspire students to be lifelong learners and to always strive for excellence.
Why did you choose to study this major?
I chose this major because I've always wanted to be a teacher. Students are better influenced by a positive role model from a young age; thus, I thought it would be more appropriate to pursue my degree in elementary education so I could focus on working with students in grades first through sixth grade.
Who was your favorite professor?
My favorite professor is Doug Kaufman. Doug is very supportive, understanding, and engaging. He made me believe in myself and my ability to write, as well as encouraged me to continue writing. He gave me great instruction and ideas for what do with writers workshops in my future classroom.
What did you accomplish that you're most proud of?
I was never the best high school student, so excelling in regards to grades in college was really important to me. Thus, my biggest accomplishment during my college experience was doing well in my classes and proving to myself that I can do whatever I set my mind to.
What do you plan to do after you graduate?
I plan to teach in an international baccalaureate elementary school after I graduate. Hopefully, I will get a job teaching second or third grade.
How has UConn prepared you for your future career?
UConn has prepared me for my future career as a teacher by encouraging me to become a lifelong learner and strive for success in whatever path I pursue.
How has UConn shaped you as a person?
UConn has shaped me as a person by helping me realize that I can succeed at whatever I put my mind to.
If you could summarize your experience at UConn in three words, what would they be?
Valuable. Encouraging. Fun.
What advice would you give to a student just starting out at UConn?
As a transfer student, I would advise fellow transfer students to immerse themselves in Husky life, but don't get too distracted from academics. For freshmen, I would tell them that the four years goes by fast and to not let themselves get distracted by things they cannot attribute to success. Before they know it, college will come to an end, and they don't want to look back and say "I should've done better."