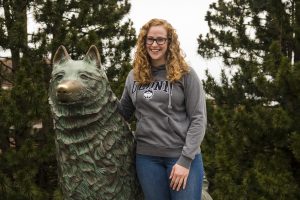 Kathrine Grant
Major: English and Secondary English Education
Extracurriculars: state chair, Connecticut Education Association; political director, UConn Future Educators; vice president, Teacher Education Student Association; Leadership Legacy 2018 Cohort; tutor, Writing Center; team leader, Alternative Breaks Appalachia, 2019; intern, Connecticut Writing Project; student instructional specialist, UConn Honors Program.
Scholarships: Academic Excellence Scholarship; Holster First Year Scholar's Grant; Summer Undergraduate Research Fellowship; Group IDEA Grant.
Hometown: Groton, Connecticut
What inspired you to become a teacher?
My purpose for teaching is fulfilling the call to "be the change you wish to see." My goal as an educator is to inspire my future students to study as deeply and widely as their passions take them, to seek out opportunities to engage with the world around them, and ultimately to use their knowledge and skills to better the world they live in. I was inspired to become a teacher when I realized the tremendous impact that education has on the life of a child and how this, multiplied over districts and states and across our nation, has a profound effect on our country. Education changes lives. I knew then that this was the profession—and the life—that I wanted. Becoming an educator is how I want to change the world: through teaching the students in my classroom.
Why did you choose to study English and secondary English education?
English has always been a passion of mine, and having the opportunity to share literature and the power of such with students is something I find immensely joyful. My own English teachers were some of my favorite and most impactful teachers when I was in high school, and I hope to have the same sort impact on my students. Teaching English facilitates important conversations and allows students to develop critical skills that they will need as citizens and as individuals. Becoming an English teacher allows me to combine two of the things that I find the most joy in: teaching and literature.
What was your favorite class?
One of my favorite courses was EPSY 3010 with Professor Ron Beghetto. In the course, we were tasked with completing a Legacy Project where we had to identify an issue in schools and create a solution to it. My team and I worked on creating peer-based tutoring support for students learning English as an additional language. I was able to pursue funding for creating this type of program with a group through the IDEA program, and I am continuing my research on this topic through my Honors Thesis. This project that was part of a class during my sophomore year has had a significant impact on the course of the second half of my college experience as well as the type of educator I plan to be. This course tasked us with taking action, and that's a critical part of being an educator that I will not forget.
What did you accomplish during your college experience that you're most proud of?
I am most proud of the person I have become. I have learned so much about myself, the world around me, and the role I want to play in making our society a better place for all. My future career is an intensely personal and interpersonal one, and becoming the person, educator, and leader that I am today has been what I have worked most toward during the past four years. I want to serve and lead in order to create change, and being able to do that required that I experience all that I could during my four years at UConn. My college experience has taught me so many important lessons and instilled in me the importance of continually pursuing experience to learn from.
What do you plan to do after you graduate?
I will be returning to UConn in the fall to complete my master's degree in education in curriculum and Instruction through Neag's Integrated Bachelor's/Master's program. Following, I plan to teach English in a high school setting. I then have plans to transition into graduate school to pursued a joint JD/Ph.D. in law and educational policy to then work in education politics and policy.
How has UConn prepared you for your future career?
My pre-professional studies have allowed me to feel prepared and confident in my abilities to be an educator, but beyond that, UConn has allowed me to pursue so many different and incredible opportunities. From my work with Alternative Breaks through Community Outreach, to the clubs and organizations I am a part of, to the leadership development program I was a part of, to the job I hold on campus — [it] has all made me a better educator and a better individual. These experiences have taught me the importance of community, leadership, advocacy, allyship, and dedication. My experiences at UConn have prepared me for my future as an educator and as a change-maker.
How has UConn shaped you as a person?
My experience at UConn has been instrumental in the person that I am today. From the experiences I have on and off of campus, the people I have met and call my peers, and the faculty and advisors I have worked with, I am who I am today because of these individuals. These individuals have all pushed me to grow and achieve but have also been there to support me when I have faltered and failed. They are role models that I look up to and consistent sources of inspiration for me.
If you could summarize your experience at UConn in three words, what would they be?
Immersive. Expansive. Fulfilling.
What advice would you give to a student just starting out at UConn?
Get involved! It is what everyone says, but getting involved in extracurricular clubs and activities allows you to meet amazing people, learn a lot about yourself and the world around you, and pursue so many meaningful activities. Take time to be present, get outside of your comfort zone, pursue things that interest you but don't relate to your major, and have fun. You will inevitably face failure, but you will most likely learn more from it than from your successes. Surround yourself with good people, and take advantage of every opportunity.
Do you have anything else interesting you'd like to share?
I have an immense amount of gratitude for all of the professors, advisors, and mentors that I have found in the Neag School of Education, the College of Liberal Arts and Sciences, and beyond in the UConn community. The students that I learn alongside of are some of the most dedicated and incredible people that I know. I would not be the person I am today without the impact that my fellow Huskies, both faculty and students, have had on me.