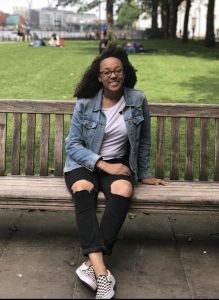 Kimberly Duhart
Major: Elementary Education
Extracurriculars: vice president of Leadership in Diversity (LID), Husky Sport.
Scholarships: Degnan Family Scholarship, Irene P. and Emanuel A. Makiaris Scholarship, Cohen Student Leadership Scholarship.
Hometown: Norwalk, Connecticut
What inspired you to become a teacher?
One [thing] that has inspired me to become a teacher is the positive, impactful relationships that can be formed with students. Another reason that I am inspired to become an educator is because I believe that it is important to teach students in a way that they can learn about themselves in meaningful ways (for example, their histories and identities).
Why did you choose to study elementary education?
I decided to become an education major after I was not able to work at the summer camp job I worked for the previous two summers. Not being able to work with [children] made me realize that working with students and becoming a teacher wasn't just an idea, but what I wanted to do.
Who is your favorite professor?
My favorite professor is Grace Player because she teaches from the perspective of all of her students' identities (anti-racist feminist of color pedagogy). She is able to lean into discomfort to allow her students to learn, sometimes in ways we were not always exposed to at UConn, which have been very beneficial to us all as future educators. This type of pedagogy is important for giving students voice in the classroom and teaching us that, as educators, we also need to think about students' multiple identities when we engage with them. My favorite classes were the history courses that I have taken that were taught with an intersectional lens (African American History, Women Gender Studies). Through these courses I was introduced to the histories of so many people that I have never been introduced to prior to taking those courses, all of whom are very important to the history of the U.S. and people and events that we should all be knowledgeable about.
What did you accomplish during your college experience that you're most proud of?
The thing that I am most proud of during my college experience was being able to find my voice as an individual who advocates for equity in education. Being on the executive board for Leadership In Diversity (LID) has definitely developed me into a leader/activist.
What do you plan to do after you graduate?
After I graduate, I will get my master's in curriculum and instruction and then get a job as an educator.
How has UConn prepared you for your future career?
UConn has prepared me as an educator by [allowing me to] experience and learn things that I would love to implement into my classroom. I have also seen other things that I think should change, which has contributed to my efforts in learning how to be the best educator that I can be for my future students. My overall college experiences have introduced me to a love for collaborating with others to do work that will be important for improving education and also creating more a positive view of individuals who are othered and giving them a voice to express themselves.
How has UConn shaped you as a person?
UConn has shaped me as a person by exposing me to so many different support systems and loving relationships. Being exposed to so many lights has inspired me to keep pushing forward and use the strong people around me as motivation and inspiration. I have also experienced challenging moments that have contributed to my overall academic and personal growth and success. Overall, I have used every experience as one where I have learned something that has been important to my overall growth.
If you could summarize your experience at UConn in three words, what would they be?
Evolutionary. Fun. Opportunity.
What advice would you give to a student just starting out at UConn?
Don't be too hard on yourself. College can be hard, but use all that you experience, good and bad, to learn things about yourself that you never knew and grow from that.