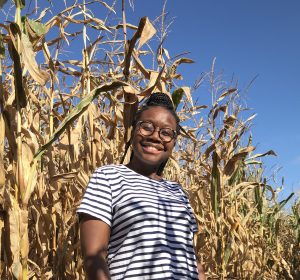 Konjit Richards-Johnson
Major: Elementary Education
Extracurriculars: Project Fashion, Leadership in Diversity, Black Students Association (BSA).
Hometown: Hartford, Connecticut
What inspired you to become a teacher?
I started my teaching career in high school, student teaching in a 6th-grade Latin class. My student teacher experience revealed to me how excited children are about learning. I enjoyed student teaching so much; I wanted to work with children to build their love of education!
Why did you choose this area?
Knowledge is power, and I want to teach students from a young age how amazing learning can be. Children are curious people; they want to learn about everything around them and how the world works. I want to help children become explorers, artists, scientists, and mathematicians through education.
Do you have a favorite class?
I don't have one favorite, but I did enjoy Poetry 2401, Multicultural Education 3100, and Teaching Language Arts 4130. Each of these courses challenged me as a student and an individual, while improving my strengths as an educator.
What did you accomplish that you're most proud of?
Achieving good grades, working part-time for four years, and paying my way through college!
What do you plan to do after you graduate?
After graduate school, I plan on teaching in a city in Connecticut and eventually teaching in another country.
How has UConn prepared you for your future career?
The Neag School program has taught me various methods and strategies for teaching a variety of subjects. In addition, the Neag School has taught me the value of differentiation, multiple learning strategies, and the power of collaboration.
How has UConn shaped you as a person?
The Neag School program has molded me into a teacher who views reflection and improvement as a necessity. As a future educator, I have learned to be skillful and accommodating to the various students I will teach. As an individual, I have grown as an adult who has practiced perseverance and who is not afraid of change.
If you could summarize your experience at UConn in three words, what would they be?
Transformative. Thrilling. Self-assuring.
What advice would you give to a student just starting out at UConn?
Do not be afraid to take risks, join a club that interests you, make new friends, and take a challenging course.