The Group on Women in Medicine and Science (GWIMS) at UConn Health held its annual symposium May 6 to honor outstanding women faculty, and other standout female graduate, medical and dental students.
"At UConn Health we aim to promote women in medicine and science. Today we celebrate women and their successes, and not just faculty but also our students," shared Dr. Bruce T. Liang, dean of UConn School of Medicine in his opening remarks for the symposium.
"I would really like to thank the chairs and division chiefs at UConn Health for nominating all these outstanding women," said GWIMS' Founder and Chair Dr. Marja Hurley, professor of medicine and orthopedics and associate dean of the Health Career Opportunity Programs at UConn Health.
Hurley added: "I hope GWIMS continues to grow."

The event's invited speaker, Dr. Anne A. Knowlton, professor of cardiovascular medicine and pharmacology from the University of California, Davis, was also honored for her research excellence. She shared with attendees her latest research findings on inflammation and the heart, especially the critical role played by the family of protective enzymes known as Heat Shock Proteins (HSPs).
This year's GWIMS awardees included three outstanding women faculty for their contributions in research, patient care, and education.
The Basic Scientist Award recipient was Nilanjana Maulik, Ph.D., a twenty-year NIH-funded researcher at UConn School of Medicine who serves as professor of molecular cardiology and the Angiogenesis Laboratory in the Department of Surgery at UConn Health and a cell biology faculty member at the Graduate School. "I am really thrilled and very grateful. It means a great deal to me," shared Maulik upon receiving the award dedicating it to her father who recently passed away.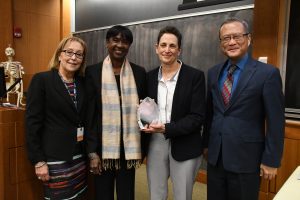 The Clinical Faculty Award honoree was Dr. Susan Tannenbaum, associate professor of medicine at UConn School of Medicine, chief of UConn Health's Division of Hematology/Oncology and medical director of the Carole and Ray Neag Comprehensive Cancer Center. "I'm honored and I thank everyone I work with for making UConn Health a place I want to come to work every day. Thanks for everything," said Tannenbaum in her heartfelt acceptance speech.
The Education Faculty Award recognition went to Ann Cowan, Ph.D., professor of molecular biology and biophysics who serves as deputy director of the Center for Cell Analysis and Modeling at UConn School of Medicine. "A very special thanks to the committee for this award. I am very honored and touched by it. Thanks to my chair Dr. Sandy Weller and other mentors along the way."
Cowan stressed: "This support makes us a very strong center for women to succeed, so thanks to UConn Health."
Several other women faculty and students were honored at the event for their recent local or national accolades.
UConn School of Dental Medicine's Dr. Sarita Arteaga, associate dean for students and associate clinical professor in the Department of Craniofacial Sciences, was honored as a Community Innovation and Leadership Award Finalist by the Women of Innovation Awards of the Connecticut Technology Council (CTC). Also, fourth-year dental student Candice Logan as the recipient of the UConn Provost 2019 Outstanding Dental Senior Women Academic Achievement Award. Logan post-graduation will begin her orthodontics residency training at the University of Michigan.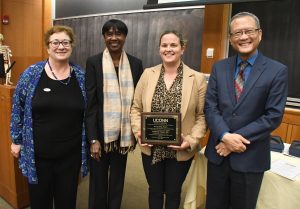 For UConn School of Medicine, Dr. Katherine J. Coyner, associate professor of orthopedic surgery, was honored as an Inspiring STEM Equitability Award Finalist by the Women of Innovation Awards of CTC. In addition, Lakshmi Nair, Ph.D., an associate professor of orthopedic surgery and the Department of Material Science and Engineering and Biomedical Engineering at UConn, was honored as a Research Innovation and Leadership Award Finalist by the Women of Innovation Awards of CTC.
Fourth-year medical student Mary Soyster was recognized as the recipient of the UConn Provost 2019 Outstanding Medical Senior Women Academic Achievement Award. "It's been a great 4 years," said Soyster who is headed this June to Indiana University Medical Center to start her urology residency training.
Brittany Flemming, a fourth-year medical student was honored for her academic achievement as past president of the UConn Chapter of the Student National Medical Association (SNMA) where she has been committed to promoting diversity and cultural competency in the field of medicine. She has continued pursuit of this mission as presiding Region 7 Director of the SNMA to its executive committee. As a member of the Air Force, she will be pursuing a career in pediatrics at Walter Reed National Military Medical Center.
Lastly, the Graduate School's Valentina Baena, a Ph.D. candidate in biomedical science in the laboratory of Mark Terasaki in the Department of Cell Biology, was recognized as a Collegian Innovation and Leadership Finalist for the CTC's Women of Innovation Awards.
"I want to thank my mentors Dr.Terasaki and Dr. Laurinda Jaffe. They have been teaching me not only how to be a good scientist but also a good human being," Baena shared.