Five more interns graduated on May 29 from Project SEARCH at UConn Health, an innovative program preparing young adults with intellectual and developmental disabilities for careers.
The Project SEARCH internship program first launched at UConn Health in 2015 as the first of its kind in the state. It is in partnership with Favarh – The Arc of the Farmington Valley. UConn Health's annual internship program has a 94% placement rate of interns into employment and has trained more than 25 interns since its start.
This year's graduates are Cate Alix of Simsbury; Deja Dewar of Bloomfield; Marcus Apter of West Hartford; Justin Thorn of Harwinton; and Kaley O'Brien of Rocky Hill. They had internship experiences at UConn Health's warehouse, linen, Sodexo food services, dental clinic, dental finance, dermatology, pulmonology, mailroom, central receiving, and central sterile supply locations.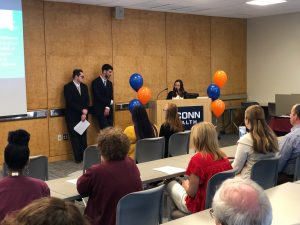 "We have learned so much in the past year and it was great to be here," said Apter, a graduating intern from West Hartford, in his speech at the program's special bridge ceremony. "Project SEARCH has been very productive by teaching us the skills we need to be independently employed. It has felt great to be part of this program."
Thorn of Harwinton added: "We learned a lot of important skills while working in these departments. We learned about the importance of proper interaction with patients, staff and visitors. Our mentors helped us improve our people skills. The most important skill that our mentors helped us learn was how to advocate for what we need."
Alix of Simsbury stressed: "We began to feel like a part of the team. We started to work more independently and found that we need to ask for help less because we were able to do it on our own."
Thanks to the program's ongoing success, Project SEARCH will now be expanding in Connecticut.
"None of this success could happen without UConn Health as a host," shared Stephen Morris, executive director of Favarh. "Because of your success, and those interns over the last years, five new programs are starting in other parts of the state. You truly are a beacon of success. Well done."
"We are so proud to be the first Project SEARCH program, and so happy it's been such a success here at UConn Health," said Rosie Wright, coordinator of Project SEARCH at UConn Health. "I want to congratulate you. We are so proud of you."
Sandy Finnimore, program manager of Favarh shared: "I want to thank all the UConn Health departments for all their help, we could not do it without you."
Christopher Emerton of Sodexo that powers UConn Health's food services said: "We love working with Project SEARCH. We learn so much from the interns. It is so nice to see them grow."
Emerton's team has hired several Project SEARCH interns over the years.
What's next for this year's graduating interns?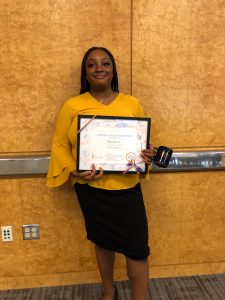 "It's so exciting," said Finnimore. "We work with the interns to help then find a job and we continue to help them. This year's interns have a number of interviews and we are hopeful."
Dewar is hopeful for employment soon following completion of her UConn Health internship.
"I am going to try for different jobs," Dewar said. "I really enjoyed getting to know all the people and working in the kitchen at UConn Health."
O'Brien also shared how she loved "working" and "all the experiences" that came with her internship at UConn Health.
Alix stressed at the end of her graduation ceremony: "I'm so happy."
The special ceremony concluded with inspiring closing remarks to the interns by Favarh's Morris.
"I want to live in a world where everyone belongs," said Morris. "This program demonstrates this for all of us. Thanks for showing us what is possible. Good luck to you and congratulations."
Learn more about UConn Health's Project SEARCH here and Favarh here.