U.S. News & World Report has recognized UConn School of Medicine as one of the 10 medical schools nationwide with the most African American students.
Why is this news so important?
While many medical schools struggle to create a diverse student body, UConn School of Medicine has been leading the way forward for nearly two decades with significant efforts and successful strides to improve the representation of underrepresented groups in medicine including African Americans.
"The lack of African Americans and other underrepresented minorities choosing to enter the fields of medicine and research is a critical and longstanding national issue," says Dr. Bruce T. Liang, dean of UConn's medical school. "Our ongoing commitment and efforts are showing progress and we look forward to further helping curb this national issue and building a stronger, more diverse pipeline of future healthcare professionals through our medical educational mission and training initiatives."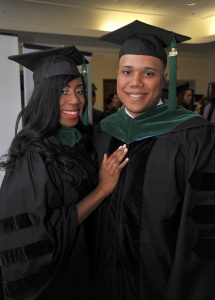 For the 2018-2019 school year, UConn medical school's African American student population was a high 11.8% of its total student body of 425 medical students. This percentage is well above the latest available AAMC data showing the national average of African Americans matriculating into medical school classes is only 7.1% as of 2016, and unfortunately has not risen much since 1980 when it was 6.0%.
In fact, over the years while UConn School of Medicine's class sizes have grown so has its student body's diversity. For more than a decade UConn's medical school has maintained its overall percentage of African American students and has doubled the number of black males enrolled in its medical school.
"This news is very gratifying," says Dr. Marja M. Hurley, professor of medicine and orthopedics at UConn School of Medicine and founding director and associate dean for the Health Career Opportunity Programs at UConn Health. These programs have been critical in getting more and more young people from across Connecticut, of all ethnic and socioeconomic backgrounds, interested in medicine and science and to go on to enter the health professions.
In fact, of the nearly 900 youth from the state's elementary, high school and colleges participating since 1996 in UConn Health's Health Career Opportunity Programs, more than 500 have successfully gone on to enter medical, dental school, or other health profession schools.
Hurley adds: "For the UConn medical school graduating Class of 2019, 66% of the African American graduating students participated in one or more of our Aetna Health Professions Partnership Initiative programs. I feel very proud of this year's graduating medical students and those that have come before them."
For nearly two decades, UConn Health's Health Career Opportunity Programs have served as a continuous pipeline for middle school, high school, and college students of diverse backgrounds across Connecticut looking to realize their dream of becoming future doctors, dentists, and health professionals. The program has helped quite a lot of students proactively pursue medical and dental school education and also practice as successful doctors in these fields.
It was created by Hurley more than 18 years ago and sponsored by the Aetna Health Professions Partnership Initiative. It allows young students the opportunity to learn through expert lectures, demonstrations, and research projects more about careers in medicine, dental medicine, biological sciences and various allied health careers. Students are hand-picked for the program by their guidance counselors or science teachers.
"This program at UConn Health offers opportunities for some of our brightest students from all backgrounds to learn about the incredible opportunities available in the health professions," says Hurley. "We are very proud of the successes in growing the diversity of our student body, and also building a greater pipeline for a more diverse future healthcare workforce."
Liang added: "This is very good recognition for the UConn School of Medicine, and is an excellent outcome from the work done by our medical school, Dr. Marja Hurley, and her Aetna HPPI programs."