In October 2018, a Connecticut family celebrated the end of their seven-month stay at a church in Old Lyme. The parents, who had lived in New Britain for 18 years, sought sanctuary at the church when a federal deportation order threatened to send them to Pakistan after years spent struggling to obtain legal status.
Their deportation order was suspended pending court appeals, allowing the family to finally leave the church and return home to their lives and business – a pizza restaurant in New Britain. At their restaurant on an October morning, one of the family's most high-profile supporters, Connecticut's U.S. Sen. Richard Blumenthal, treated well-wishers to pizza, handing out slices while greeting the family's friends and speaking to local news reporters.
"I do a lot of work in a place that often fails to be inspiring or uplifting," Blumenthal told the Hartford Courant that day. "This kind of story truly is inspiring and uplifting."
That event, and the image of Connecticut's senior senator passing around slices of pizza, stuck with Tess Leone '20, a master's of social work (MSW) student at UConn's School of Social Work, who accompanied Blumenthal to the New Britain pizza restaurant that day.
"It was really nice to see all the support, just to hear this family's story and see that it had a good outcome," says Leone, who attended the event as part of her School of Social Work field placement in the senator's district office in Hartford.
Social workers help bring the humanity … to the people that the representatives are serving. — Tess Leone '20 MSW
Leone was one of two UConn MSW students placed in federal district offices this past academic year. In recent years, MSW students have been placed in federal congressional offices throughout Connecticut and have worked alongside elected officials in Connecticut's state Capitol as well – handling constituent casework, developing policy, writing briefings, and actively engaging in the political process. Three students will work in congressional offices this coming academic year, with the possibility for more placements before the year starts.
As a policy practice MSW student, Leone's concentration of study is designed to prepare social workers to work within organizations and government to improve laws, regulations, and policies that affect populations in vulnerable situations. Policy practice involves policy development and policy analysis, program design and implementation, and policy and legislative advocacy.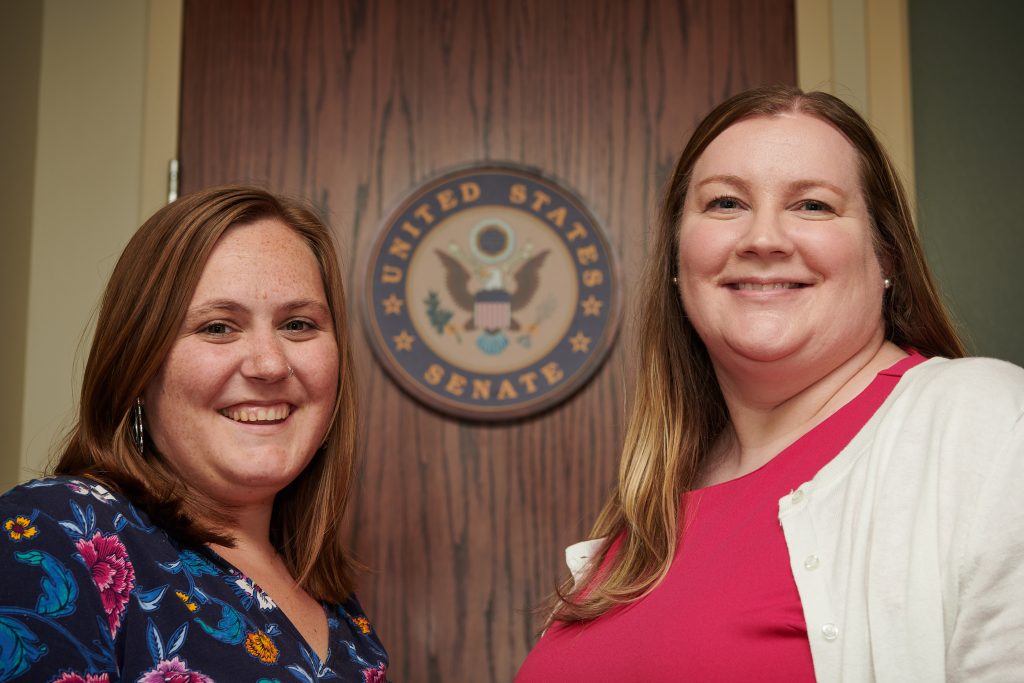 Field placements are an integrated part of the School of Social Work's master's program – giving students insight into the wide range of possibilities for social work employment, and providing the opportunity to integrate the theory students learn in the classroom with real-world practice. The School of Social Work's Nancy A. Humphreys Institute for Political Social Work – which works to increase the political participation and power of all social workers and the communities they serve – supports and enhances engagement and collaboration between social workers and the field of political participation.
"I think social work teaches you a lot about how to work with people and how to understand people," says School of Social Work alum Ellen Graham '06 MSW, who works as a community liaison for Sen. Blumenthal, and also coordinates the senator's internship program out of the Hartford district office.
Graham, who earned her bachelor's degree in social work from the University of New Hampshire, was first drawn to UConn's social work program through the annual Campaign School for Social Workers, then directed by the late Nancy A. Humphreys. She decided to pursue her MSW at UConn because of the school's Institute for Political Social Work, with its focus on policy and on so-called "macro" issues of social work. "Macro issues" refers to social workers operating on community or systems levels, as opposed to an individual or clinical basis.
In her professional work, Graham serves as the senator's "eyes and ears around the state," and focuses on a diverse set of issues, including health care, the environment, women's issues, education, aging, municipalities, and the state legislature. Her extensive social work background is critically important, she says, to the work she does every day.
"I meet with people around health care, and it's very emotional," she says, "so I think my background in social work has helped me to empathize with them, to understand where they're coming from."
In her work with School of Social Work students, Graham tries to give them constituent cases to work on, involves them in policy areas where they have a particular interest, and has them travel to events with the senator, like the New Britain pizza celebration.
"Interns are really our front line; they're answering the phones, they're updating constituents on casework, maybe working on a case of their own so that they can see [the process,] from someone calling us and then working with a federal agency and then hopefully getting it resolved," Graham says. "I think politics, whether or not you have a social work background, is all about relationships. It's meeting people and keeping those relationships – and social workers are very good at relationships."
For Leone, who had never worked around politics or political campaigns before taking classes at the School of Social Work and attending the Campaign School, her time in the district office gave her first-hand knowledge of the work of a political staffer and the role that social workers can play in the political process.
"Because I didn't have much experience, I thought it was a good way to learn how an office like that works, and to get that first-hand experience and learn what the people who work for a senator do," says Leone. She isn't entirely sure what she wants to do after completing her studies, but is interested in learning more about state-level government and advocacy.
She says her placement taught her ways to find common ground with people who have different and often passionate views on issues, and that social workers have an important role to play in politics.
"I think as social workers, it's really important to know how the government works, because they're the people who are giving us funding and making laws that affect the lives of the people we work with," she says. "And really, social workers help bring the humanity, I think, to the people that the representatives are serving."