When Genice Nelson, DNP, was starting out as a nurse practitioner in Connecticut she had never heard of sickle cell disease, the painful inherited red blood cell disease that affects blood circulation.
"What is that? Does anyone even have that disease?" she recalls thinking while waiting for a job interview to potentially care for the patient population. But a chance encounter with an African-American sickle cell patient named May in the waiting room that day changed her nursing career forever.
"I will never forget her," said Nelson. "She told me 'we're black and we need people like you to be able to talk to us about our disease, people who understand.' She also said 'you can tell everyone I gave you your start in sickle cell.'
This put Nelson on her trajectory to care for sickle cell patients.
"I saw that patients with sickle cell really need a voice," Nelson said. "I felt like I could be that voice."
Seventeen years later Nelson is still providing respect and high quality care to sickle cell patients.
This spring Nelson returned to UConn Health to be the program director for the growing New England Sickle Cell Institute (NESCI) with its leader Dr. Biree Andemariam.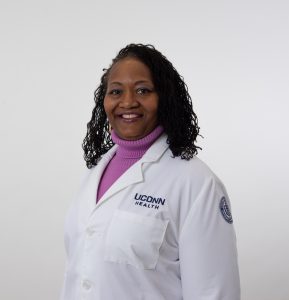 Nelson previously worked at UConn Health from 2012 to 2015. She closely collaborated with Andemariam to build from the ground up the sickle cell clinic and lay the ground work for today's NESCI. It is home to the first of its kind and only dedicated outpatient center for sickle cell patients in the region. The comprehensive Institute opened in August 2016 at UConn John Dempsey Hospital.
NESCI allows for both scheduled outpatient comprehensive care visits as well as same-day urgent care for management of sickle cell disease exacerbations such as severe pain, dehydration and worsening anemia. It has a large patient care area with ten private acute care suites, five exam rooms, and two specialized blood transfusion rooms. Also, conveniently located in the same building is the Emergency Department and the hematology inpatient care unit for any critical care patient needs.
Just prior to rejoining UConn Health, Nelson spent three years at the University of Texas at Dallas and created a comprehensive infusion care area to serve the city's 750 sickle cell patients. She also worked previously at Yale. She holds her masters in nursing from Yale School of Nursing and her doctorate of nursing from the School of Nursing at UConn.
"Here I am again at UConn Health and I have hit the ground running to continue to provide high quality care with Dr. Andemariam and her team for Connecticut's sickle cell patients," said Nelson.
The sickle cell program at UConn Health had just 20 sickle cell patients when it first started and now has grown to provide comprehensive and streamlined care all in one location for more than 300 Connecticut sickle cell patients.
Nelson stresses: "Our sickle cell patients at UConn Health will never be ignored, always respected and will receive the highest quality care. At UConn Health we have the best of the best caring for our sickle cell patients and I am honored to work with our resilient patients and the doctors, nurse practitioners, social workers, medical assistants, and techs."
Also, Nelson gives credit to the UConn John Dempsey Hospital Emergency Department for their additional care of sickle cell patients who turn to them for emergency pain relief or during a potentially life-threatening health issue.
"I give our UConn Health Emergency Department kudos," said Nelson. "They do a phenomenal job and make sure our sickle cell patients are properly seen and treated."
When it comes to sickle cell disease, in addition to advocating for patient respect and high quality treatment, Nelson is calling for more research investigations to find a cure for sickle cell.
"A common cure would be wonderful so this group of young patients can move forward with their lives without any worry about life expectancy due to their disease," said Nelson.
World Sickle Cell Day is Wednesday, June 19. Here are 10 facts about sickle cell disease to help educate the public and raise awareness:
Top 10 Things to Know about Sickle Cell Disease

1. Sickle cell disease is a rare, orphan disease. The inherited red blood cell disease is painful and affects the blood's circulation.
2. More than 3.5 million are affected worldwide by sickle cell disease including approximately 100,000 Americans, and at least 1,000 adults and 600 children under care in Connecticut.
3. Anyone can be born with sickle cell no matter their race. African-Americans and Latinos are predominantly affected in the U.S. Globally it tends to affect those of African, Mediterranean and Indian descent.
4. Life expectancy for the majority of people with sickle cell disease is age 40 or greater now due to preventive health maintenance.
5. Sickle cells are abnormally hook shaped red blood cells. The disease's name was first coined by its discovering physician after the cells under his microscope resembled a sickle, a traditional farmer's tool used for crops.
6. Individuals born with the disease have severe pain episodes due to blockages that form in their smaller blood vessels and capillaries when their abnormally shaped cells cannot pass through smoothly. The dangerous blockages can reduce blood flow and may cause blood infections such as sepsis leading to death. Other issues are profound anemia which is an unhealthy level of oxygen-rich red blood cells, plus their blood level is usually nearly half the normal level. Patients often have a lifetime of pain management and monthly blood transfusions to minimize pain and their risk of stroke.
7. The inherited disease is typically first diagnosed at birth through state-mandated newborn screening.
8. The first case of sickle cell was initially discovered in the western medical literature in 1910. But more than 100 years later there are no real therapies to treat, fully prevent, or reverse sickle cell disease.
9. Greater awareness of sickle cell disease is needed. Often sickle cell patients in severe pain can face not being rapidly cared for or bias and stigma when seeking pain medicine relief at their local urgent care or hospital Emergency Departments.
10. More research and research dollars are needed to find new therapies and a cure for sickle cell disease.
To learn more about UConn Health's New England Sickle Cell Institute visit, here.