Anna Lindemann has had a long fascination with insects, starting from childhood: some of her earliest music compositions were about bugs. As an undergraduate at Yale University, she majored in biology but also explored her wide-ranging interest in multidisciplinary art that ultimately led to her earning an MFA in integrated electronic arts at Rensselaer Polytechnic Institute.
Today, as an assistant professor of motion design and animation in the Digital Media & Design Department in the School of Fine Arts, Lindemann describes herself as an "evo devo artist," focusing her work on combining animation, music, video, and performance to explore the emerging field of evolutionary developmental biology.
Lindemann's newest work is The Colony, an art-science performance about sisterhood and the evolution of communication in two of the most social creatures on earth: humans and ants. The performance will be presented Sept. 6-8 at the Studio Theatre, located in the School of Fine Arts building.
"For me, it's about telling a story and thinking about different modes that can bring that story out," Lindemann says. "This show is about complex social systems, but we also wanted it to be a compact show that could travel to multiple places and unexpected venues like science conferences or natural history museums."
The Colony draws visual materials and research in part from the Carl W. and Marian E. Rettenmeyer Army Ant Guest Collection at UConn and is one of more than 16 "AntU" initiatives inspired by the collection. In The Colony, Lindemann plays the role of Mona, which reunites her with long-time collaborator Lucy Fitz Gibbon, a Yale classmate and classically-trained soprano who plays the role of Mona's sister, Hennie. Pianist Ryan MacEvoy McCullough has the role of Ian, Hennie's husband. Director of The Colony is Michael Hofmann, an opera director and arts administrator based in New York's Hudson Valley. Lindemann composed the music and co-wrote the script with Emma Komlos-Hrobsky, associate editor at Poets & Writers.
Students from the Digital Media & Design and Dramatic Arts departments at UConn have also been involved in developing the performance. Under Lindemann's guidance, Sarah Shattuck, Jasmine Rajavadee and Allie Marsh have developed animations for the show over the past two years. Shattuck is also serving as the stage manager for the premiere. The creative team also includes costumes by Brittny Mahan, lights by Sam Biondolillo, sound by Katie Salerno and additional film direction by Ryan Glista.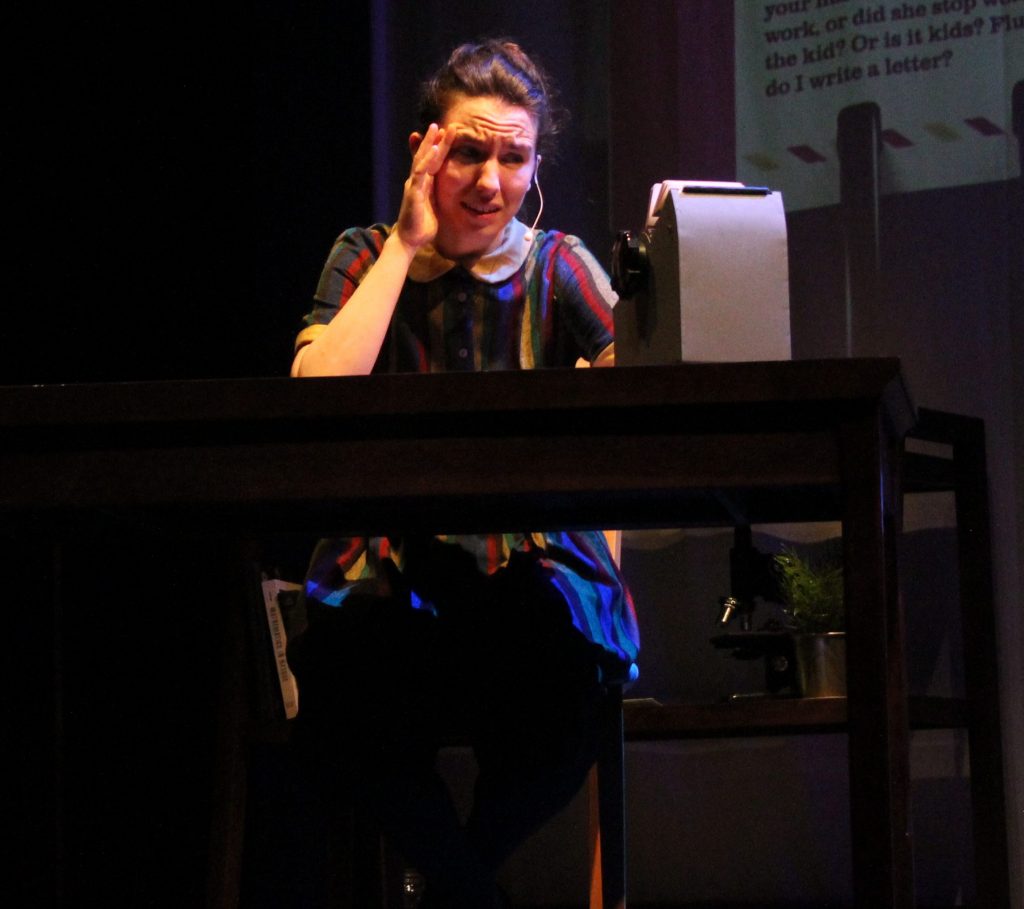 A cross-disciplinary work, The Colony combines projected animations and video, and live spoken and musical performance.
"How can we create a show that only has three performers but is also about social life?" Lindemann asks. "In response to this question, we ended up including a video dance sequence within the performance that is inspired by an army ant swarm raid and was shot in the Storrs Price Chopper with the participation of 50 students, faculty, and community members. In the same way that a video sequence expands the visual palate of the performance, I used electronics to expand the musical palate when composing the music. The electronic accompaniment to Lucy and Ryan's live performance allows the sound world of two people to expand, at times becoming a chorus of ants or revealing the complexities of Mona's inner turmoil."
The cross-disciplinary and collaborative nature of The Colony draws on the creative team's past experience. Hofmann's recent directorial work includes Knot an Opera!, which combines electronics and diverse musical styles ranging from popular to operatic.
"Returning to direct a performance that has so many different elements and different collaborations is a thrilling and enjoyable experience for me and something that I seek in other projects I do," he says.
Adds Fitz Gibbon, "I'm used to performing with electronics as well as theatrical work, such as opera, and Anna and I have collaborated on many projects. This piece really is a Gesamtkunstwerk [total work of art, synthesis of the arts] in that we are using innovative technologies for so many different aspects of the production and drawing on so many different departments at UConn to create something new and, I think, really meaningful."
"While it's always so tantalizing, it's a lot of work making these kinds of collaborations come together," says McCullough. "There are inevitably little points of miscommunication along the way, human or electronic, but then you learn something. And it's always rewarding."
The Colony will be presented in The Studio Theatre, 802 Bolton Road, Storrs, on Sept. 6 at 8 p.m., Sept. 7 at 8 p.m. and Sept. 8 at 2 p.m. Tickets are free, with reservations highly recommended by visiting www.thecolony.show.