UConn Health and The Jackson Laboratory for Genomic Medicine are part of a worldwide collaboration of 87 researchers who may have started a path eventually leading to more effective brain cancer treatments.
The Glioma Longitudinal Analysis (GLASS) Consortium has been studying the differences between diffuse glioma, the most common malignant brain tumor in adults, before and after treatment. The researchers say their findings, now published in the journal Nature, provide a framework for effective study of the cells' evolution and treatment response.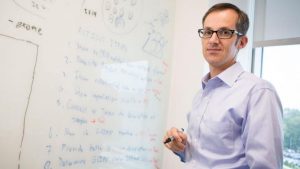 Roel Verhaak, professor and associate director of computational biology at The Jackson Laboratory for Genomic Medicine (JAX), is senior author. He also has a faculty appointment at the UConn School of Medicine, as a professor of genetics and genome sciences and professor of neurosurgery in the Department of Surgery. Co-authors include Dr. Ketan Bulsara, UConn Health's Neurosurgery Division chief, JAX researchers Kevin Johnson and Dr. Floris Barthel, and UConn medical students Anzhela Moskalik and Olajide Abiola, who are among the lead authors.
"Contributions such as this, with publication in a journal like Nature, not only further enhance our continued growth in the field of neuro-oncology in collaboration with JAX-GM, but also re-affirms our institution's position as a leader in shaping medicine both today and tomorrow," says Dr. Bruce T. Liang, dean of the UConn School of Medicine.
The researchers obtained data from 285 patients treated at 35 hospitals. They selected high-quality tumor samples of diffuse glioma from 222 patients from time points characterized as initial and recurrence, and analyzed the differences.
"More data are needed to fully understand glioma evolution, but the GLASS resource provides an excellent foundation to more effectively study both evolution and treatment response," Verhaak says. "Collectively, these findings will help us determine what treatment approaches will result in the greatest removal or killing of glioma cells possible."
The hope is to uncover more predictability in the treatment process and insight into how to improve the prognosis for glioma patients.
"Dr. Verhaak is one of the foremost thought leaders in the world for gliomas," Bulsara says. "It is tremendous that he has been able to establish this multi-center international collaboration. This landmark first paper from this collaboration further establishes us as rapidly becoming one of the premiere neuro-oncology centers in the world, focused on excellence in the clinical, educational, and research realms."
Nature is widely regarded as one of the most prestigious scientific and academic journals in the world. It accepts fewer than 8% of submissions for publication.