[Editor's Note: Effective October 28, 2020, the University has made the difficult decision to pause the Connecticut Commitment, as a result of financial fallout from the global COVID-19 pandemic. First-year and transfer students currently receiving funding through the Connecticut Commitment will continue to do so, unless financial circumstances indicate they no longer qualify. UConn will continue to ensure existing aid programs are sustained to ensure ongoing financial aid support for Connecticut students who need it most.]
UConn's Board of Trustees has adopted a five-year tuition plan that limits annual increases to their lowest levels in five years, working to balance affordability with protecting and strengthening the University's academic quality.
The plan was in two open town hall forums and during a recent Financial Affairs Committee meeting before trustees voted at their meeting Wednesday to adopt it. It goes into effect starting in fall 2020 and runs through spring 2025. More details, including the PowerPoint presentation shown Wednesday to trustees, can be found online in the board's agenda materials.
"In my early conversations with Gov. Lamont and members of the General Assembly, I asked that they do all they could to hold state funding for UConn steady," UConn President Thomas C. Katsouleas said when the plan was proposed earlier this month.
"That happened for the current fiscal year, and I am hopeful it can continue.  As a result, we are able to propose tuition increases that are significantly lower than those enacted in recent years. This reflects the importance of the social contract between the state, its citizens and UConn as Connecticut's flagship public university," he said.
"Over time, holding the block grant steady or increasing it for specific priorities will allow us to increase other sources of revenue, including graduate and executive education programs, research funding and philanthropy," he said. "This will enable UConn to grow its mission and expand its contribution to Connecticut's economy and workforce."
Under the previous tuition plan adopted in 2015, in-state tuition increased at UConn by $950 in the current year of 2019-20, and by $1,250 for out-of-state students.
In the first year of the new five-year plan, tuition will increase by $608 for all students. In the following years, it increases by $625 in fall 2021; by $642 in fall 2022; by $660 in fall 2023; and by $679 in fall 2024.
In-state tuition is currently $13,798, while out-of-state tuition is $36,466.
As has been the practice for many years and required by state statute, the amount of funds to support financial aid will increase accordingly each year when tuition rates change, ensuring reliable support for Connecticut's neediest students.
When institutionally funded aid is factored in, the average in-state UConn student pays about $9,200 in annual tuition, with those who receive federal Pell Grants paying less than that.
The cost of tuition and fees for Connecticut residents remain a fraction of what it would cost them to attend many private institutions or public universities outside of Connecticut: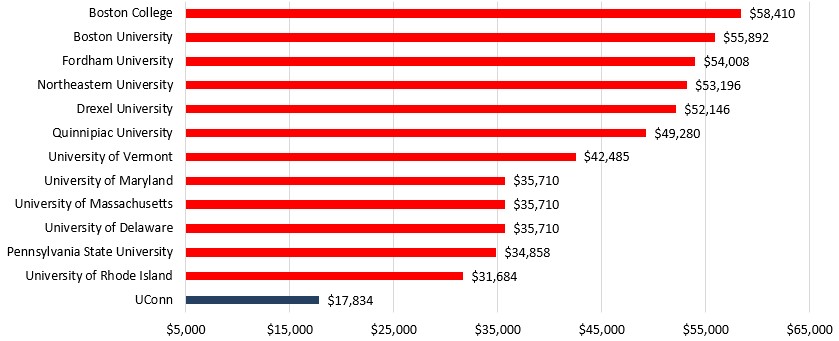 Tuition and fees fund approximately 41 percent of UConn's annual operating budget. UConn's state support funds 26 percent, with the rest of the budget coming from auxiliary revenue, research grants and philanthropy.
UConn officials say the tuition plan reflects the smallest possible increase necessary to protect the academic gains made over the years.
Those gains have transformed the University into one of the nation's top 25 public institutions, with record-high freshman SAT scores and applications, and the most diverse student body in its history.
The university will also continue to reduce costs through consolidations, operational efficiencies and other measures that all will be vetted to ensure they do not compromise UConn's academic quality. UConn has saved tens of millions of dollars in recent years, including through a program called "Spend Smart" in which 37 university schools, departments and units launched more than 200 savings initiatives, cutting costs by almost $29 million.
Moreover, several university offices also have been consolidated at UConn and the regional campuses to gain efficiencies and savings, and operations ranging from human resources to procurement, public safety, and legal services have been combined for UConn and UConn Health under single departments.
The dollar figures in the new five-year tuition proposal were arrived at based on a combination of factors: the current cost of tuition, the Higher Education Price Index – which is the rate of inflation for higher education – a flat dollar figure, and costs that UConn must fund as a state agency, such as state employee healthcare and fringe benefits:
–          In-state tuition is currently $13,798.
–          The plan adds a flat $100 increase plus inflation to cover increases in personnel costs, materials, services, utilities, and other expenses, as well as to support improvements that maintain institutional excellence. The Higher Education Price Index estimates inflation in the sector to be about 2.8 percent next year, which calculates to about $389 in new tuition dollars per student.
–          Finally, a dollar amount is added to offset increased fringe benefit costs that UConn must pay as part of Connecticut's plan to catch up with unfunded pension and retiree healthcare liabilities statewide, which have built up over many years. In 2020-21, that results in the need for about $119 per UConn student.
–          For 2020, those factors result in a total of $608 in new tuition dollars per student (the flat $100, plus $389 from the inflation index, plus $119 in fringe benefit costs).
As with UConn's two previous multi-year tuition plans (enacted in 2011 and 2015) the university may recommend to the board that tuition rates be revisited if there is a significant drop in UConn's state appropriation or a significant increases in costs that must be borne by the university as a state agency.
The state's block grant to UConn funds 47 percent of employee salaries, with the remaining 53 percent funded by tuition and fees, auxiliary enterprises, research, grants and contracts and other non-state revenue sources.
When the block grant is reduced – as it has been in several of the past 10 years, with a total of $40 million cut since FY 2016 – the University has had to turn to tuition and other sources to make up those lost dollars.
The state's annual operating grant to UConn has averaged about $214 million annually since FY 2010, but the FY 2019 budgeted grant is about $14 million lower than that 10-year average. In fact, it is currently about the same amount as it was in 2005.
As currently presented with the assumption that state aid will remain level, the full cost of attendance to attend UConn Storrs in 2020-21 would be $31,092 for in-state students and $53,760 for out-of-state students.
That includes the new tuition rate along with mandatory fees, plus average room and board. Those figures are currently $3,428 in fees and $13,258 in average room and board, but could change when the 2020-21 figures are determined in spring 2020.
The majority of UConn students do not pay full price for tuition, though. In fact, 63 percent receive gift aid that they do not have to repay, including 27 percent who receive federal Pell Grants.
Fall 2020 will also be the first year of UConn's new Connecticut Commitment program, which provides free tuition for entering in-state freshmen and transfer students with household incomes of $50,000 or less.
The Connecticut Commitment program had no impact on the proposed tuition increases being presented at the town hall events today and to trustees next week. The tuition plan would have been the same even if that financial aid program had not been enacted.
The Connecticut Commitment is among several scholarship initiatives that UConn, along with the UConn Foundation, has either launched or in which it participates to help qualifying students meet their financial needs. They include the $2,000-per-semester President to President Scholarship for transfer students; the Hartford Promise and New Haven Promise programs; and many others awarded by individual schools and colleges.
UConn invests significantly in financial aid to help keep the University affordable and accessible, with about $123.1 million set aside in the current year's budget specifically to fund institutional aid that students do not have to repay. That's up 26 percent over the last three years.
The tuition plan purposely used dollar amounts to increase the rates per year rather than percentages. That helps UConn avoid enacting a disproportionately high increase on out-of-state and international students that would put it at a competitive disadvantage to draw highly talented students from other regions.
Because out-of-state tuition is significantly higher than in-state rates, percentage increases that have compounded over time have placed UConn as second only to the University of Vermont among public university competitors in the rates charged to non-resident students.
Connecticut students comprise about 80 percent of UConn's student body – a ratio that has consistently held for approximately a decade – but UConn also needs to attract talented non-residents, as the number of high school graduates in Connecticut is shrinking.
Without non-residents attending UConn, the in-state tuition rate would have to increase by 56 percent to continue providing the academic quality currently offered.
In other business Wednesday, the board:
Congratulated UConn senior Wanjiku "Wawa" Gatheru, the University's first Rhodes Scholar. She was welcomed with a lengthy standing ovation from the board and guests at the meeting, where she expressed her gratitude for the many people who mentored her during her undergraduate career and joked that she would arrive decked out in full UConn gear for her Rhodes year at University of Oxford in England.
Heard updates from Katsouleas on the status of searches for the next UConn Provost and Executive Vice President for Academic Affairs, and the university's next Chief Diversity Officer. The CDO position is being elevated to a vice presidential position and will be posted for applications in early 2020, while the provost position has drawn what Katsouleas calls "a strong and diverse pool" of candidates, some of whom will be interviewed within the next few months.
Established a new standing Board of Trustees Committee for Diversity, Equity and Inclusion to work with the university community and administration on ways to ensure UConn is a truly inclusive environment and pursues equity, justice and civility.