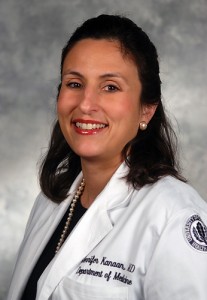 Can better sleep mean better grades, better relationships, and better overall performance? Why do adolescents tend to stay up late and want to sleep in? Should school start later in the morning? Can signs of attention deficit hyperactivity disorder in reality be signs of sleep deprivation? What is actually happening in our bodies when we're asleep?
Dr. Jennifer Kanaan from UConn Health's Sleep Disorders Center joins the UConn Health Pulse podcast to explain how to make good sleep hygiene a priority in your home and how it can help us be our best selves.
Hear (or read a transcript of) the entire conversation on the September episode of the UConn Health Pulse podcast.