For the next year, Dr. Rebecca Andrews will chair of the board of governors of the American College of Physicians, the national organization of internists. Her term began Sunday, May 2, at the conclusion of the ACP's Annual Business Meeting.
Andrews is a professor of medicine and the associate program director and director of ambulatory education for the UConn School of Medicine Internal Medicine Residency Program. She also is a primary care physician and clinical lead for UConn Health's Patient Centered Medical Home and Comprehensive Pain Center.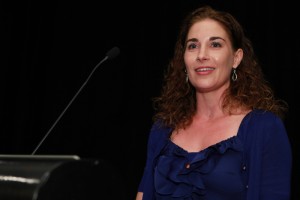 "I have seen first-hand how the American College of Physicians has affected the lives of our patients, by helping to bring the changes in telemedicine this past year so we can see our patients safely; our physicians, advocating for reimbursements to credit the cognitive work of the internist — the thinking, worrying, coordinating that we do to provide top-notch care; and the greater society of medicine with a focus on public health, such as vaccines, and PPE," Andrews says.
Andrews transitions into this national leadership role from a four-year tenure as the first woman to serve as governor of the Connecticut Chapter of the American College of Physicians. Prior to that, she served as chair of the Connecticut Chapter's Council of Residents and Fellows and co-chair of the Chapter Council of Early Career Physicians. On ACP's national level, she previously served as chair of the Council of Early Career Physicians and, as such, a member of the Board of Regents. She has served on several national committees including awards, education and publication, medical practice and quality, and governance. In 2010, she became a Fellow of the College (FACP), an honorary designation that recognizes ongoing individual service and contributions to practice of medicine.
"I feel the honor of leading the Connecticut Chapter of the ACP ties in perfectly to the three strategic goals of the national organization this year, which focus on innovation, the value of professional identity as an internist, and  diversity, equity, and inclusion," Andrews says. "I am absolutely thrilled to be able to put my passion behind these incredibly important endeavors to improve the care of our patients throughout the country."
A graduate of both the UConn School of Medicine (Class of 2002) and its internal medicine residency program (2006, finishing as chief resident), Andrews returned to UConn Health in 2009 to join the faculty. Her main areas of professional interest include graduate medical education, primary care and preventative health, and chronic pain.
About the American College of Physicians
The American College of Physicians is the largest medical specialty organization and second-largest physician group in the United States, with members in more than 145 countries worldwide. ACP membership includes 163,000 internal medicine physicians (internists), related subspecialists, and medical students. Internal medicine physicians are specialists who apply scientific knowledge and clinical expertise to the diagnosis, treatment, and compassionate care of adults across the spectrum from health to complex illness.