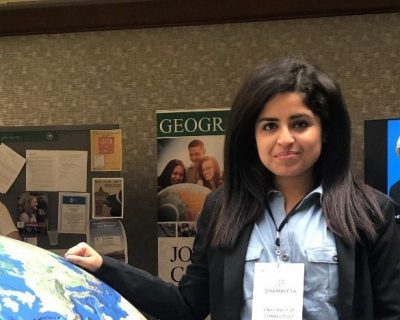 Shamayeta Bhattacharya is a Ph.D. candidate in the University of Connecticut, department of Geography and completed graduate certificates in human rights and Women's Gender and Sexuality Studies. This interdisciplinary training helped her frame her research which intersects public health, postcolonial, queer and human rights theories to understand substantive health and human rights access among trans people in India. She advocates for knowledge dissemination and practices that by publishing in peer reviewed journals (such as Social Science and Medicine; Journal of Human Rights Practice) and hosted health and rights awareness meetings for her participants and other trans people in India.
About her project:
SHAKTHI: Substantive Health and Human-rights Access among Kothi, Transgender, and Hijra Individuals
Transgender and gender diverse (TGD) people have become rights-bearing citizens in India, my dissertation explores are they rights-accessing citizens too? SHAKTHI draws from theories of geographies of health and well-being, queer and trans geographies, and human rights to understand issues of substantive access to healthcare and human rights among TGD people after the passing of 'The transgender persons (Protection of rights) Act,' in India. SHAKTHI identifies the facilitators and barriers of TGD people in accessing healthcare and questions the effects of everyday lived experiences (such as fear, safety, and struggles) and substantive human rights access on their health and wellbeing. Geospatial and mixed methods techniques were used on data collected over seven months of field work in Kolkata, India to address the research question. Findings reveal TGD people suffer from poor mental and physical health due to barriers of acceptance, availability, awareness, and safety in healthcare spaces. Despite legislations they lack substantive access to health and human rights which leads them to resort to collective struggle such as clapping, and community living to navigate healthcare spaces and claim their rights. SHAKTHI a multi-modal project, not only builds and advances the field of geographies of gender diverse people's health but through the practice of mapping embodied experience, right and healthcare access it espouses a more equitable and accessible future for TGD people in India. Foregrounded in everyday encounters and exchanges at healthcare spaces, perception of safety, and substantive rights access, SHAKTHI makes methodological contributions by adding geographic and spatial techniques of travel diaries and story-mapping to the traditional ethnographic methods. This dissertation expands 'accessibility' by understanding substantive access interconnected with issues pertaining to class, gender, disability and spatial inequality stemming from critical accessibility theory —rather than just focusing on spatial or geographic access.
---
In an effort to support the writing of graduate student dissertations with a human rights focus at the University of Connecticut, the Human Rights Institute funds one dissertation writing fellowship each year.