As the only nationally accredited program of its kind in New England, the UConn Department of Journalism has for decades played a role in shaping how the news is reported, disseminated, and understood. Alumni have made their marks in places as far away as Berlin and Moscow, and as close to home as Willimantic and Manchester, and their ranks include winners of every major award in the industry, including the Pulitzer Prize.
Starting in Fall 2021, Marie Shanahan '94 (CLAS), an award-winning print and online journalist who has taught at UConn since 2011, will become just the third department head in the program's nearly 60-year history.
Shanahan – who in 2022 will conduct research in the Philippines as a Fulbright US Scholar – recently spoke with UConn Today about the state of the news industry, the opportunities for experimentation that exist at UConn, and why the skills that make good journalists are more valuable now than ever. The conversation has been edited and condensed for clarity.
When you look at the news industry right now, what do you see? Are you optimistic, pessimistic, something in between?
It's a mixed bag, actually. Right now there are a lot of interesting things happening on the nonprofit side, which I've been able to see develop here in Connecticut [Shanahan serves as a board member for two nonprofit news organizations, the Connecticut Health Investigative Team, and the Connecticut Mirror]. There are a lot of opportunities to do really valuable journalism, and to find new ways to fund it.
On the other hand, you see what's happening to newspapers, and it's so disheartening. I worry in particular about local news. As good as these journalism nonprofits are, right now they're not doing what newspapers traditionally have done, which is closely pay attention to what's happening on the local level.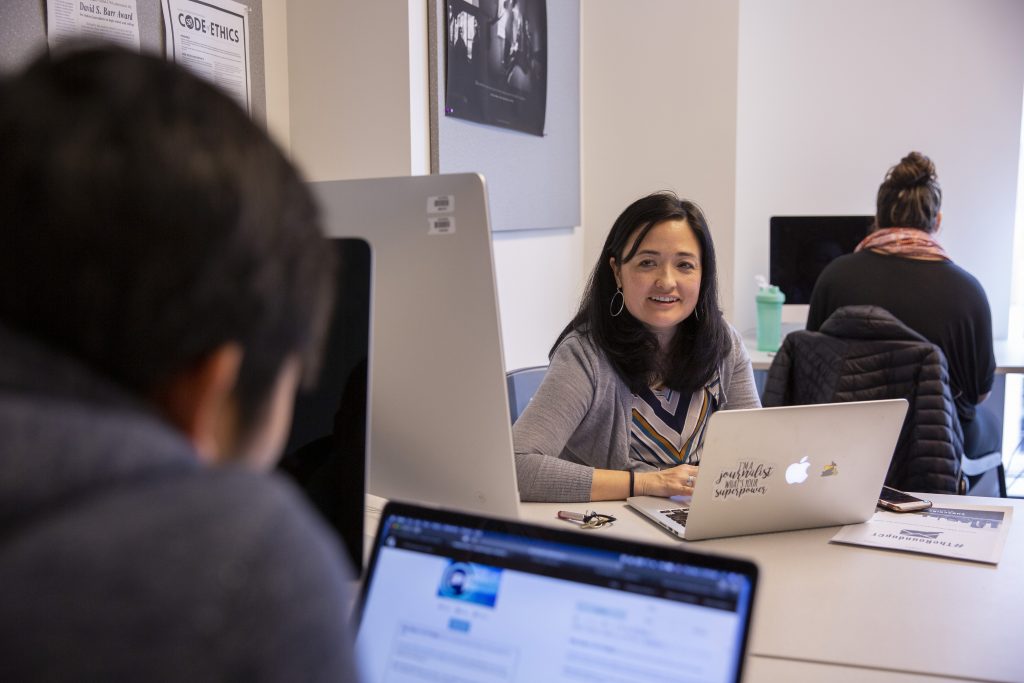 Given that, what are your priorities as the head of the UConn journalism department?
As head of the journalism department at UConn, where we're educating the next generation of journalists, there are a number of things we need to do. We need to look at how news organizations are finally coming to grips with the need to improve diversity within the newsroom, and our role in that is to attract a more diverse group of potential journalists, and direct them to mainstream news organizations, or to something new and exciting that's coming up.
We just hired a new faculty member, Martine Granby, who has a joint appointment with the Africana Studies Institute as part of the College of Liberal Arts and Science's new Anti-Racism and Anti-Bias cohort. She's a documentarian. She looks at the news through the medium of documentary film, which is a wonderful opportunity for our department, to have someone who can change some of our curriculum and bring these new perspectives and skills to UConn.
Another thing I want to do is look for synergies. We have all these things happening at UConn – the School of Business, Digital Media and Design, you name it – and I'm always interested to see what kinds of partnerships can be developed. I love that UConn rewards entrepreneurship, and I'd love to see our students work with, say, business students on new ways to fund good journalism. Journalism is interdisciplinary by nature anyway, and the University is a perfect environment to develop that.
Speaking of new skills and perspectives, what are the skills UConn journalism students should develop? The industry has changed so much in a short period of time, but I imagine some of the fundamentals still apply.
Some of our graduates go into journalism, and some don't. But what we want is for all of them to be clear communicators, because those skills are valuable wherever you go. Other departments are always coming to us to ask for students who can help with writing or editing, because people know journalism majors are good communicators.
You have to be able to write, obviously, but it's more than that. Every student has to come out of our program with some visual acumen, and we have a Pulitzer Prize-winning photojournalist on our faculty who can show them how to develop that. You have to be able to speak about your work – I teach a podcasting class, for example – which is something new for a lot of journalists. Being on camera, editing audio, editing video, and being able to communicate clearly and effectively on social media are all skills that we teach.
Beyond that, critical thinking is obviously a skill everyone with a college degree should have, but especially for people studying journalism. It's crucial to have those critical thinking skills when it comes to news literacy, media literacy, information literacy. Today, when information is coming at you like a torrent, and a lot of it is basically garbage, it's vital to know how to be good consumers of news as well as good producers.
That's a great segue to talk about what it means to be a journalist, and what journalism means, in 2021. What do people need to be good journalists, and what do people need to be good consumers of journalism?
The technology keeps changing. The way people get their news keeps changing. Nobody gets all their news from one place anymore, it's all cherry-picking from different sources. One of the first questions I ask students on the first day of class is, "Where do you get your news?" And don't tell me "I just read the New York Times and the Wall Street Journal," because no one does that. It's different for everyone – maybe you check Facebook first thing in the morning, read some emails, look at headlines on Twitter, then get in the car and turn on NPR. Maybe a friend texts you a link to a story. Maybe you get your news from Buzzfeed, or maybe you get your news from TikTok! I've got friends who've become fully addicted to TikTok, and the Washington Post has a journalist who's dedicated to producing TikTok videos.
It doesn't always have to be the way it was. You can produce the news in so many different ways, so you need to think about the best way to reach the audience you want to reach. That's one of the great things about UConn, we can experiment with all of this.
Because I'm on those two nonprofit boards, I get to hear about what's happening in this industry every day, and what I hear about is how they're dealing with super fragmented audiences and the trust problem. We're struggling to convince half of America to accept basic facts, and for some people there's an automatic distrust of journalists.
That's something we need to address, and one of the ways you do that is by having conversations with people and making sure they're represented. Not every student at UConn is a liberal, and it's great to have these conversations with students who lean right, lean left, and some who aren't sure what direction they lean at all, and talk through how they go about receiving information and what builds their trust. The same thing is true of people from minority communities, which haven't gotten the most detailed or in-depth coverage in the past. The more that people see themselves in the news, the more they're likely to engage with it.
A big part of journalism is just being adaptable. What's great about journalism is that you get to learn something new every day, and you get to talk to real people about real problems. We have the opportunity at UConn to innovate and try new things as this industry changes, and I'm excited for it.