Some relatively common bicycling injuries involve, perhaps surprisingly, the hands and wrists.
Cyclists can be susceptible to carpal tunnel syndrome or ulnar nerve entrapment at the wrist, sometimes referred to as handlebar palsy or cyclist's palsy.
"The ulnar nerve is the nerve that travels through both the wrist and elbow," says Dr. Joel Ferreira, one of UConn Health's hand, wrist and elbow surgeons. "It's commonly due to compression at the elbow, but in cyclists it can actually arise from the wrist. You can get numbness of the ring and small finger, and that's due to how you're holding and gripping the handlebar. Also when you go downhill there is a lot more force on your handlebar because of how you're gripping."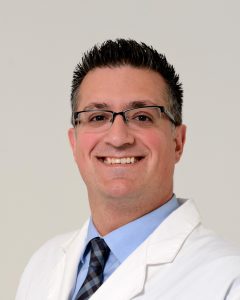 In addition to his expertise from his training and experience in his specialty, Ferreira brings another perspective that uniquely qualifies him to recognize and treat such hand ailments – or a least to relate to them: He recently cycled 56 miles as part of a 70.3-mile Ironman triathlon.
"I would say maybe it was a midlife crisis," Ferreira, 40, says. "I was out of shape in 2017, so my wife and I got a Peloton bike, and I started indoor bicycling. I shook my diet up, and then I decided to do some 5Ks."
He then graduated to 10K races – including the UConn Health Iron Horse 10K in 2019 – then a full marathon in Newport later that year.
"I didn't do anything during the pandemic other than just work out at home on the bike and the treadmill, and I decided in January to sign up for Ironman," Ferreira says.
That decision led to several months of 5 a.m. workouts to prepare for 1.2 miles of ocean swimming, 56 miles of bicycling, and a 13.1-mile half marathon in Old Orchard Beach, Maine. He was able to complete the course well within the 8 ½ hours required to qualify as a finisher, and that included a stop to assist another cyclist who had fallen.
"I wasn't wearing gloves at first when I was riding the bike, and I noticed I was getting symptoms consistent with carpal tunnel, so I decided to try the gloves out that that completely alleviated it," Ferreira says. "The reason why cyclists get carpal tunnel is, a lot of times they have their wrists in an extended condition or flex position, and that puts increased pressure on the carpal tunnel. The vibration from the handlebars of the bike is also linked to carpal tunnel. That's why wearing gloves can help reduce that."
Characterized by compression of the medial nerve in the wrist with numbness and tingling that affects the thumb, index finger and middle finger, carpal tunnel syndrome is one of the ailments Ferreira can treat with "wide-awake surgery." With this approach, the surgeon uses local anesthesia, enabling the patient to remain awake to avoid the risks of general anesthesia. It's specifically beneficial for patients that have medical conditions that would put that at great risk for general anesthesia.
"With cyclist's palsy, the ulnar nerve has a very intricate path through the wrist," Ferreira says. "There are actually several branches, and you can have an issue with that where all you get is the branch that supplies the muscle function, and you have no sensory problems, but you notice your hands are getting significantly weak and you start having contracture of your hand. Those are our biggest issues because since you have no numbness, you never come in and get seen for it. Then you present later on when you're having a lot of weakness in the hand, and sometimes it can be irreversible."
Before that point, there are both operative and nonoperative remedies, but wide-awake surgery is not an option for this kind of ulnar nerve disorder. Ferreira recommends cyclists re-adjust their grip on the handlebars every few miles to reduce the risk of developing ulnar nerve compression in the wrists.
Learn more about hand and wrist care at the UConn Health Department of Orthopedics and Sports Medicine.