For a decade, researchers from the Neag School of Education have worked with the state on an ambitious literacy initiative designed to help close Connecticut's significant achievement and opportunity gaps.
Their efforts have proved so successful that now a program that began with a few pilot schools is set for significant expansion to school districts of need across the state.
In 2021, Connecticut passed the Right to Read Act to improve literacy in early grades. The law earmarks $12.8 million in state funds to establish a Center for Literacy Research and Reading Success and finances support and professional learning for school districts across Connecticut to use effective practices for teaching reading. Components of this act are beginning to roll out this summer and fall.
Amy Selib Dowell, the Connecticut State Director for Education Reform Now, says that The Connecticut Partnership for Literary Success (formerly known as the CT K-3 Reading Model) was the launching pad for the Right to Read Act.
"It has developed and tested best practice and shown time and again that combining well prepared educators and a consistent commitment to research-based approaches to early literacy instruction helps the most students. With the passage of this new legislation, Connecticut will bring this work to every K-3 classroom in the state," Dowell says.
Researchers and supporters of the initiative believe it is an approach that can effectively work to close the achievement gap that exists in the state's public schools. Nationwide, Connecticut ranks highly in achievement compared to other states. However, there are stark differences between high performing, wealthy suburban school districts versus their more urban and/or economically disadvantaged peers.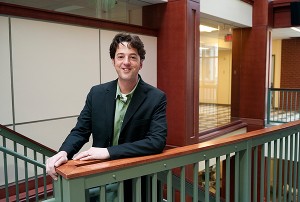 Michael Coyne, a professor and department head of educational psychology at the Neag School, says early literacy is the key. If students cannot read well by the third grade, it may be too late.
"Reading outcomes and reading achievements are maybe the most important academic skill that kids learn in school," Coyne says. "Reading is the gateway skill. If you become a successful reader, every other area of study opens up. But if you cannot read, it limits everything."
Statistically, students from vulnerable backgrounds – such as children of color and English Language Learners – are most at risk to fall behind. Coyne says the pandemic has exacerbated the danger, and the longer it takes for a student to develop reading skills, the harder it becomes for them to catch up. As a result, the achievement gap only grows greater.
"Reading outcomes and reading achievements are maybe the most important academic skill that kids learn in school," says Professor Michael Coyne.
"The good news is that we probably know more about teaching reading than any other area of education. We know how kids learn to read and strategies to help them," Coyne says. "Teachers are the critical front line, but they cannot do it all on their own. They need the support to work smarter, not just harder. This kind of approach really provides structure, routines, and resources to teachers to help their students succeed."
Coyne and retired Neag School professor George Sugai launched the initiative in 2012 based on empirically validated practices for teaching and assessing reading. The framework incorporates a school-wide reading improvement plan, comprehensive literacy assessment system, high-quality classroom instruction, regular evidence-based reading interventions, coaching, and targeted professional development for teachers. Success also depends on building strong relationships with students' families.
Beginning as a pilot program in five schools, the initiative showed great promise. Schools that implemented the Reading Model for at least three years more than doubled the number of students meeting grade-level literacy goals and dramatically decreased the number of students at significant risk for reading failure.
The success encouraged members of the state legislature, especially the Black and Puerto Rican Caucus, which advocated expanding the initiative to more districts throughout the state. The initiative is now implemented in more than 70 elementary schools in 16 districts across Connecticut, including Hartford, New Haven, Bridgeport, Stamford, and Waterbury.
The initiative is set for greater growth. During the winter, the State Department of Education awarded Coyne a $3.59 million grant to continue to expand throughout Connecticut, partnering with districts of need. In total, the state has invested about $20 million since the initiative was launched, representative a longstanding and important partnership.
"We know all children, in every school, are capable of greatness and success, but we must offer the best and most effective tools. UConn's Neag School has been at the forefront of this work and we were honored to partner with them," Dowell says.
Additional Stories:
Pilot Reading Initiative Shows Dramatic Results
Pilot Program in Reading Instruction Shows Dramatic Results in Closing the Achievement Gap