There's hardly a standard playbook when it comes to diagnosing and treating prostate cancer.
Certain cures run the risk of being worse than the disease, so doctors need to be pretty certain that the risks of the disease outweigh any treatment recommendations that they make. In prostate cancer, the diagnostic standard of care is a prostate biopsy. While prostate biopsy is relatively safe procedure, it is unpleasant for patients and, like many procedures in medicine, it is not completely risk-free.
Generally preferring to avoid taking biopsies when possible, urologists, including those at UConn Health, can rule out clinically significant prostate cancers using an imaging technique called multiparametric magnetic resonance imaging, which is less of a hardship on the patient.
"Even though a biopsy is a minor, generally low-risk procedure, there are physical and psychological risks to any procedure," says Dr. Benjamin Ristau, UConn Health's surgical director of urologic oncology. "We want to minimize these risks as much as possible. MRI is one tool that allows us to do this."
Ristau recently contributed a commentary on prostate MRI for a special prostate cancer edition of the American Urological Association publication AUA News.
Analyzing findings from several studies on MRI's reliability in detecting prostate cancer, Ristau suggests that in many cases the MRI can tell doctors enough to guide an informed decision on performing — or confidently avoiding — a biopsy, in consultation with the patient.
"Approximately 10% of clinically significant cancers are MRI invisible, so your urologist may continue to follow your PSA even if you have a normal MRI," Ristau says. "This is especially true if you have prostate cancer risk factors such as family history of prostate cancer or African/Caribbean ancestry."
PSA is prostate-specific antigen, detectable with a simple blood draw. Prostate cancer is only one of several conditions that can elevate PSA levels, so while doctors take it into account when determining risk — often to set a baseline to refer back to as a man ages — they don't consider it a definitive marker of prostate cancer.
MRI results are graded on a scale of 1 to 5 known as the Prostate Imaging-Reporting and Data System, or PI-RADS, developed by the American College of Radiology. The higher the PI-RADS score, the greater the likelihood of prostate cancer. A score of 1 or 2 wouldn't trigger a biopsy.
"PI-RADS 3 carries about a 12% risk of clinically significant cancers, PI-RADS 4 about 60%, and PI-RADS 5 about 85%," Ristau says. "When we do not find a clinically significant cancer, we either find low-risk cancers (not clinically significant) or benign tissue (false positive). We routinely biopsy PI-RADS 4 and 5. Occasionally we will biopsy a 3 if there are additional concerning risk factors, such as high PSA density, low percent free PSA, or family history."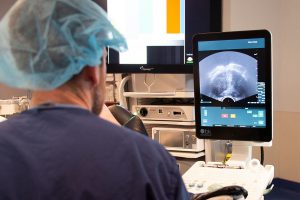 When biopsy is necessary, UConn Health urologists perform a transperineal biopsy, a technique they say enables greater precision than the traditional approach and eliminates statistically significant risk of infection.
UConn Health urologists have been offering transperineal biopsies since 2019 and report zero associated infections. They also are taking part in a multisite clinical trial led by Cornell University and funded by the Patient Centered Outcomes Research Institute to compare the transperineal method to transrectal biopsy, which remains the standard of care in a majority of U.S. hospitals.
"The goal is to determine which technique is least obtrusive to patients," Ristau says.
Regardless of how prostate cancer is detected, quite often the plan is to watch and wait. Low-grade cancers tend to warrant a surveillance approach rather than immediate intervention. As long as it stays localized or shows a very slow rate of growth, men usually are better off living with it. Treatments such as radiation or surgery can be harder on the patient than the low-grade cancer itself, and it may never progress to the point where its risks outweigh the quality-of-life setbacks of treatment such as changes in erectile or urinary function.
September is Prostate Cancer Awareness Month. Learn more about the UConn Health Division of Urology.