In recognition of a leadership gift that continues the transformational philanthropy of University Board of Trustees chairman Dan Toscano '87 (BUS) and his family, the new state-of-the-art ice hockey arena being constructed at UConn Storrs will bear the name Toscano Family Ice Forum.
The naming of the new arena, which will have a total capacity of 2,600, was approved by the Institutional Advancement Committee of the UConn Board of Trustees today, and is contingent on final approval by the full board at its meeting on Wednesday, Sept. 28.
"Dan Toscano and his family have been remarkable friends and supporters of UConn and our athletics programs for many years, and are passionate hockey fans," says David Benedict, Director of Athletics. "Our men's and women's programs compete in the strongest hockey league in the nation, and with the help of this gift they'll now be playing in one of the best campus ice arenas. The amenities in this state-of-the-art facility will transform the fan experience and provide every resource for our student-athletes and coaches to compete at a championship level. I'm grateful to Dan and his family for helping us position us for an exciting new era of UConn hockey."
Toscano and his wife, Tresa, have made UConn a philanthropic priority for more than a quarter century, with the majority of their transformational support directed toward students with financial need, attracting top faculty, and athletics, among others.
The Toscanos have steadfastly and generously supported the School of Business, where they established the Toscano Family Chair in Finance, the Joseph P. and Rose M. Toscano Memorial Scholarship Fund, and the Santos and Patricia Mercado Memorial Scholarship Fund. They also provided vital funding for School of Business initiatives such as the Student Venture Experiential Learning Fund and the Entrepreneurial Bootcamp for Veterans. In addition, the Toscanos have invested generously toward scholarships and awards to help students across the entire University and to support wide-ranging programs including the humanities, human rights, and health sciences.
Loyal supporters of UConn Athletics, the Toscanos have shown a deep commitment to student-athletes, providing critical funding for capital projects, the Fight On Fund, the strength training facility in the Rizza Performance Center, and teams — basketball, baseball, ice hockey, soccer, and lacrosse.
Outside of their giving to UConn, the couple has supported Person-to-Person, Big Brothers Big Sisters, the Wolf Conservation Center, the Morgan Stanley Children's Hospital, and the Special Olympics and U.S. Olympic programs.
"UConn has had a profound impact on my life, and its quest for eminence in everything it does has become a passion for my family," says Toscano. "It's not just giving back for us. We invest in the ambitions of the next generation and the faculty and staff that show them the way. The university has many champions in academics, research, and athletics. With this amazing new facility coming online, I am eager to see our hockey programs continue their rapid ascent among the nation's best programs and become a perennial part of our championship tradition at the University."
The Huskies' new ice hockey home, located adjacent to the current Mark Edward Freitas Ice Forum in the athletics district along Jim Calhoun Way, is scheduled to open in January 2023. In the spectator bowl, seating will consist of 80% with seatbacks and 20% on benches. The new facility will also have a large center-hung display scoreboard with perimeter ribbon boards, designed to create an outstanding experience for fans with state-of-the-art sound and lighting features.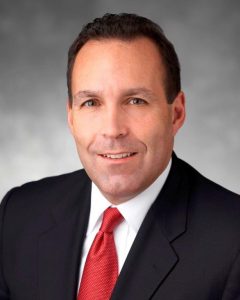 The team facilities feature full training and support for women's and men's student-athletes, including team lounges, locker rooms with video displays, training space with a hydrotherapy area, and a strength and conditioning room. It will also include areas such as coaches' offices, a media working room, dining area, academic counseling/study room and support services areas.
The arena, which will host games by UConn's men's and women's Division I hockey teams and also be used by its club hockey programs, will feature a premier club area with 145 cushioned, comfortable seats at mid-ice and an ice-level lounge behind the home goaltender with café table seating and food and beverage service. A student-only standing room deck will also be situated behind the opposing goaltender.  The final design includes aspects to make the facility as efficient as possible in energy and water use, in keeping with the University's commitment to make its capital projects as environmentally sustainable as possible.
"I met Dan Toscano my first year at UConn and was immediately impressed with his school spirit – not only for UConn athletics but for everything about the University," says Mike Cavanaugh, UConn men's hockey head coach. "His enthusiasm and passion has not wavered one bit since then, and actually, it has grown. His daily commitment to help make UConn the best in class at every turn is exceptional. For me, personally, I am truly fortunate to call Dan a mentor and friend. It's only fitting that our hockey program will play in a new state of the art facility bearing the Toscano name."
"I want to thank the Toscano family for their generosity and support of our program," UConn women's head coach Chris MacKenzie says. "This amazing facility will be a game-changer for our hockey program and bringing this project to reality is a testament to Dan and his family's love and commitment for our university.  We are proud to call the Toscano Family Ice Forum home."
Born and raised in Bristol, Toscano now lives in Darien. He graduated from UConn in 1987 with a Bachelor of Science degree in finance and earned his MBA from the University of Pennsylvania in 1999.
He is currently managing director of global leveraged finance at Morgan Stanley & Co., Inc., a leading global financial services firm providing investment banking, securities, wealth management, and investment management services.
Toscano has many connections to UConn, including as an alumnus, a parent, a generous donor, an ardent athletics fan, and as an active member of several university organizations. Prior to joining the Board of Trustees in 2019, he spent 11 years on the UConn Foundation Board of Directors, including service as chair of the board for three years and as chair of the Investment Committee for several years prior.
Toscano is a member of the UConn School of Business Dean's Advisory Cabinet, and previously was on the Athletics Fundraising Steering Committee and the UCF Campaign Steering Committee. He was inducted in the UConn School of Business Hall of Fame in 2006, and was a commencement speaker for the school in 2013.
After graduating from UConn in 1987, Toscano headed to Wall Street, where he spent the bulk of his career at Bankers Trust and its successor Deutsche Bank. Toscano joined Morgan Stanley in 2010 and works with many of the firm's most important corporate and private equity clients. He is a member of the Global Capital Markets Operating Committee, the Investment Banking Division Management Committee, and is a voting member of the firm's Capital Commitments Committee. He returned to live in Connecticut in 1995 and has been an active advocate for UConn since 2005.
The Toscanos have three children: twin sons Jeremy and Max, and a daughter, Olivia. Jeremy is a 2021 UConn graduate, and worked with the men's hockey program and coaching staff as a student. Max is currently an intern with the UConn football program. Olivia is a slightly different form of "Husky," playing ice hockey for the Northeastern University women's club hockey team.