Men with prostate cancer who formed an advocacy group for a noninvasive treatment strategy for managing low-risk cancers are recognizing Dr. Peter Albertsen as one of their champions.
Active Surveillance Patients International presented Albertsen, chief and program director of UConn Health's Division of Urology, with its second annual Chodak Award.
The theory behind the active surveillance approach is that a low-grade prostate cancer is likely to progress too slowly for most men to live long enough for the benefits of surgery or radiation to outweigh the impact on their quality of life.
Put another way, for those whose prostate-specific antigen (PSA) test leads to a diagnosis of a low-volume, low-grade cancer, there shouldn't be a rush to remove the prostate because chances are something else will become a greater threat to their mortality before their prostate cancer develops into a terminal illness.
"Dr. Peter Albertsen was one of the earliest champions of active surveillance," says ASPI chair Mark Lichty. "He was criticized in the 1990s and 2000s by the urology establishment because he challenged the norms of management of low-risk patients and because his work did not come from one of the traditional centers of urologic research."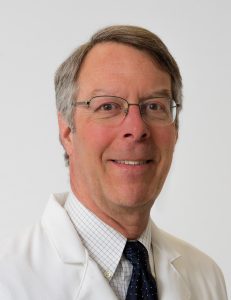 Albertsen says a major uptick in prostate cancer cases associated with the mainstream use of PSA testing in the late 80s and early 90s suggested prostate cancer was being grossly overdiagnosed. With the benefit of having access to the Connecticut's tumor registry, which was and remains the oldest tumor registry in the country, he investigated further, establishing national and international collaborations, and yielding research findings that moved the originally controversial position to the more widely accepted treatment approach it has become in more recent years, first in Europe, and now in the U.S.
"My career has been spent trying to understand the impact of PSA testing and the natural history and appropriate treatment of prostate cancer, and this award tells me that it has been time well spent," Albertsen says. "Where I learned and trained, at [Johns] Hopkins [University], early treatment equates cure. And in fact, a lot of the senior people back then said it was unethical to do a randomized trial asking this, the very question of the ProtecT trial."
The Prostate Testing for Cancer and Treatment (ProtecT) trial is a British study of men diagnosed with localized prostate cancer after a PSA test, assigned randomly to one of three groups — active surveillance, radiation, or prostate removal — and followed over an average of 15 years to compare progression, mortality rates, and quality of life. The findings showed similarly high survival rates among all three groups, with  negative effects on urinary, bowel, and sexual function reported in the surgery and radiation groups.
The Chodak Award is named in honor of the late Dr. Gerald Chodak, a urology researcher who while at the University of Chicago laid the intellectual framework for active surveillance in the New England Journal of Medicine in 1994. He was the first medical adviser of the nonprofit ASPI, founded in 2017 as the first global support and education group for patients with low-grade prostate cancer.
The award itself is a glass bowl that is a replica of a piece Chodak, who also was a painter and glassblower, had made.
"The color blue was used for the bowl to represent prostate cancer awareness," says Robin Chodak, describing her late husband's award. "Let the beautiful glass bowl award be a reminder for doctors to continue to utilize science and offer the best treatments to men with prostate cancer as Dr. Chodak always did."
Albertsen says the honor is further validation of his life's work in understanding prostate cancer's natural history and progression.
"It's one thing to be recognized by your peers; it's another thing to be recognized by patients who have identified me as one of the people who have generated the paradigm shift that personally impacted their lives," Albertsen says. "That's big."