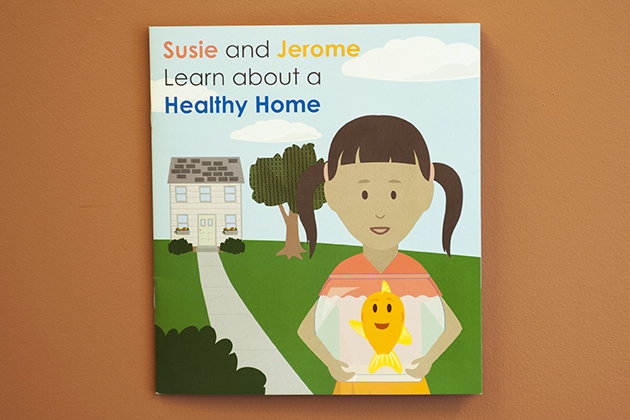 Some of us may take living in a safe, healthy home environment for granted. Not Susie and Jerome.
These two fictional characters are featured in a recently published book for young children, written by Joan Bothell and Mary-Margaret Gaudio of the Department of Extension in the College of Agriculture and Natural Resources, as part of the Healthy Environments for Children Initiative.
The book, developed in partnership with the Connecticut Department of Public Health, is titled Susie and Jerome Learn About a Healthy Home. It features simple rhyming text and colorful illustrations suitable for pre-school and early grade school audiences. In it, young Susie and her goldfish, Jerome, are introduced to the key features of a healthy home. According to the U.S. Department of Housing and Urban Development, these include being clean, dry, safe from pests and toxic chemicals, well ventilated, and in good repair.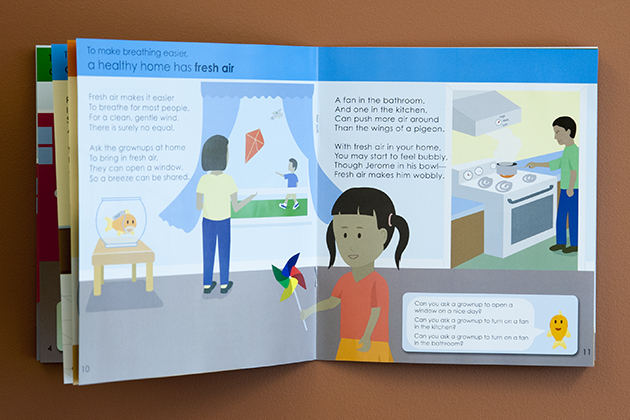 Through Susie and Jerome, these features are explained in simple terms, and illustrated by tasks that children themselves can do (such as putting away their toys and wiping up crumbs after snack time), as well as by more challenging jobs that children can ask responsible adults to do. These jobs include keeping homes well ventilated and dry, making sure that household cleaning products and medications are out of reach of children, and keeping surroundings pest free.
According to Gaudio, an associate extension educator, "The Healthy Environments for Children initiative is designed to help parents and guardians, teachers, and other caring adults to provide a healthy environment for children. And because we involve children from the start by introducing them to characters they can relate to … like Susie and Jerome … we hope to instill lifelong good habits."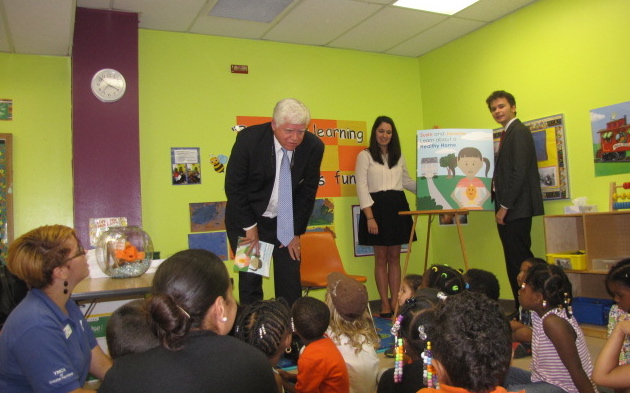 The Healthy Environments for Children Initiative develops training materials and programs for use by Head Start, Early Head Start, and similar programs relating to children's health. HEC programs are designed to be developmentally appropriate, culturally respectful, and instructionally sound. The programs have won numerous awards for public service.
The initiative also administers the New England Lead Coordinating Committee, a regional consortium of state agencies working to eliminate lead poisoning, especially in children. Bothell's previous book, Henry and Fred Learn About Lead, is in wide use as part of that effort.
"This initiative [HEC] encourages people to start tackling some important environmental health issues through small, practical steps … and then to learn and do more," says Bothell, a training and development coordinator in the Department of Extension. "It's an important part of Extension's mission … we reach out to both children and adults, and we offer practical ways to help make their lives healthier. In the case of Susie and Jerome, we've made the topic of a healthy home environment engaging for the kids, and the book also encourages conversations with their parents, guardians, and teachers, as well.
"This is just one example of the work we do in Extension," she adds. "It's literally one of our success stories."