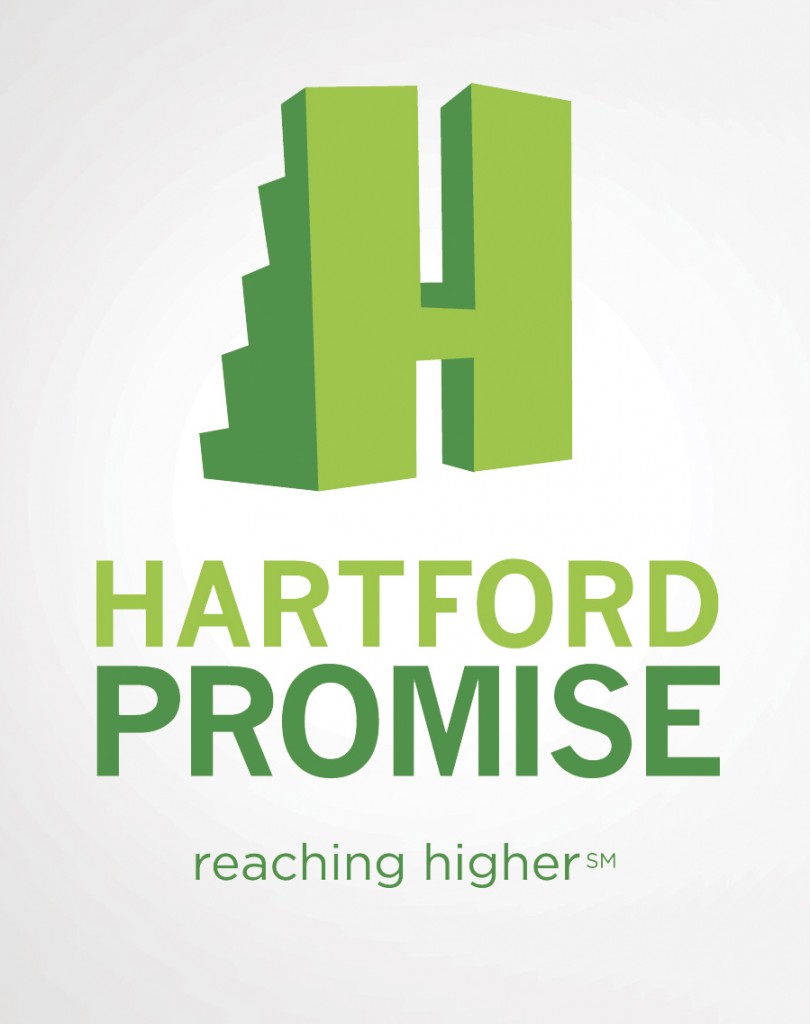 The University of Connecticut is bolstering its commitment to Hartford by pledging $5,000 yearly in scholarship money to all of its public school graduates who enroll at UConn as participants in the Hartford Promise program.
UConn President Susan Herbst announced the financial commitment Tuesday in the Mark Twain Branch of the Hartford Public Library, based in Hartford High School. She was joined by Hartford Mayor Luke Bronin, Hartford Promise Executive Director Richard Sugarman, Superintendent of Schools Beth Schiavino-Narvaez, several state legislators, and founders of the Hartford Promise initiative.
Tuesday's announcement comes about a month after a similar commitment was announced for New Haven Promise participants. The Hartford announcement also occurs as UConn continues work on its new downtown Hartford campus, slated to open in 2017.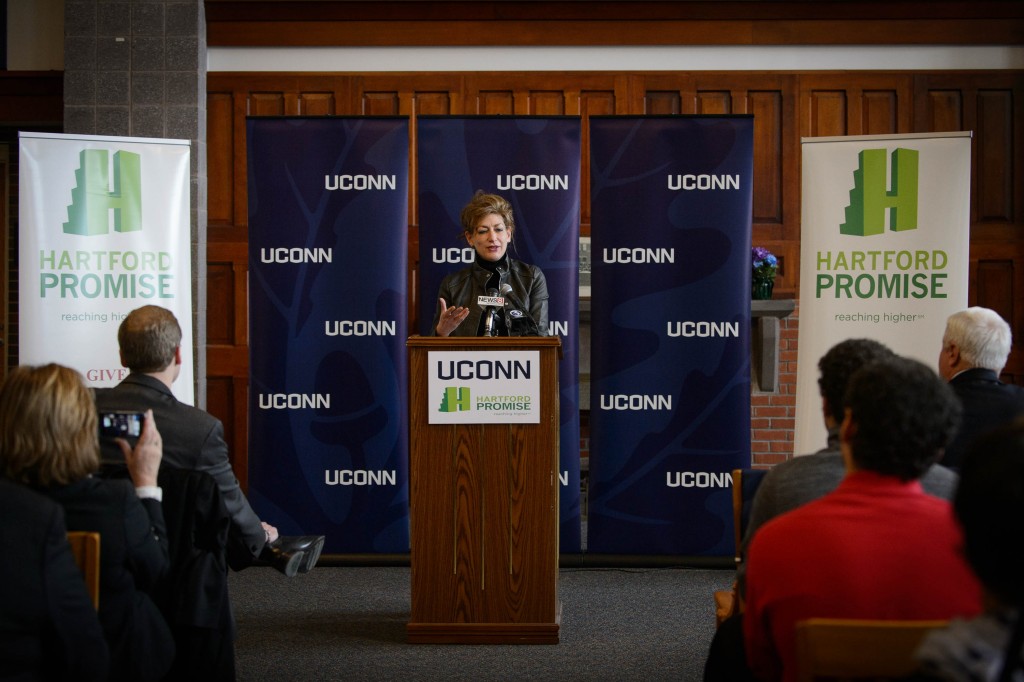 The aid will be available to qualified Hartford students starting this fall, and is designed to help make college affordable and accessible.
It will supplement the scholarships that Hartford Promise provides to city residents who have been continuously enrolled in Hartford Public Schools since at least 9th grade, will graduate with a cumulative 3.0 grade point average, and meet district attendance goals.
About 150 college-bound seniors are on track to become Hartford Promise's first scholars when it starts granting scholarship money this fall to qualified recipients.
"It is wonderful to have UConn as a partner in reducing financial barriers and providing supports and services that will lead to much higher levels of college success for Hartford students," Sugarman said.
"This is exactly the kind of partnership that will transform hundreds of kids' lives, and over time transform our community," he added. "We hope and expect this partnership to serve as a model for many other colleges and universities going forward."
The $5,000 yearly that UConn is committing for enrolled students will be awarded on top of Hartford Promise's benefit of $5,000 yearly. The UConn money can be used for whatever costs remain: uncovered tuition, room and board, fees, books, and other related education expenses.
"UConn has long had a special relationship with Hartford as our state's capital city and the home of many of our talented students, dedicated alumni, and strong supporters in state government and corporations," Herbst said. "This investment in the future of Hartford's high-performing students is also an investment in UConn. Their enthusiasm, diversity, and life experiences enrich the University as a whole."
Hartford Promise Scholars reflect the student body in Hartford's schools, with large populations of students of color, first-generation students, and those from households with incomes of less than $60,000.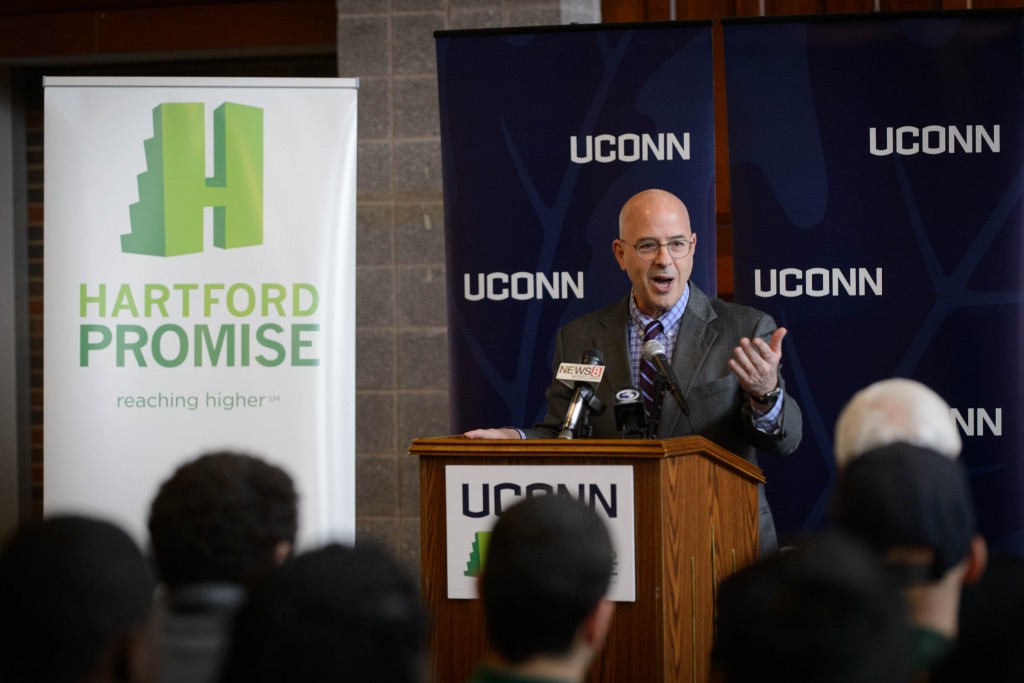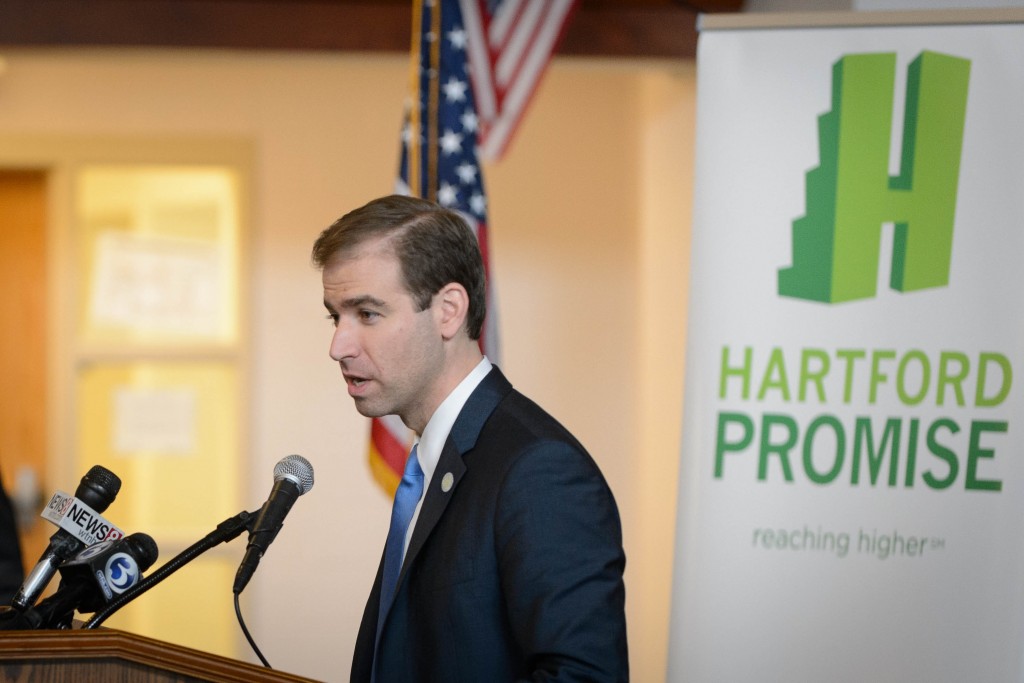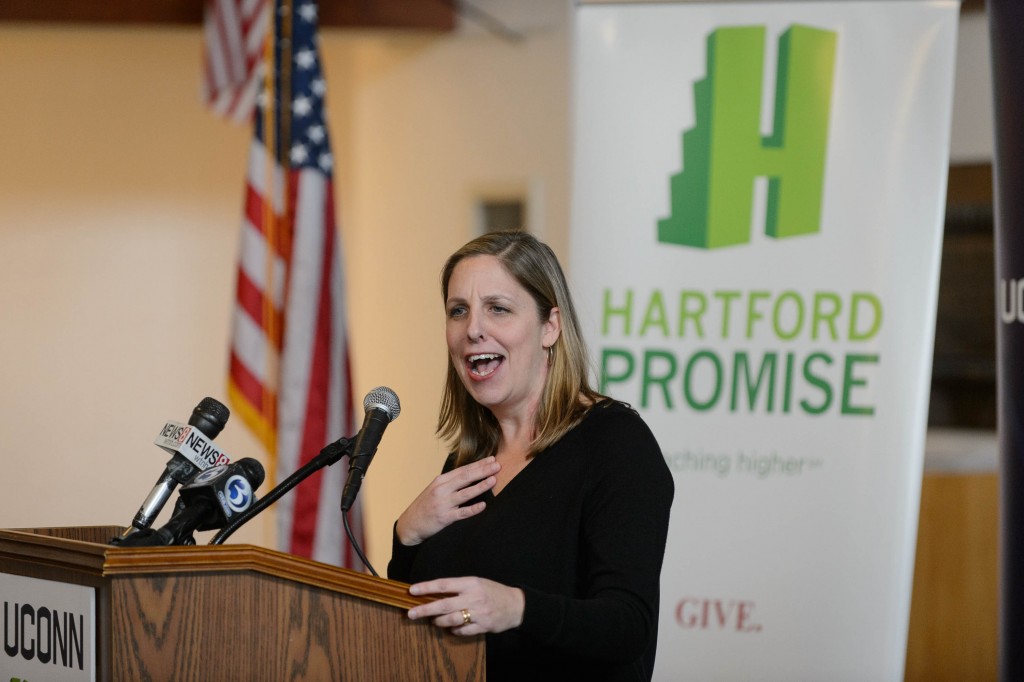 "UConn's partnership with Hartford Promise will make an enormous difference, by putting an education at our state's flagship university within reach for Hartford students," Bronin said. "Looking ahead over the next few years, the deepening partnership between UConn and the city of Hartford is one of the most important opportunities we have, and I'm grateful that UConn is teaming up with Hartford Promise to help Hartford kids achieve their aspirations."
Currently, UConn has 265 graduates from Hartford public high schools enrolled as undergraduates on its campuses throughout Connecticut. The University has placed no limits on the number of Hartford Promise scholars who will benefit from its new financial commitment.
"At Hartford Public Schools, we have a plan to make college a real option for every child in the city of Hartford by providing the necessary support in academics and finding ways to remove financial barriers so that 100 percent of our students can go to college if they choose to do so," Schiavino-Narvaez said.
"UConn's scholarships/grants through Hartford Promise are another key step toward cultivating equity and excellence for each and every student in Hartford Public Schools," she said. "With better financial support at one of the top public research universities in the nation in multiple areas of learning, this new partnership between Hartford Promise and UConn improves our students' real choices for college enrollment by addressing affordability, the number 1 issue that impedes college enrollment for our student population."
As part of the new commitment, the UConn Foundation has established a fund directly to support the Hartford Promise partnership, Herbst said. That means donors can specifically designate Promise program students as the beneficiaries of their generosity.
UConn also is looking ahead with enthusiasm to the opening of the new downtown campus in fall 2017, and believes that having the campus in that location will help spur additional interest from Hartford high school students who visit or participate in programs there.