UConn Health is now designated as a Center of Excellence in Minimally Invasive Gynecology.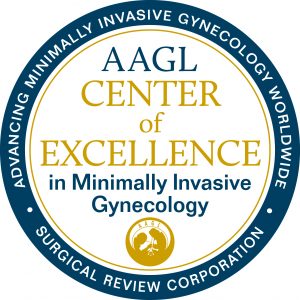 This designation is reserved for health care facilities and surgeons who have demonstrated excellence in advanced minimally invasive gynecologic procedures shown to improve the quality and safety of gynecologic patient care and lower the overall costs associated with successful treatment.
Dr. Danielle Luciano leads the group of surgeons, nurses and clinical support staff who helped UConn Health earn this distinction.
"We already had been offering a standardized, comprehensive way to offer women minimally invasive options for their care, working as a care team and optimizing safety," Luciano says. "This just puts it in writing and makes it clear how excellent we are."
The Center of Excellence in Minimally Invasive Gynecology program is a quality improvement initiative resulting from a partnership between the American Association of Gynecologic Laparoscopists and Surgical Review Corporation. Recognized hospitals must demonstrate a cross-organizational commitment to minimally invasive gynecologic surgical care.
"This designation signifies our ability to consistently deliver the safest, highest-quality care to minimally invasive gynecologic surgery patients," says UConn John Dempsey Hospital CEO Anne Diamond. "Our team is exceeding clinical benchmarks and guidelines. More importantly, our commitment to excellence improves the health and well-being of our patients."
The AAGL was founded in 1971 with a vision to serve women by advancing the safest and most efficacious diagnostic and therapeutics and techniques.
Surgical Review Corporation is an independent nonprofit dedicated to advancing the safety, efficacy and efficiency of surgical care worldwide.