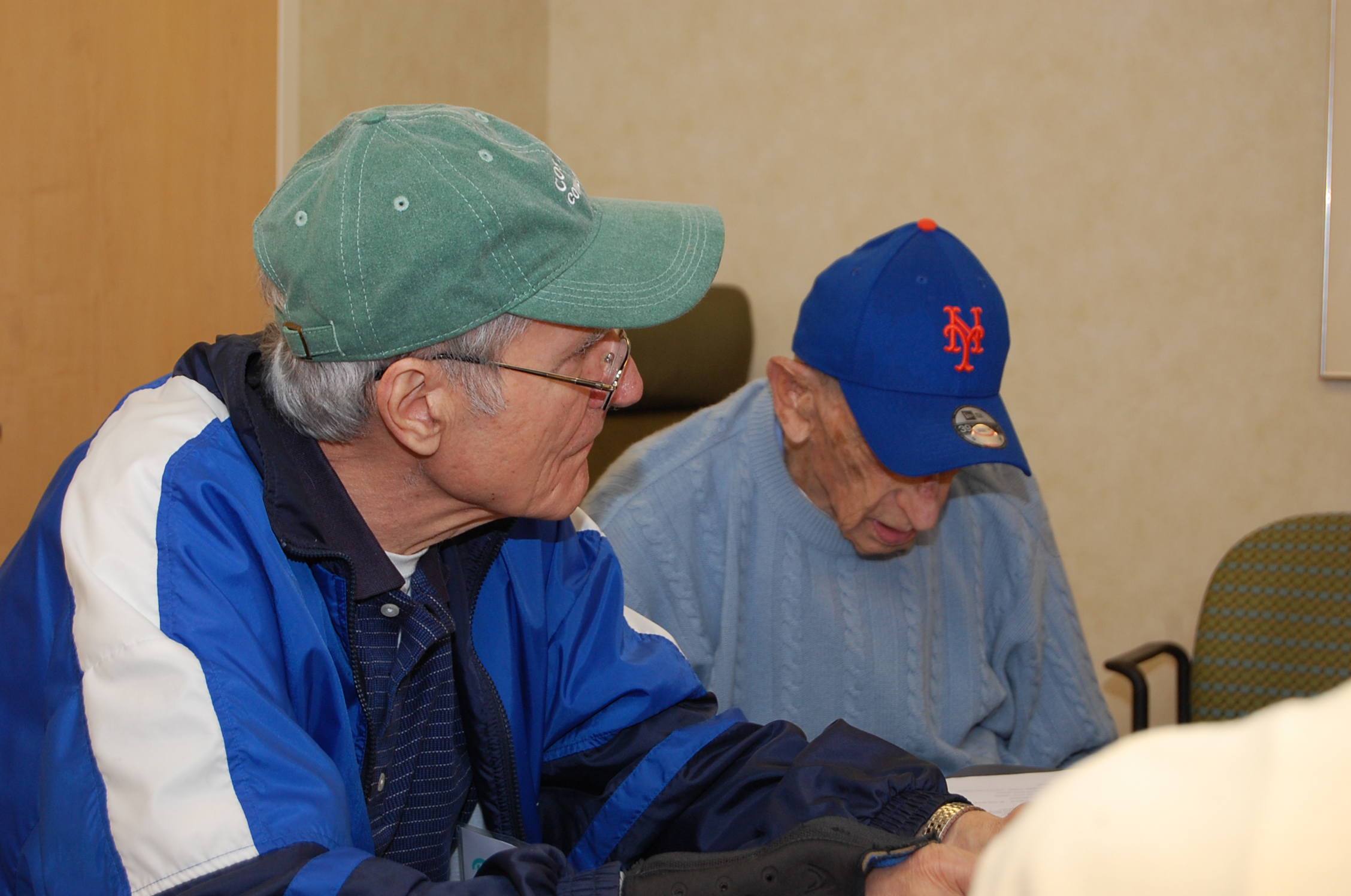 For many aging adults some of their strongest childhood memories may be linked to playing baseball, talking about games, or going to see their favorite Major League team with their father.
UConn researcher Michael Ego, professor of human development and family studies at the Stamford campus, is studying the effectiveness of using baseball as part of reminiscence therapy for aging adults now affected by dementia, the decline in age-related memory loss including Alzheimer's Disease that also causes individuals to require assistance from a caregiver.
Earlier this year Ego, who has conducted a variety of research in gerontology and elder care, developed the Baseball Reminiscence Program with the staff of the River House Adult Care Center in Cos Cob, Connecticut. The program is based on similar activities he studied in Austin, Texas, and St. Louis, Missouri, as well as similar programs he observed during a visit to Scotland focused on soccer, golf, and cricket.
The thing that inspires me … is the smiles, laughter, and satisfaction these individuals get from sitting around talking about baseball with their peers. — Michael Ego
"We did have programs that were reminiscence, whether on art, current events, trips, or travel; anything that can jog some memories, get the brain going, and give people an emotional response," says Donna Spellman, executive director of River House. "What we have found really interesting here is that sometimes there are more women in the room than there are men. They are equally as emotional and connected to baseball as a culture."
The one-hour sessions earlier this year took place at River House every other week from April through July. A group of six men and six women participated in memory-linked traditions such as reciting the Pledge of Allegiance to the American flag and singing "Take Me Out to the Ballgame" during the midway point of the hour, designated as the "Seventh Inning Stretch." In between, Ego and several peer volunteers led discussions about participants' experiences with the game, answering questions about baseball trivia, notable players, and the history of the game.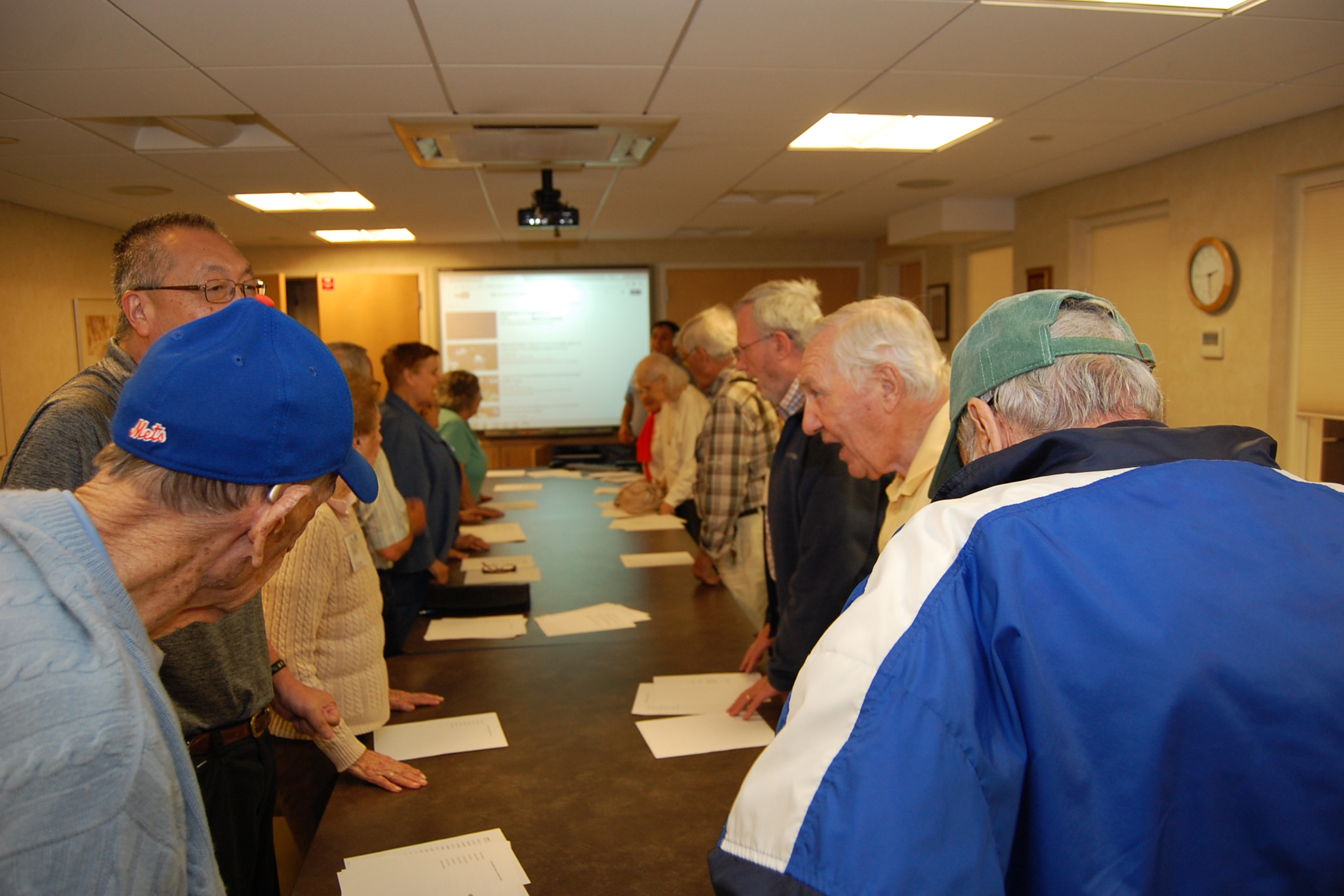 "I wasn't surprised how it evolved in Cos Cob because wherever I was previously, there is some trigger that opens people up about what they enjoy," says Ego. "We just finished the second session. They love it; enjoy it. They're engaged. With this disease, there is difficulty to get them to engage. The interaction is just very positive."
During a session in a conference room at River House in late June, Ego conducted what he describes as a "values exercise," asking everyone around the table for a response to words or phrases often used in baseball or other sports competition. If the person asked struggles for words, or does not answer the question, someone offers a hint or offers the answer.
Ego asked a woman who is a longtime fan of the New York Mets to respond to "Somebody has to win," and she said, "That's for sure. Must be the Mets!" and drawing laughter around the table.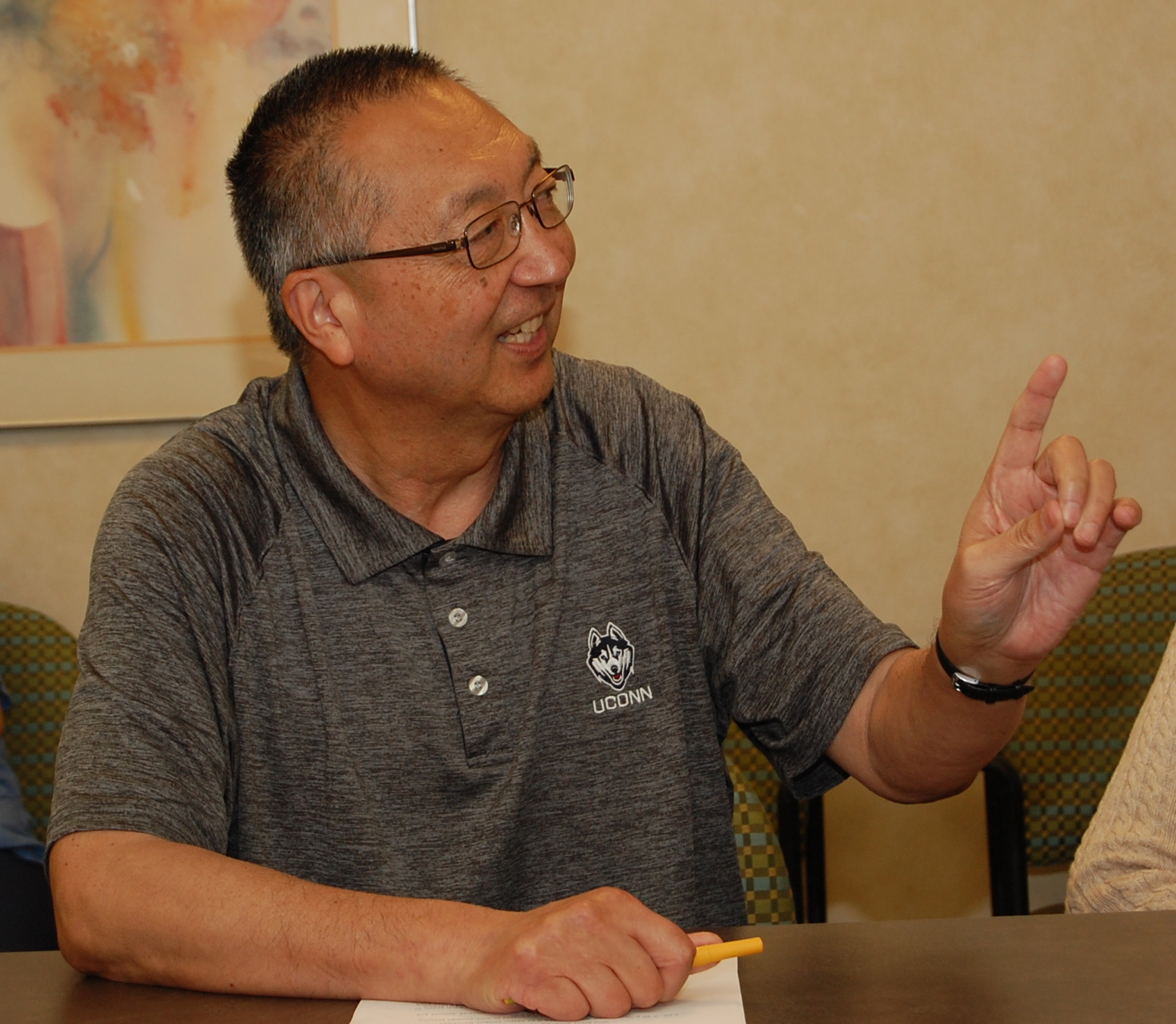 Later, participants watched video highlights about the All-American Girls Professional Baseball League, which operated during World War II and was depicted in the Penny Marshall film "A League of Their Own." They also saw highlights of "Pitch," the television show based on a real-life female pitcher in minor league baseball, that aired briefly earlier this year. One of the cast members in "Pitch" was UConn alum Dan Lauria '91 MFA, best known for his role in "The Wonder Years."
Business consultant Frank Schipani became a volunteer for the reminiscence group after auditing Ego's "Baseball and Society" class in Stamford. He has a collection of baseball memorabilia, and Ego has designated him as the program's "bench coach," the in-game advisor and second-in-command to the team manager in professional baseball.
He says that after noticing two men in the group were hesitant to participate in some of the group conversations, he brought in some old photos of players from the New York Yankees.
"I brought out the photos. They leaped up, saying that's Yogi Berra, he was No. 8, the guy who said, if you come to a fork in the road, take it," Schipani recalls. "My heart filled up. I showed other pictures of Yankees. I knew there were Red Sox fans in Connecticut. I took out a big photo of Ted Williams. The same guy responded, saying that's Ted Williams; he was the last guy to bat .400 in the Major Leagues.
"This works, what we're doing here," Schipani adds.
On July 20, the most recent session of the program concluded when participants traveled to Citi Field in Queens, New York, to see the New York Mets play the St. Louis Cardinals during a day game, which the home team won in the bottom of the ninth inning. The group had prime seats in a private box, courtesy of the Steven A. and Alexandra M. Cohen Foundation, and enjoyed a ballpark lunch of hot dogs, chicken tenders, and Cracker Jacks.
Augusta Hoffman attended the game with her father, Burton, who participates in the Baseball Reminiscence Program. She says the former businessman looks forward to attending the sessions.
"Anything that gets neurons to connect is good," she says. "He watches baseball every night at home. I tell him, every single thing they do has a purpose. Nothing is by accident. He's well aware he's not functioning at 100 percent. He loves the guys at their table. They look out for him."
Anna Marie McDermott watched the game with her husband Mike, who is at River House four days a week. She says her husband has responded well to the activities in the program. The couple's son played baseball in college, and briefly played in the minor leagues before embarking on a career in computer technology. Baseball was a common interest for father and son.
"He's awakened a little bit more," she says of the effect the program. "He reads the sports pages cover to cover. Any handout he reads in the session, he puts in an envelope and sends it to Dallas, where my son lives."
Information about the Baseball Reminiscence Programs in Connecticut, Texas, and Missouri has already started to spread around the nation. In June, Ego traveled to Cooperstown, New York, to the Annual Cooperstown Symposium on Baseball and American Culture at the Baseball Hall of Fame, where he delivered a presentation with Jim Kenton of the Austin program that included a video Ego produced about that program. Ego also spoke during the Sport, Dementia, and Mental Health symposium hosted by The Scottish Football Museum in partnership with the University of Endinburgh, a member of Universitas 21 an international network of leading research-intensive universities in 13 nations, including UConn.
Ego and Spellman also will detail the experience of the River House program during the national conference of the Adult Day Services Association of America in late September. An ESPN producer has attended several sessions, including the trip to Citi Field, conducting interviews with patients and caregivers and River House staff for a future broadcast.
Ego is preparing to conduct a formal quality of life study with River House and Austin program participants this fall to gather data from the beginning of the session to the end, with a $2,000 grant from UConn's Scholarship Facilitation Fund. The Texas program is part of the Rogers Hornsby Chapter of the Society for American Baseball Research.
"The thing that inspires me to do more to spread these programs all over the country," Ego says, "is the smiles, laughter, and satisfaction these individuals get from sitting around talking about baseball with their peers."