Through a series of strategic partnerships and investments, societal contributions, and life-changing breakthroughs, UConn strengthened its position as the Northeast's leading public research university in 2022.
Many of UConn Research's accomplishments over the calendar year are chronicled in the 2022 Annual Report. The retrospective captures visits from national and state leaders across all areas of government, industry, and environmental protection.
Additionally, the report examines UConn Research's new partnerships that promise continued progress toward clean energy innovation and climate change mitigation. Such initiatives include an agreement with National Renewable Energy Laboratory and the establishment of the Future Climate Venture Studio.
While milestone presidential visits and faculty members earning once-in-a-lifetime honors received their due fanfare, many of the greatest research successes of 2022 were much lower profile or contributions toissues of national importance. Here are 12 of Research Enterprise's most notable, intriguing, or uniquely UConn discoveries and breakthroughs of 2022:
1. Standing Against Despair – Gun violence continues to plague the United States, and 2022 brought more than its share of tragedy and pain. This article explores the expertise and tools that UConn researchers offer to reduce incidents of gun violence and working with stakeholders to enact meaningful change.
2. Dangerous Counterfeit Drugs are Putting Millions at Risk, a New Study Says – As millions of Americans continue to struggle with opioid addiction, counterfeit medication rings are profiting from pushing their false products onto the market, endangering lives in the process. Pharmacy Professor C. Michael White published a study about the trend in the Annals of Pharmacotherapy.
3.  Professor Cato Laurencin Publishes Breakthrough Report on Rotator Cuff Regeneration Treatment – Dr. Cato T. Laurencin's pioneering work in the field of regenerative engineering yielded new methods to encourage muscle growth for injuries affecting millions of people every year.
4.  School of Social Work Researchers Explore New Model to Sponsor Refugees – With refugee crises across the globe, a team of School of Social Work researchers published an article exploring the history and impact of different ways to sponsor refugees in the U.S.
5.  Light it Up: Using Firefly Genes to Understand Cannabis Biology: UConn is a leader for the state in cannabis research as Connecticut establishes an industry and sets parameters
for legal use. Yi Ma and Gerry Berkowicz of the College of Agriculture, Health, and Natural Sciences are using their understanding of firefly genes to help farmers better control the levels of THC and CBDs in their crops.
6.  UConn Offers Nation's First Intraoperative Neuromonitoring Master's Program – Brain surgery requires the utmost skill and concentration. The presence of an expert neuromonitor is a tremendous help as well. UConn is the first in the nation to offer a postgraduate degree program in intraoperative neuromonitoring.
7.  The Science of Distraction – Education Professor Ido Davidesco believes that planned breaks in concentration might be beneficial to helping students learn difficult subjects like biology. The NSF was intrigued, awarding Davidesco UConn's first ever NSF CAREER Award for the Neag School of Education.
8.  UConn Researchers Explore the Role of the Black Female Principal in Schools  – At the height of the pandemic and raised awareness of racial inequity in the U.S., black principals have held firmly to the communities they serve. These are the findings and conclusions of three Neag researchers who have studied how the job of the principal has changed publicly and personally.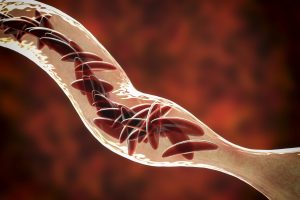 9. Grant Enhances Solar Energy, Storm Readiness Efforts – The Eversource Energy Center at the Innovation Partnership Building has enhanced its ability to restore power in the face of bad storms. Now, through a new federal grant, the Center is developing transformative technologies to advance community preparedness.
10. Nearly $3 Million Awarded to Study Sickle Cell Disease at UConn Health – More than 3.5 million people suffer from sickle cell disease, a debilitating, painful condition disproportionately affecting African Americans and Hispanics. Dr. Marja Hurley is leading efforts to understand the disease and develop therapies to improve the lives of those afflicted.
11. UConn Researcher Invents Low-Abundance Biomarker Detection Platform for Early Diagnosis – Chemistry and biomolecular engineering Professor Yu Lei's invention can perform high-sensitivity readings for biomarkers that could provide early detection for a variety of diseases, including Alzheimer's.
12.  Study: Being a Fan at Gampel Pavilion (and Elsewhere) Absolutely Rules – There is nothing quite like taking in a Huskies game live with thousands of your closest friends. Researchers have the data to back it up, following a study led by a former UConn doctoral student working with a team from Oxford University.